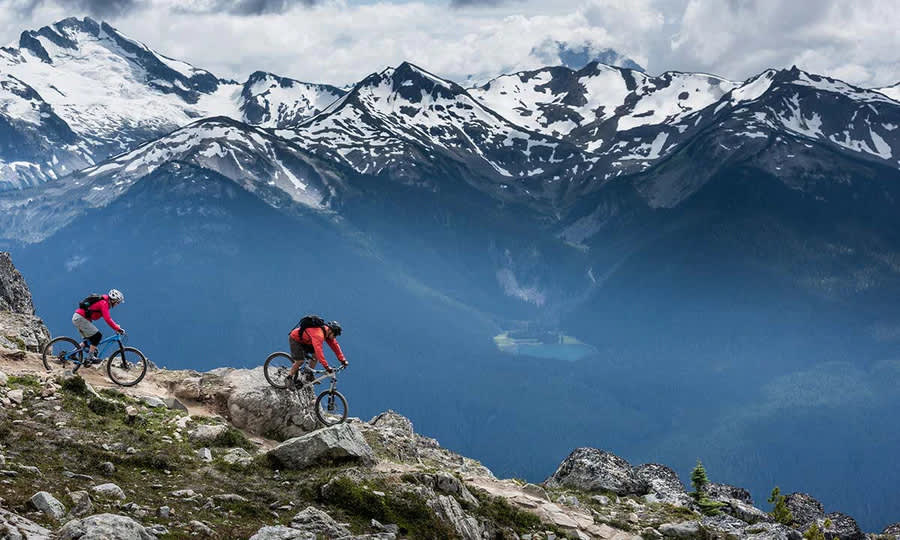 Beyond Kelowna Bike Trails: Unforgettable Summer B.C. Destinations
Imagine a place where you can summit tall mountains, take a dip in the ocean, walk amongst the old growth rainforest and tour some of the finest wineries. Yup, B.C. has it all. We've broken down some of the best places to be in B.C. this (or any) summer.
The Thrill Seeker - Whistler
If you love sending steep trails, world-famous bike parks and being able to grab the lift up, then Whistler's for you. Ride 70 mountain bike trails that cover 80 kms and almost 5,000 vertical feet. Need we say more? Be a part of the action at the Crankworx Whistler Mountain Bike Festival coming up Aug. 5-14.
The Beach Bum - Pacific Rim National Park
For beach lovers, Pacific Rim National Park is a must-see. Experienced surfers can ride the waves year round but the warmer seasons are a great time to test the waters for beginners. When you're not hitting the beach, walk the new 25 km ʔapsčiik t̓ašii (pronounced ups-cheek ta-shee) pathway to learn about the wildlife and Indigenous heritage in the area.
The Altitude Lover - The Bugaboos
The hike to this alpine wonderland alone is enough to take your breath away — literally and figuratively. The steep approach is lined with wildflowers and propelled by glacier views. It's a rustic trip for the adventurous and rewards you with an unforgettable backdrop that draws crowds from around the world to its granite peaks, but not just for mountaineers. It's a playground of epic proportions for hikers and trail runners. Our staff favourite trail runner is the Hoka One One Speedgoat, find your favourite.
The Tree Hugger - Avatar Grove
Not far from Port Renfrew B.C., tucked away in the traditional territory of the Pacheedaht First Nation, lies Avatar Grove and "Canada's Gnarliest Tree." A piece of history, this ancient forest was saved from logging in 2012 and now welcomes visitors to see the awe-inspiring old growth trees for themselves.
The Jack of All Trades - Kelowna
Incredible bike trails, check! Beautiful lakes for swimming or paddling, check! World-class wineries, check! If you're looking for a destination to please everyone in the family, the Okanagan is hard to beat. Maybe you're in the mood to sail Okanagan Lake, tee off on the golf course or ride the Kelowna mountain biking trails followed by a wine tour. We're might be biased, but Kelowna has it all and we're so lucky to be able to access it from our doorstep. If you're in town, come by the Fresh Air shop and say hi!
When you're in one of the best places for your summer adventures, stop by our sports store in Kelowna for the local's point of view and expert advice. See what's in store.
Share Post: