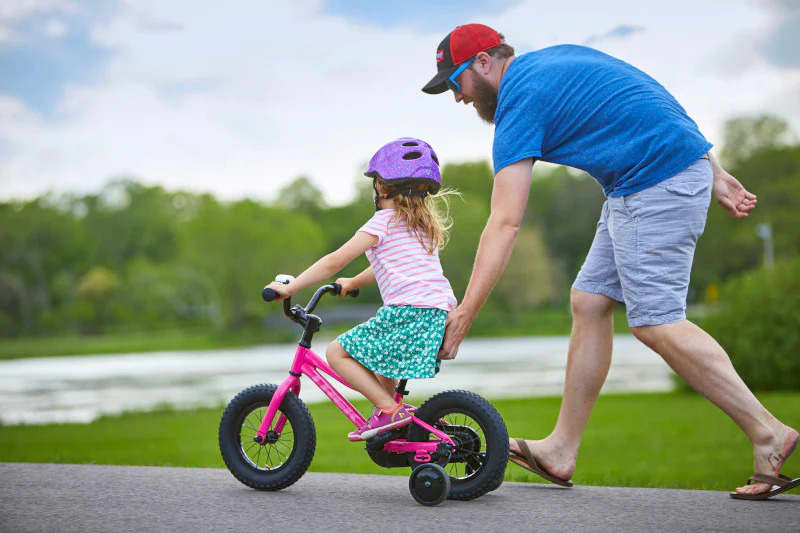 Fresh Air Kelowna's Family Bike Safety Tips!
Everyone has seen that parent. You know the one. The one that's able to zip down the bike path with their kid in tow. If you've ever wondered how to get there — learning the ropes of bike safety with children is key to building that confidence.
In honour of Bike Month (May 30 to June 30) we've put together a Kelowna bike safety guide so you can get out and ride as a family, safely.
Safety Gear
This is a no-brainer when it comes to protecting your little one's head and body. A well-fitted bike helmet is key and you can find youth road bike helmets or even mountain bike helmets for kids.
The right fit: A properly fitting helmet sits straight on your head, not leaning too far forward or too far back. If in doubt, ask an expert for help with fitting. Bike helmets (including yours) should be replaced about every five years or after an impact.
Be Seen and Heard
Simple accessories like a bell, lights and reflectors on both your bike and theirs allow your child to announce their presence to those around them. Working together, you can set a great example for your child by showing them when to use their bell and lights as well as the importance of using them correctly.
Infant Bike Seats
An infant bike seat makes it easy to bring your extra little ones along. There are generally two kinds of infant bike seats: front and back mounting, which can easily attach to all types of bikes, including ebikes. Here are some of the key differences between the two:
Front mounted seats:
Child is in front with an unobstructed view.
Easy to keep an eye on them, since they're in front of you.
Safe from one to three years old.
Steering and getting on or off the bike could be awkward
Rear mounted seats:
Easier to steer and get off or on the bike.
Safe for children from one to six years old.
You have to turn around to check on your child.
Seek advice from an expert at a bike shop, by talking to other parents or even testing different rental seats to help decide which type is right for your family.
Trailers
A chariot, like a Thule trailer, is a multisport, safe way to bring the kids along for a bike ride, jog or even ski. The versatile piece of equipment can even quadruple as a regular stroller, and many models fold up for easy storage in the car to stow for all your adventures.
Get out with your little ones safely this summer. Our experts at the bike shop can help with advice and fittings on youth bike helmets, trailers and seats. See what's in store.