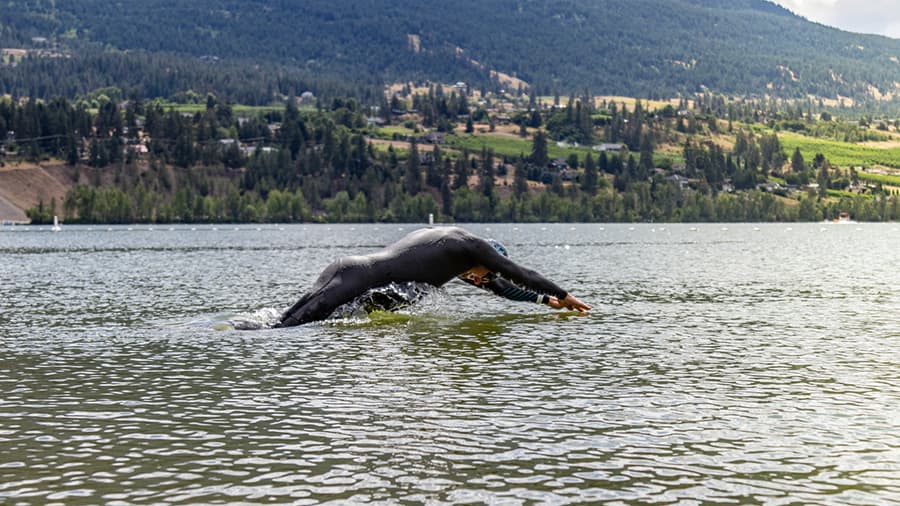 Grab Your Wetsuits, Kelowna! The 75th Annual Across the Lake Swim with Fresh Air Kelowna is Coming
Canada's longest-running open lake swim is back again this year. The 75th annual Across the Lake Swim takes place July 15th. Every year, people of all ages come together to swim the 2.1 kilometres across the length of Okanagan Lake. It's a right of passage for some and an excuse for others to take their wetsuits in Kelowna out for a swim every year.


Weekly demos and swim clinics starting June 10th
Fresh Air Kelowna loves supporting the swim community, and we're back this year. We will have wetsuit demos at the Boyce-Gyro Beach Swim Loop every Saturday morning, starting at 6 a.m., June 10.
This year participants will get the chance to try out BlueSeventy wetsuits, and with the temperatures of the lake during the clinics, you'll be grateful to have a second skin.
"The wetsuits help with warmth but also with buoyancy, " says Fresh Air's Jonny White. "It helps them stay level and float so they can focus on propelling themselves."
There's one size of each wetsuit available to try out, with a tutorial on how to put them on—which can be difficult—but we'll show you the techniques.
"The funnest part is zipping it up…you'll want to get a buddy," says Jonny. "Doing it on your own is impressive, but a buddy is best."
Fresh Air will have gloves on hand to keep fingernails from damaging the materials. It's recommended that swimmers bring Body Glide to prevent chafing and, of course, goggles.
Clinic participants must be registered for the Across the Lake Swim. Day-of-event rental is also available. See you there!
For more information and to register for the event, visit acrossthelakeswim.com


Making bold strokes for 75 years
What started in 1949 as an elite swim marking the end of the season has grown into a family-friendly, bucket-list event. "All abilities can do the swim," says Across the Lake's Executive Director, Peter Rudd, who estimates about 50% of participants are first-timers.
In the time that Peter has worked with the event, starting in 2009, he's seen it grow from 200 to nearly 1,400 participants thanks, in part, to its safety and tight organization.
Newer swimmers can be nervous about managing the open water, making the weekly clinics an excellent opportunity to get free open-water swim instruction (and, of course, demo those wetsuits).
While there's always the option to hand in your chip and defer to next year, no one has done it in the time Peter has been involved in the race. "It's a combination of nerves and excitement," he says. "Everyone is super excited but when they're standing at the edge some dread comes across their faces."
Peter's advice if the fear creeps in? "Just get in the water. You can do it, you just have to overcome the fear of the open water."
Once you've taken the plunge, it's time to reap the mental health benefits of open-water swimming.
"It's a place where you can find your zen, it's quiet," he says. "People use swimming to help with their mental health and find the solitude that they need. It's a great athletic activity. It's one of the only sports where you can just float, relax and shut everything."
Fresh Air Kelowna is a proud sponsor of the Across the Lake Swim and is always excited to support our community through our sports stores in Kelowna. Register for the swim today, check out our swim gear, then get out and enjoy the fresh air!
Share Post: