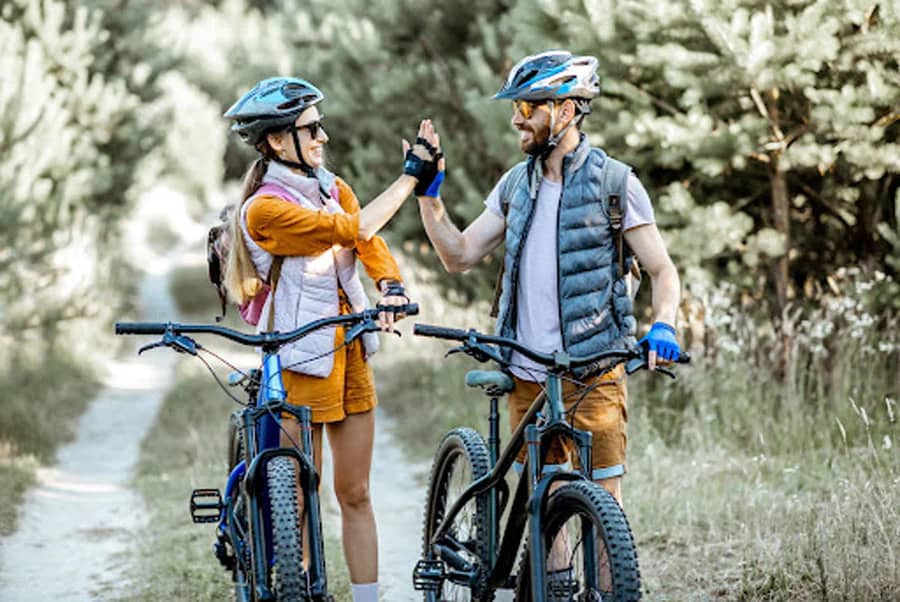 A Prescription To Get On Your Bicycles, Kelowna
You know that incredible feeling of calm after a day spent outdoors: the soothing power of going for a walk to clear your head, the euphoric buzz after getting out on your mountain bike. It's not a coincidence — time spent in nature is good for your health. And now, after years of doctors being able to prescribe time in nature, some B.C. physicians can prescribe access to the outdoors in the form of a Parks Canada Discovery Pass.
Working with the BC Parks Foundation, which started PaRx, a program for prescribing time in nature, Parks Canada announced in January that they will be supporting participating health care professionals with the opportunity to prescribe adult Parks Canada passes.
We've always loved getting outside and enjoying the fresh air, but these days it's easier than ever to see why people are drawn to the great outdoors.
Why Get Outside?
The benefits of being in nature have been studied for a long time, and according to PaRx, just some of the benefits include:
Reducing stress levels with just 15 minutes spent in the forest.
Changing your point of view: having 10 more trees per block had people feeling $10,000 richer.
Calming racing thoughts by walking through green spaces.
Ways to Explore the Parks
We're a little biased when it comes to spending time outside, but if you're looking for inspiration to help get you motivated here are some ideas:
Join a Kelowna Mountain Biking Club

We're spoiled in the Okanagan. We've got endless trails, and it's not hard to find people to share your stoke with. Check out Mountain Bikers of the Central Okanagan (MTBco) or our women's Athena Biking Club. Next, grab your mountain bike and plan a trip to Revelstoke National Park for epic mountain biking and mountain views.
Get Your Hut Booties On

Explore the national parks in B.C. by way of huts! Alright, things like ACC huts can be a bit intimidating, but there's something for everyone if you know where to look. Head over to Glacier National Park, where you can book places like the Wheeler Hut, which has a friendly 2-kilometre approach and all the amenities you need to spend the night. Then, if you have the skills, knowledge, and backcountry gear, this family friendly-hut is also an amazing basecamp for some awesome backcountry skiing.
Remember to be avalanche aware and only take on backcountry skiing if you've got the appropriate safety training, safety equipment, and experience.
Shop Backcountry Access Rescue Kit
Endless Hiking Trails

Whether you're a casual hiker or marathon trail runner, when the temperatures rise, exploring the parks on foot is an amazing way to go at your own pace and take in the sights. You want to have a great fit on your footwear for hitting the trails, though — nagging blisters can really spoil the mood. Head over to one of our stores where our experts can help you feel like Cinderella and find the perfect shoe for your foot, out of all the running shoes in Kelowna.
We've known it for decades: getting out and enjoying the fresh air is one of the best things you can do for your health. Browse Fresh Air Kelowna for all the gear you need to enjoy the outdoors, then hit the trails!
Share Post: