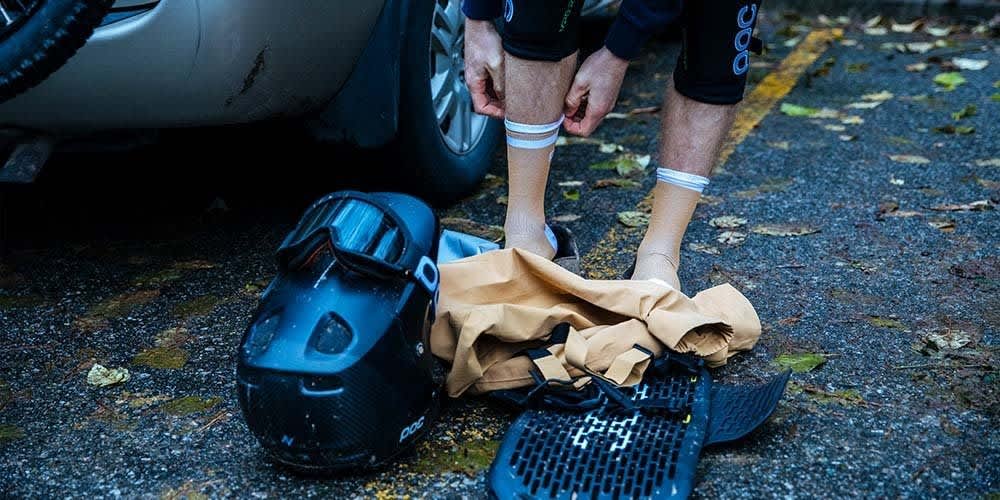 Stay Safe: Tips to Prevent Mountain Bike Injuries
There's no bigger bummer than getting an injury that puts you out for the season — or worse. Thankfully, most mountain biking injuries are mild, but that doesn't mean you shouldn't give yourself the best protection possible. If you're properly protected, you're increasing the likelihood your days on the Kelowna mountain biking trails are safe and enjoyable.
How do you prevent mountain biking injuries?
The right protective gear is one way to avoid injury, but also practice. The more you get out, the more you can build skill and confidence on the trails. Looking for more biking buddies? Check out MTBco community to learn more about mountain biking in the Okanagan and meet like-minded people to hit the trails with.
Mountain bike helmets
Arguably the most important piece of protective equipment out there is the helmet. Full face mountain bike helmet, or not? Full face helmets offer more thorough protection but can be hot and heavy, unlike an open face helmet. Some quick tips that can help you make a decision:
Full face mountain bike helmet:
When going downhill mountain biking
Doing big jumps or drops
Going high speeds
Travelling on high consequence terrain
Open face mountain bike helmet:
More mellow terrain
If you're a casual rider on beginner to intermediate trails
Fit is important in all protective gear, including helmets. If you need help head over to the shop, our experts will give you a hand with sizing.
Body protection
If you're zipping downhill on the Kelowna mountain biking trails, you'll want to up your protection. Elbow sleeves, knee guards, chest protection and neck braces are all key to full coverage. Modern gear offers flexibility to keep you protected, agile and not weighed down.
Keep your mountain bike tuned up
A sometimes overlooked way to avoid mountain biking injuries starts at the source: your bike. Before getting out, make sure your bike is in good working order, tuned up and ready to perform. Beyond getting a tune-up for your downhill or electric mountain bike, be sure to do a quick pre-ride check on your air, gears and brakes before each ride.
Know your limits
Whether you're new to the sport or just getting started, knowing your limits is key to staying safe in ALL outdoor recreation.
Don't fall victim to peer pressure if your friends are heading out on a trail above your limits.
Start small if you're not sure what level you're at.
Stay in control.
Don't be afraid of backing off an objective that's above your limit for now — it'll be there next season! What's important is staying safe to ride another day.
Looking for the best in Kelowna cycle shops? Have safe, fun riding this summer with the help of Fresh Air Kelowna. We'll fit you in the gear you need to stay injury-free this season. See what's in store.
Share Post: