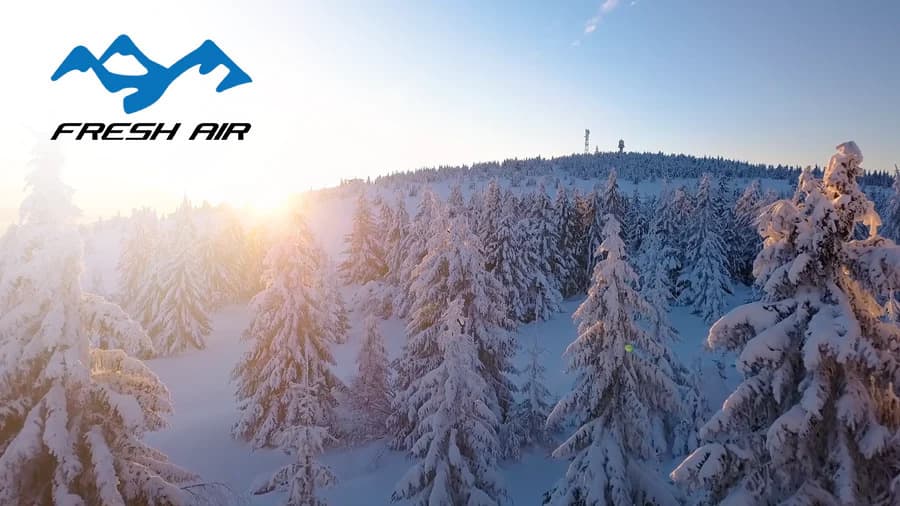 Fresh Air Vlog: 30 Years of Ski Expertise, XC and Snowshoe Trails, Kelowna Nordic Giveaway
Here we go, guys, a new vlog. Man, it's almost winter. Thanksgiving's gone, the weather's super unpredictable. It's cold, it's warm, but the snow is coming. I read the Farmer's Almanac. I've read it multiple times. Lots of precipitation, rain in Kelowna, snow in the mountains. What can get any better? Remember we're getting new stuff in here all the time. New skis, new boards, snowshoes, cross country skis. Come on in. Check out what we got.

Not only is the time of Thanksgiving great because we get to spend some family time. But in the Olar house, it's birthday time. Avery's early September. My birthday is October 1. Amie's birthday is at the end of October. It's always fantastic. See what's going on? You know we got a theme. We got rainbows. We got unicorns and we got sparkles this year. Also fun fact: Do you know this year — Amie always tells me how old I am all the time — this is going into my 30th year of working in the ski industry. Crazy. This little baby face, 30 years. Now I'm not going to tell you how old I am, but, 30 years working in the ski industry, it's fantastic. It is amazing coming to work every day because we're just talking about sports, fun. We're selling fun. It's the best part.

Talking about fun. We got our buddy Lyle from Kelowna Nordic in today. He's ramped up. Well, it's October but he's like he's been calling me all summer long talking about plans they got going on. Here's Lyle. He's gonna talk about what's going on at Kelowna Nordic, and how this season is shaping up.


Lyle N.
Hi, everyone, Lyle here. I am a member of Kelowna Nordic and I'm here to tell you about a great season. For those of you who don't know about us, we are just 15 minutes past the Big White turn-off. We have 75 kilometres of ski trails for both classic and skate and 65 kilometres of trails for snowshoeing. We also have 24 kilometres of trails for you and your canine, so you can come out and ski with your dogs and you can both get a workout. Also, all of our snowshoe trails are dog-friendly. Come out and give your dog a great, great workout, and both of you can have a good time.

Something else is going on with our club this year is we are finally going to have this new program called Nordic Pulse. It is a GPS on our groomers. You take out your phone and see where the groomer is in real-time, which is phenomenal. So you no longer have to worry about where the groomer is, what trail groomed, you can see as it's happening. You can see your favourite trails being groomed. We're really excited about that.

Now, other programs are going on. We have got a master's program. Yes, it's finally happened. For those of you 19 And over who already have a little bit of experience skiing. You want to get in part of this. This is to improve your glide, improve your enjoyment of skiing, come out with us. Join up and we're going to show you how to put more enjoyment in your overall experience of skiing. We're not about racing at Kelowna Nordic, we're about the enjoyment of skiing. We're also going to be putting together a practice area. So when you come out, you don't have to be going the trails trying to work on your glide. You can come into the practice area and do that.

We also have coaches up there. This is the first time we expanded our coaching program, and we're going to have clinics. So all you have to do is log on, this year we're going to put it together, you can come for a one or two-day clinic and really work on the enjoyment of your skiing.
Once again this year, we are going to be doing the stride and glide fundraiser for the KGH Foundation. That is for the Kelowna General Hospital. Last year, the first year, we raised over $51,000 for advanced stroke care at Kelowna General Hospital. This year, we're going to do it again, it's going to be a two-day affair. We're going to have a wonderful lantern ski on Saturday, February the 12th. And on the 13th we're going to have a one day where we're all going to come up and ski different distances. We're going to have more of that later. So we just want you to get out and join our wonderful trails.

So, now I want to talk to you about early bird prizes. It is now October and you need to get in your membership. Make some savings, right now, this is the savings are only going to be until the end of November and you can win these amazing skis. I have a pair of these. I love them. These are the new Madshus Nordic Pro and they have a movable binding. And I actually use this because I can't get up all the hills sometimes without doing this. So this is just moving on the go. These are gorgeous skis. These are honour giveaway prizes. All you have to do is sign up, get your membership and you can be eligible to win this pair of skis.

And they're also, this is all from Fresh Air, they're also going to be offering a free pair of Tubbs Wayfinder snowshoes for you snowshoers. These snowshoes are great. And there are also three $50 gift certificates from Fresh Air, to come down here and do some shopping.

So these are awesome. But in order to get in on these prizes, these giveaways, you need to sign up now. So get in, get your membership signed up, and then come and join us and enjoy some incredible cross country skiing this year and get snowshoeing, Kelowna! Thank you. See you on the trails.


Ryan
There you go guys, get out. Get your memberships quick. Snow's coming — it's your chance to win some new skis and snowshoes. Some other great prizes from Kloten Nordic the guys did a fantastic job last year, raising money for the Kelowna KGH, again, the events going on this year. It's gonna be a little bit different, with not as many restrictions with COVID. Get out and support your community. Thanks, Lyle for coming in.
Snow is coming. Get ready to shred with all the best snowboard and ski gear for a killer season at Fresh Air Kelowna. See what's in store!