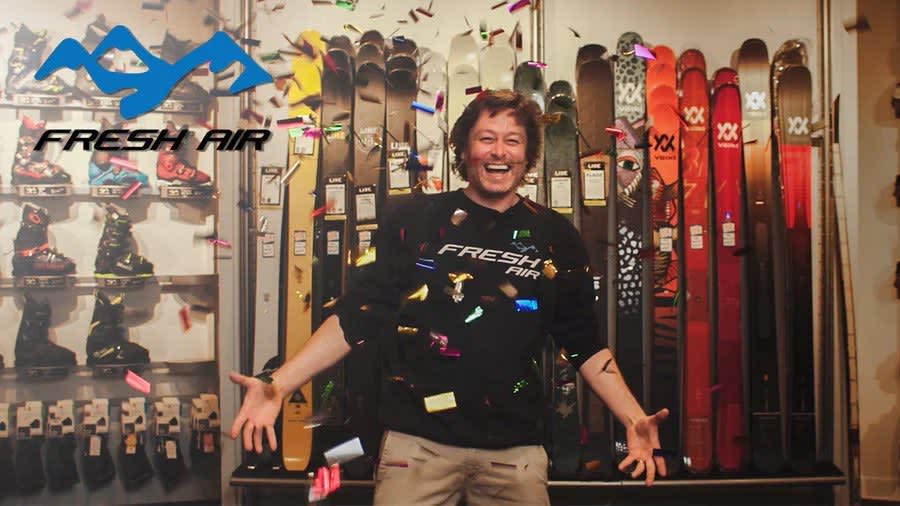 Fresh Air Vlog: All About Snowshoes, Bunkbeds & Cross Country Skis
Here we go guys! A new vlog! Switched up a bit for the next few. Winter's coming, got a couple of our sales reps in the house, talked about new products and what's going on with their lives! Here we go!
Before I go and introduce our next guest, I just want to give you guys a quick update on the bunk beds. I have customers when I'm in the store asking me, "How's Ryan doing with the bunk beds?" and this week we've actually regressed. I even went as far to buy him an air nailer for his birthday to, you know, try to get him to get going on the bunk beds, but... The kids can sleep in it, but we're not quite there yet, so I'm guessing I think it's gonna be another two years probably until they're done, so we'll keep you guys posted.
So, our next guest actually built his own bunk beds from wood off of his own farm and they're actually complete! Jay is here, he's here from Backcountry Access, he's going to talk about snowshoeing and cross-country skiing.
Hi everybody, I'm Jason Wutke from K2 sports. I represent a bunch of great outdoor brands: Madshus, Nordic, Backcountry Access-BCA, Tubbs Snowshoes. They're great outdoor brands, so you can have fun in the outdoors in the winter. One of the highlights of my summer was when Ryan called me and told me about his bunk bed project.
I didn't really want to rock his boat but, I made my own bunk beds by milling some fallen down trees on my little hobby farm. So I milled the lumber, made a bunch of 4x4 posts, and made bunk beds for my boys. Yeah, so, my project's done. I don't mean to rub it in on Ryan but, uh if he needs help he can always call me. We could like, do a zoom chat or a Microsoft teams call...
Tubba Snowshoes is a very authentic American snowshoe brand. They've been around since 1906. They've got a lot of great technology. They came from, if you can remember, the old teardrop wood-framed snowshoes made out of pig sinew. They've evolved into newer styles of aluminum round tube frames, some composite frame decking snowshoes. They make snowshoes for every type of outdoor enthusiast, from little kids all the way to the hardcore backcountry enthusiast.
So, Tubbs make snowshoes for everyone. It's awesome. One of the great things with snowshoeing is, two steps and you're an expert. Snowshoeing is really easy and super fun to do as a family activity, or by yourself, or for fitness. It's something that you can do with only six inches of snow so you really just need a little skiff of snow you can get out there and tromp around. It's super fun.
Really, with the Tubbs brand of snowshoes, we have an acronym that helps describe the snowshoe as a whole. That acronym is F.A.C.T. We talk about flotation, which is the size of snowshoe. Articulation, which is the rotating toe cord. Control, which is the binding, and traction which is the crampon. When we talk about flotation, that's the size of the snowshoe, for float. So, really the key thing for sizing a snowshoe is taking your overall weight with all of your gear and picking the appropriate size for that flotation in the conditions that you're going to be walking in. When we talk about articulation that's that rotating toe cord. That allows for great penetration in variable snow conditions, allows for great grip and traction because the crampon is grabbing into the snow, as well as when you pick up the snowshoe the tail drops into the snow. It actually acts like a steering rudder, like on a boat so it actually helps you navigate the different types of snow conditions you'd be walking through. As well as, it helps you not carry the entire weight of the snowshoe. Having that rotating toe cord when you pick up the toe, it actually, you're only picking up the front of the snowshoe and all the snow dumps off the tail, so the snowshoe is actually really easy to maneuver and control through variable snow conditions. When we talk about control, the C, in F.A.C.T - that's the binding. So there is a good, better, best through-the-binding technology. This model has boa, so that's a boa dial to tighten over the top of your foot, as well as there's EVA. EVA is ethyl vinyl acetate. it's the midsole material from your running shoe, it's going to damp vibration and make the binding more comfortable over your foot. So, for longer distances or longer walks on the snow you're going to have a more comfortable binding because it's going to distribute the pressure over your foot a lot more efficiently. When we talk about traction, traction is the crampon underneath so we'll have the toe crampon for grip as you're climbing uphill, and we'll have our aft crampon which is your brake or stability and traction for descending downhill. And as again, you move through the different models of snowshoes these crampons will vary in size as well as an aggressiveness.
This is a tubular design snowshoe so you'll see that it has a round aluminum tube set, these snowshoes are really designed for flotation in variable snow conditions. So, powder snow you can see how there's a rocker in the tail, they're really easy to walk in, but they're really designed for floatation and variable snow. So if you're walking around a golf course or anywhere that there isn't a groomed trail, these are great for that flotation in that variable snow conditions.
This is the Flex series of snowshoe, this is the Flex VRT. The Flex has a flexible tail as well as the crampon rolls down the side of the snowshoe itself, so for grip and traction on firm to compact snow conditions, this snowshoe is like walking on tank treads. The traction control and stability is incredible, it's unparalleled. Still has great flotation in variable snow, but where the snowshoe excels is in that firm compact snow conditions. So, any groom terrain any firmer, denser, snow conditions; this snowshoe climbing and descending will give you the greatest amount of stability grip and traction possible. Still will have a heel lift, so you can climb up a super steep terrain and then that flexible tail allows the snowshoe to bend and give a really nice walking gait as you're snowshoeing.
Madshus is an amazing Norwegian ski company, founded in 1906, making skis, boots, poles, pretty much everything that you need to go nordic skiing, and it's a premier brand with tons of world cup medals, uh Olympic medals, everything from that recreational skate skier to classic skiing, to that Olympic level athlete. So, tons of product there. In the boot world, Madshus started making boots a few years ago, they actually leaned on the inline skate division at K2 and took a nod from some of that technology, with this external cuff design. So, key features on the Madshus boots is this outer membrane that's a waterproof, breathable membrane. It's a softshell material that actually keeps your foot dry, warm, and comfortable. Inside the boot, you'll see that we'll have this finger lacing. These laces actually go all the way down to the bottom of the boot, so you're actually getting a precise grip and fit over your foot to pull the heel back. Your foot's not going to slide around, as well as it's a one-piece design upper called RevoWrap™. So, underneath this softshell membrane, the boot itself is actually made out of one piece. So, there's no seams to push on your foot. So again, you get that direct energy transfer from your boot through to the ski. It's a one-piece lower design, so again, attached to the cuff, this one-piece design, again maximizes the energy transfer from the boot through to the binding to the ski and it's a 3d moulded cuff. So this cuff on our skate boot will actually be 3d moulded, to give a precise fit around the ankle, as well as all of our Madshus boots, will have a memory foam through the heel area. It's a real custom fit through the heel area with that memory foam in the heel, so the Madshus boots are extremely comfortable, very warm, and a great fit for a variety of ability levels of skate skiers or classic skiers.
In skate world, Madshus makes skate skis for the developing recreational skier all the way to that Olympic world cup skier. This is the Redline 3.0. This is a brand new ski for fall '20. This skis got a great new development where the channel underneath the ski has been removed in the tip of the ski. So when you're skate-skiing uphill, having that channel removed allows you to get the ski on edge quicker without hanging up. So it's a lot easier to control and navigate the ski on those uphill skate.
In the Race Pro Intelligrip ski, this is going to be the same construction as our Redline ski, just with the p200 base. So, the Redline ski will have the same internals, the same carbon with the p300 base, it's a little bit faster, but this is a great ski for that person who doesn't want to pay for that Olympic-level ski. So, you can get that, all the same features of the lightweightness and that great speed of the p200 base, which is actually the base from the 2018 Redline. So, this is a great touring ski-has our mohair-blended skin on the base and this mohair-blended skin will allow you to have great grip and glide. A great innovation on the Madshus touring skis is the move system from Rottefella, where you'll actually have adjustability of the binding on the fly. So, you can adjust the grip and glide on the ski without actually having to unattach your boot from the binding, you can just move it with this switch and you can move it forward or you can move it backwards. So, thank you everyone, so very much! It was great to talk to you guys, uh be safe in the backcountry, and uh get out in the snow, and have some fun.
When I started at Fresh Air, Jay Wutke, he was always... I'd say he is the most interesting rep in the alpine world, and every year it gets more interesting. Lives on a farm, he's got llamas, all kinds of pets, we got some homemade honey. But you never know! Call him up, he never answers the phone because, you never know where he is, lives on a farm. And when he does call you back, he's got some crazy stories about what's going on in his life! But he's always a good inspiration, you know, he's got lots of children, so we always look up and you know. The whole industry is like a brotherhood, so we all kind of work along. The guy works hard, he really enjoys the summer because on his Instagram he's biking all the time! But, thanks Jay! We'll see you on the slopes!
So it's the month of October, a new vlog! But let's reflect on how good September was. Every morning, woke up with Luke, the Tour de France was on! It was exciting! I woke up with Luke, and then you came out about an hour later and decided to join us. But I always caught the last 30-40 kilometres of the race, which was the best part anyhow. And then we got hockey playoffs going on! Sad, Leafs didn't quite make it, but hey, you know what, there's always next year! They're getting strong, and the best part about September we finally opened up our store on Harvey. As you can see, we you know, say we did the renovations like lipstick! Got some new paint, new fixtures, store looks amazing and we're all ready for winter!
Our store on Harvey is open! We are accepting appointments, if you go on our website there's a "book now", it secures the best time slot. Come in, you have our uninvited attention for your appointment. We are taking walk-in traffic but be careful, we are limited with the amount of people in the store. Um, so you might have to wait outside for a bit. But definitely go on freshair.ca, book your appointment now, and we're happy to get you out on the slopes.
September was a great month, October's shaping up great! Cooling down, leaves are changing, fall's in the air. It was my birthday! and it's Amie's birthday coming up! It is a great month! We have a little fun contest for everybody! So I've been calling up reps, getting everybody lined up for the contest, and they all have a little sticky point because at first, they're making fun of me like, "Oh, you're doing the vlog, you're doing this wrong," now it's their turn! So, typically all our sales reps travel around so we get a little prize for them and we're trying to figure out what the best way is to declare a winner...
So a couple reps, who gets the most likes in a certain time frame, Amie and I are gonna re-gift a wedding present for the winner! This is gonna help keep them motivated while they're travelling, so the rep over the time, the next few vlogs, who gets the most likes on their show- they're going to get a Kernel's gift card so they can snack while they're going! It was a wedding present, we've had it for a few years, Clayton and Matt thank you very much for it, but every time we go we forget the card. So, we have this card, so it's gonna go to the sales rep who has the most likes for the show.
Thank you very much, everybody, get out, enjoy the Fresh Air! We'll see you out there.
Share Post: