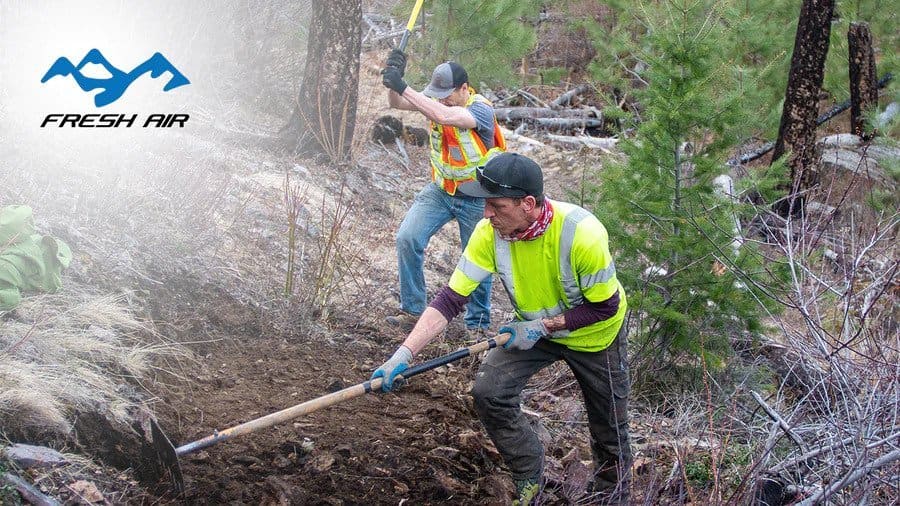 Fresh Air Vlog: Best of Kelowna, MTBco, Mother's Day, May Long Weekend!
Hey guys, here we go! Got a new vlog, the sun is shining. It's beautiful in the Okanagan, so let's get going.

So as always we're pretty busy around the bike store but it's nice, it's awesome to get the recognition: our bike shop was voted for a couple of categories in Best of Kelowna, and I always have a hard time with it. I think we should look at maybe Kelowna the Best! We got to thank Big White and SilverStar for all the work they did last summer, getting us going, able to bike, get out, enjoy the fresh air. Again you got to thank Kelowna Nordic, Telemark, everybody that gave us such a great opportunity to get out, enjoy the snow, the sunshine, the fresh air over the winter, and we've only got things to look forward to. Things like SilverStar opening up again, passes on sale, or sold out. Huge demand for biking again.

Thank you for your consideration for Best of Kelowna! Kelowna is awesome, and with everybody coming together, we're gonna beat this. And with being Best of Kelowna I can't forget what truly is the best. I know for us around here, past Mother's Day, we've got to say thank you to everybody. Congratulations. Happy Mother's Day! Crazy time around our house with three kids, Amie got out for a nice road bike ride. My mom is still back in Ontario, had a FaceTime with the kids, hoping to be able to come home and travel at some point soon to actually meet her grandson. Hope you all had a great Mother's Day and got out and enjoyed the sunshine.

We're very fortunate to be in the Okanagan, the amazing mountain bike trails, I am so pumped with the enthusiasm of our new mountain bike club or new members brought on a mountain bike club. We have two members, two directors here that are going to talk about the direction of the club right now where it's going in the future. We have Bruce, we have Diane in the store today to talk about what's going on with the Mountain Bike Club, and going for it.
Bruce
Hi, I'm Bruce Clarke and this is Diane Oorebeek from MTBco, we're the Mountain Bikers of the Central Okanagan. We're a trail advocacy group that builds and maintains trails here in the Central Okanagan. We engage with all levels of government, other riding groups and trail groups in the area, and we organize and run events when we're able to. Hopefully once COVID is lifted, we'll be back into our events. We represent three trail areas here in Kelowna: Knox Mountain, Myra-Bellevue and Gillard.
Diane
We are really excited about the growth in our membership this year. So we decided to launch membership drives in March and we set an initial goal of 600 members and it kind of blew our minds because we surpassed that before April is even over, so we've revised we've set a new goal of 900 members, and we're already over 75% of the way there, which is fantastic.

That shows that we have a community of riders who take pride in the trails. The trail networks, and the associations behind them. And we're also really grateful to have the support from the local shops and service providers here as well, so thanks to Fresh Air for inviting us here.

It also shows that there's an awareness that the trails and trail networks don't just build and maintain themselves. There's a ton of work that goes on behind the scenes: planning, advocating fundraising, and of course, digging and building. So we really want to communicate the expectation that people riding the local trails should belong to and support their local trail associations. So for now I would say know that by purchasing your membership, you're contributing to a big impact because by demonstrating that we have a large active and engaged membership, we have a stronger voice in advocating for the mountain biking community, and it allows us to pursue opportunities to secure funding to accelerate our plans.
Bruce
Yeah, as Diane said a strong membership is what is going to be at the core of a strong mountain biking community. The recent increase in membership here is fantastic and we need to keep that going. A big reason we need membership increase is in order for us to be able to access grant money, and we've had a handful of failures at that this year, unfortunately. But we have learned that the biggest issue that the reviewers had was that we did not have a large enough membership.

We have plans to do an economic impact study and pursue funding from different levels of government so that continue to get the much-needed funding we need to build the infrastructure we have planned and in place. In particular, we have big plans for Gillard, as most of you probably already know, there is a climbing trail that's planned and has almost been completely approved at this point in time. We look forward to getting that in. So please keep an eye on our social channels and our website, and keep recommending to your friends to get those memberships, get our numbers up, and we look forward to seeing you on the trails.
Ryan
Thank you, Bruce, Diane it's amazing to see the passion coming out. If anybody sees them out on the trails on the long weekend stop, maybe a virtual high five. Thank you for the work remember: buy your membership for MTBco. The proceeds all go to great causes and helps everybody out in the valley.

Alright guys, sad time as always, end the vlog. But again thank you very much. Just remember May long weekend is coming up, we're actually taking a long weekend. Both are stores are closed, Saturday, Sunday and Monday. We're getting out, enjoying some fresh air, hoping to meet you out on the trail.
It's time to get tuned up and ready to hit the trails with Kelowna's expert sports store. We've got more bikes coming in and are ready to kick off the season with your bike assessment. Contact us to get started.