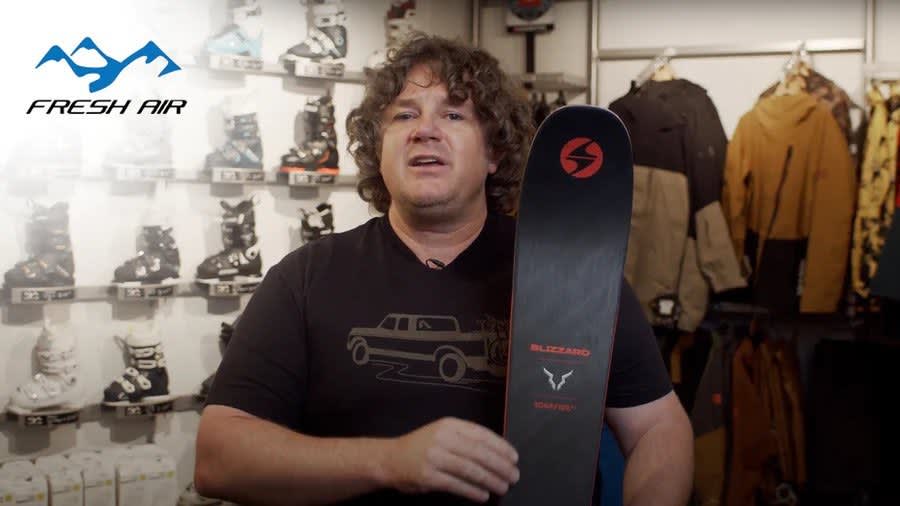 Fresh Air Vlog: Blizzard Skis, Birthdays, Boot Fitting, and Heliskiing
Hey, guys, here we go, new vlog. We're in the middle of November. So, big day in the Olar family. My dad's birthday, my mom's birthday and their anniversary, big shoutout, happy birthday! Again, sorry, I don't even know how long it's been since I've been home. I know the kids are going to FaceTime, so have a great day! Here we go, carrying on to the winter products' theme, we have Mr. Ryan Weese in the house today. He does POC, Flylow, Tecnica, and Blizzard Skis. Which is new for us this year.

Hello, my name is Ryan Weese. I am the Blizzard, Tecnica, POC, and Flylow rep for Fresh Air here in Kelowna. I am very excited for this year because this is the first year we've had Blizzard skies at Fresh Air, and I know that there will be a lot of you who want to come in and grab those skis and try them out. They have demos here and an awesome selection of all of the products that we sell.

One of the products we're going to talk about today is the all the new Tecnica Mach1 MV. This is our top-selling boot over the last number of years. We've made some significant updates to it this year. Although when you come into Fresh Air because they have such a high-end boot fitting experience here, your foot will dictate which boot you go to. The shape of this boot, the performance of this boot will likely be recommended to you. Fundamentally, for this year, there have been some big changes. We have improved the fit of the boot with a little bit more anatomical shape. We squared the toe box out, so it would fit more comfortably and still perform at a very high level. The biggest change, though, is the back of the boot. That is the T-Drive Spine here. That T-Drive controls a ton of power through the boot, which is going to cause better edge hold, more comfort because you're going to drive more power to the ski. And you're not going to have the top of the boot flexing down on the instep. And you're not going to have the top of the boot flexing down onto your instep. You're going to have a better fit. You're going to have more control of your ski. Ultimately, this is a great fitting boot, and for almost all of you out there, you should be able to step right into this and have a great day on the hill.

For you ladies out there, we have the Tecnica Cochise. This is the 105 Flex, so performance flex for an extreme skier. This is a unique boot in the marketplace because it gives you the ability to ski inwards all day long, or because of the tech inserts in the ski boot, it's going to allow you to go into any of the new touring-type bindings. It allows you to go back-country skiing. You can have one boot that allows you to the ski resort and does legitimate back-country skiing. As I mentioned before, we're super excited about this year because Fresh Air is finally carrying Blizzard skis, and for all you lady rippers out there, that means they have the Black Pearl.

This is the Black Pearl 88. This is the number one selling ski in the market. Not the number one selling woman ski, not the number one all-mountain ski. This is the top-selling ski, period. Every ski brand tries to mimic this. I hear every year, "We've got the new Black Pearl." No one is doing it. This is an all-new, ground-up Black Pearl ski this year. Designed and developed with our woman-to-woman project. I can say confidently we didn't come up with a Black Pearl 88; we came up with five. Every single length is a unique ski, with its unique TrueBlend core. As the ski gets longer, the ski has different layers of wood throughout it to get the optimum performance for your level of skiing. Whether you be a lower intermediate or through expert. If you're a female skier, this is the ultimate weapon for Big White.
Another amazing new ski being carried here at Fresh Air is the all-new Blizzard Bonafide; it's a 97 waisted ski. It has two layers of metal over a sandwich sidewalled TrueBlend wood core. That means this ski is going to be smooth. Stable, offering a super high-level of performance in all conditions. It has just enough rockers that if you get some powder in the snow ghost, you're going to have a great time. Or if it's a cruiser day, you're going to be in the late trenches. The Bonafide 97 is that one-ski quiver that allows you to go everywhere!

Available at Fresh Air this year is the all-new Malone jacket from Flylow. An amazing waterproof breathable shell from Flylow. It is great for any conditions Big White can throw at you. Whether it's a cloudy day with snow just hammering down, it will keep you dry. If it is a sunny day, it's breathable enough to keep you nice and cool or warm, depending on your flavour. It has all the tech features you would ever want. 20,000 waterproofness, breathability, removable powder skirt has an RFID chip pocket so you can just wave your arm at the pass and just get on the sick pack. Obviously, this jacket looks super cool. This is the one I wear, you and I can look famous together. Love it. Moves with me and keeps me dry when I'm touring. And comfortable to ski all day.

Here I have the woman's new Moxie bibs from Flylow. Bibs are all of the rage. Flylow is a bib, pant company. Sure we have normal pants, and we sell a lot of them, but everyone loves the Moxie bib. It fits unbelievably well. I'd go so far as to say it's like the Lululemon of ski pants. It's super comfortable; they make every body shape look great. One of the best features of this, ladies, is when it's time to go to the bathroom, it's not going to be an ordeal. You don't have to get totally undressed. You can simply release the velcro, and unzip the side, and pull the pants aside. Super easy access and makes it even easier to own a bib. They are the most comfortable pant you can wear skiing or snowboarding.

One of the benefits of my job as a rep is I do get to traditionally travel all over BC. in the summertime, which means coming here and taking advantage of the biking in Kelowna. In the wintertime, that means I get to come here for "work" to go skiing up at Big White. It's a pretty awesome lifestyle, to be honest. One of the biggest perks to me is really the fact that I can justify going skiing. That's how I got into this; as a ski shop guy decided, you know, I would like to ski other places than just Whistler where I live, which afforded me the opportunity to go all through British Columbia—staying at different resorts. Usually getting to go ski for free, I'm looking at you, Big White Hook me up. So, the ability to ski everywhere really afforded me the opportunity to meet many awesome rippers across the province. Ski with tons of friends, ski with the shops, staff. They show me the goods; I try to keep up. It's a ton of fun. In the summertime, as I said, biking has been a huge aspect in the summertime, part of my life.

We also represent POC, which is a huge brand here at Fresh Air. I'll bring my e-bike so I can keep up with the guys at the shop. They drag me up huge climbs. I ride turbo, so it's not a big deal; then I usually am a little bit quicker than most when going down. It could be inertia and a big body. But I have a bike that can take it all.

New for this year, though, is my wife Kerri joined the rep agency team, and we are at a busy level, where we need more people but fundamentally, what it means is that the two of us can now do this all over BC together like Ryan standing up here with Amy, there's obviously conflict. I feel I work too much, and she bikes too much, but overall it's working out pretty well; at the end of the day, it allows us to do a lot more together without me being on the always road coming back with great stories about all the stuff I did. and her just rubbing it in my face that she's a heli-ski guide, and went heli-skiing the whole week that I was away. So the big picture is that she doesn't get to heli-ski as much anymore. And I'm not feeling jealous, that's why we work together.

I would like to thank Ryan and the Fresh Air crew for having me come and do this vlog. It's only taken about six months since he decided to start these things, and he called me, probably twice a week, saying, "When am I going to do this?" So after six months of, let's be honest, nagging, here I am; I'm stoked I've done this, and if I don't get all of the likes and clips, you better subscribe because I need the Kernels gift card that is up for grabs. After all, before I go on my winter "training" for skiing, I need to carb load with some good old-fashioned Kernels.

Ryan, thank you very much. We joke around about this a little bit, but I actually talked to Ryan's wife today. I always need a little back-up just in case I was praying for some bunkbed jokes, and some stuff, but Ryan kept it pretty simple no jokes; he took it pretty easy on me... today. Great to see all of the products.

He was a little overconfident a couple of weeks ago on the gift card. I had to bring the gift card; I was showing Ryan. He was so confident he was coming in today with a bag of popcorn, he was thinking he was going to win it. I don't know... Pete's just came out, looking good, Jason was looking good. We got a couple of great guys coming up after. Heat's on Ryan; I'm not really sure how it's gonna go.

But thank you very much for coming and sharing the knowledge on all of the products we sell at the store.

Awesome, so just a quick wrap up. A recap of what's going on with the store. I wanted to say thank you to everybody for their patience. I know it's challenging times. We are limited to the number of people in the store; if you want to come in and check out something, please book an appointment online at freshair.ca. We have it set up for both our store in the Mission and the store on Harvey.

Book an appointment, and it's guaranteed that your time slot to come in, and we're here to help you get everything ready for the season, and that's it. Awesome! Thank you very much. Hope to see you guys on the slopes and enjoy the Fresh Air!