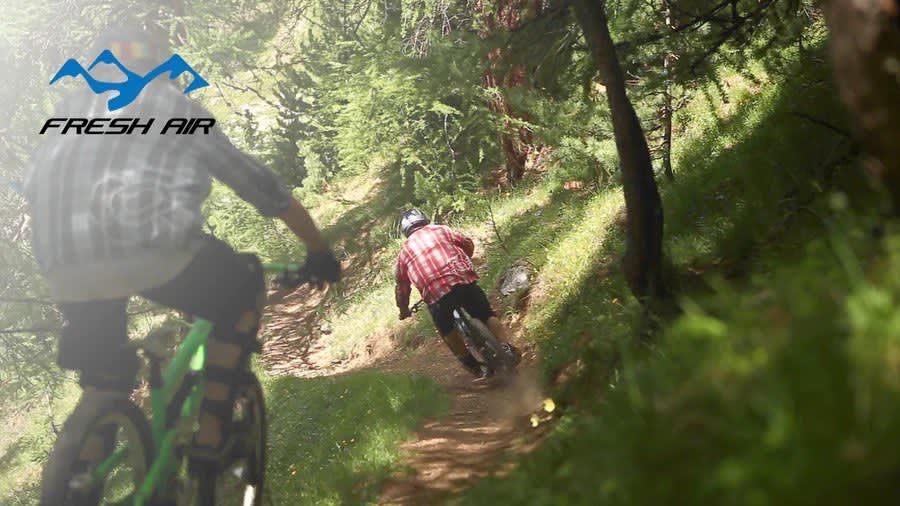 Fresh Air Vlog: Chicks in the Sticks, Mountain Biking, Family Vacations, and Trek Bikes
Here we go! A new vlog! What can you say, summer's in the Okanagan. It is amazing! Finally, think it rained in April, May, June, the first part of July. But! Summer's here! Resorts are open. Big White, SilverStar, Predator Ridge- Carmen was here last week- it's amazing. The trails are in fantastic condition. The best part about our job is everybody we get to meet at the store. We've had people in, Michael J, we had Ginny from SilverStar, Carmen. Y'know, we get to work with amazing people, not just at resorts but within our community.
The next lady that's going to be on our show today; she was introduced to me basically when I came to Fresh Air. She is, you know, ingrained in mountain biking. Ladies mountain biking in the Okanagan. Our guest today is Liz Sage, she's been leading the Chicks in the Sticks mountain bike program for the past twelve years! Inspiring ladies to get out and ride, pushing their limits like they never thought they'd have a chance to. It's amazing what she does, and it's amazing helping these ladies and watching them grow into avid cyclists.
Liz: Hey, my name's Liz Sage and I am the head coach for Chicks in the Sticks. So this year, it's been a really interesting season because we are not having our community rides this year. Unfortunately, they're suspended until further notice. However, our Club Mountain Bike Program 2020 is off and running. We're pretty excited to see these gals, now into their fourth week, I believe, and we are just so excited to see how they're growing. They're just rocking it out there.
So the Chicks in the Sticks club program is a 10-week program and it is designed to take our gals from the basics, the foundations, principles, and skills, right through to get them riding some pretty great terrain. We have a start in the beginning of this season where we're going through fundamentals, body positions, operation and control, working on speed and cornering. So, we go into the 10-week program and as we go through this season we take our gals on different trails, on the west side, in Crawford, on Knox Mountain where we were last night. We're yes, making them climb up apex trail. And they really rocked it out there. And of course, at the top of the trail, we have some great DH and they are moving through those skills down the burms. A little edgy right now, however at the end of the season we'll take them back to Knox and hopefully, they'll have gotten their skills together and be able to ride smoothly, with confidence. Clearly their fitness will be excelled at that point as well, and they will be feeling safe and comfortable.
And that's really the objective of this program. It's to foster friendship, fitness in the fresh air of the Okanagan and bring the community together. These gals are now riding with each other off our ride on other nights and days of the week. They're coming together as comrades, a little bit of competition, and certainly some friendship and support. And that is another founding principle of the Chicks program, is to really offer support to women out there in the trails but also in generalized life opportunities that come up and struggles they might have, challenges they might have, on and off the trail. That's what women do. Women support women and this program is really great for that.
So, as you can see, Liz has lots of passion. She's inspired by ladies. But, the important part for everybody is the tools they use. Liz has been a Trek ambassador for us for the past few years. Here she is talking about her ride.
Liz: So, I have been riding the Remedy for the last three years, but last year at the end of the season, I got my hands on a 9.7. And wow, what a game-changer. This bike makes me a rockstar. And what I mean by that is really, a "rock" star because I can handle rock like I've never handled before. The carbon frame really helps with the bounce, the lightness on the climbs. But I really feel like I stick to the trail. Definitely the geometry for me. I like the idea that this has a wide bar so I can really get a good framing on the bike. I can absorb a lot of the rock and force of gravity coming up underneath me on the ground and I just love the way it cushes. That's a weird sort of way to express it but when I land some of these drops, it's just so cushy. The bike just comes right up underneath me. And of course, you've got to set all your components the right way to get that. However, from going from an 8 to a 9.7 there's just no comparison. What I feel like it does is allow me to really show off my ability on the trail. It doesn't hold me back, so I can do drops, rocks, rolls. I can land some really sweet stuff and it really supports my style of riding.
Awesome! If you're out on Crawford, around Kelowna, keep an eye out for the girls, they're riding every Wednesday night, 6 o'clock on the trail. So as the shops rolling around we're actually. We were actually able to take a bit of vacation time! We did the first-ever Olar family vacation. Five people, three kids, in a car! It was fantastic. We had a chance, we got to go to the island. Never been to the island before. Kids had never seen the island. So it was great exploring, then we hit up Whistler afterwards. Jack loves the dirt jumps. He had a chance to ride, meet some buddies. That was our little break from the shop. Everybody else, Kyle's gone away, Marty's got a couple weeks- he's going camping. He's going surfing, hopefully he wears his sunscreen. But, it's a chance for us to actually get out and enjoy what we do, sports we do. So we can come back recharged and ready to go and help everybody out hit the trails themselves. So, this is what it's all about! Jack's been out camping, biking with his grandparents, already Crawford, Rose Valley, Predator Ridge.
It's all about getting everybody out and enjoying the fresh air and hanging out with their families, and just having fun. Be safe and enjoy the Fresh Air.
Share Post: