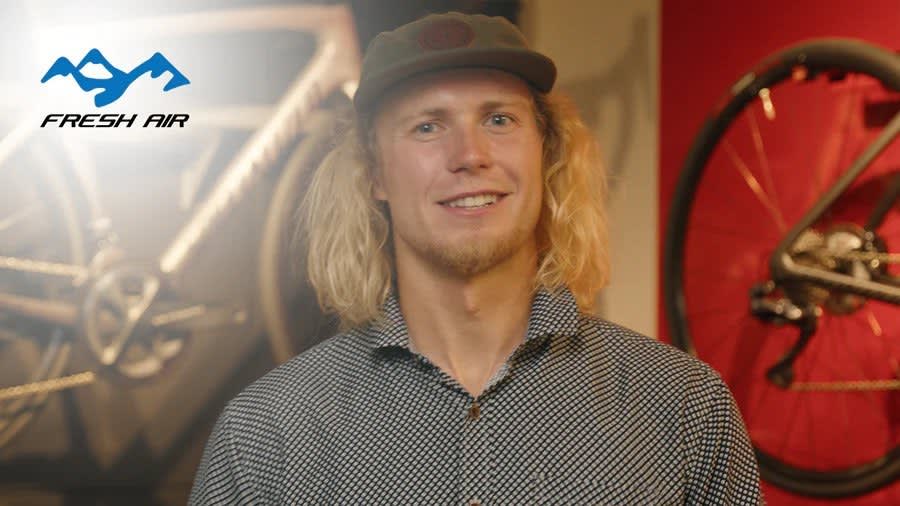 Fresh Air Vlog: Family Vacation, Will's Back in Town, MTBco Keeps Growing
Here we go, got another vlog. What can I say about the Okanagan? It has been fantastic. Little bit of smoke, but what a summer so far super hot, the water has been amazing, mountain bike trails, fantastic.
So I must say my buddy Al, I know you're on me about the bunk beds, never quite got there yet, but we did build out the van a little bit for our family vacation. The Olars snuck away from the Okanagan when the smoke was coming in. The whole family vacayed on the island. Take a look at the beds. They worked amazing for the family, for little rest stops along the way. Sorry Al, it's not bunk beds, but it will do.
Up until last year, I'd never been to Vancouver Island. Last year was an amazing trip, we went back. We actually went out to Tofino. Fantastic biking on the beach, did a little surfing, a little boogie boarding. The kids just had a blast. It was amazing just exploring forests. Of course, Jack snuck away for four days before to go to Whistler, joined up with us. It was just a great family trip, lots of fun. Amie's whole family was with us, so it was really fun to stay connected and catch up after being isolated. So it was an amazing trip for us to get out. Even though we travelled such a small distance for our trip.
Our next guest biked across Canada. You guys were following along with Will. He had an amazing trip. We talked to him quite a few times along the way. He was actually quick and believe it or not, he was like 10 days early on his trip. There were days he was doing 250 to 300 kilometres a day, which is amazing. My butt gets sore just thinking about it. But here's Will to fill us in on the whole adventure.
Will
Hey guys, it's Will, I'm back in town so I finished my ride across Canada. Victoria to Halifax, which was an amazing experience. I'm back home now doing another vlog.
It was an amazing experience. I was gone for 48 days, 45 of those were on the Specialized bike. Obviously, highs and lows are gonna happen when you're gone that long. If I had to think of my favourite experience it was probably Quebec, just as a whole, specifically Quebec City. Honestly, it doesn't even feel like Canada, it's like really old buildings and just really friendly people, and I've never seen that so that was really awesome.
Also just further up the coast of St. Lawrence in a little place called Ste. Flavie, I was camping and just had the most beautiful sunset over St. Lawrence and I was camping right on the beach. So I'm definitely never gonna forget that moment. It was really special.
I mean obviously, there's going to be some bad moments as well. The Prairies were mentally challenging. I mean they're flat so physically it wasn't that bad. But the hardest part for me was this one section about 100 kilometres between towns or even gas stations so no real resupplies for a solid five, six hours, and it was 35 degrees and it had a headwind so that was, that was a struggle. I think the absolute low was when I was like, using a garbage can for shade because there are no trees on the Prairies, and the rest stops in Alberta are just pull-outs with garbage cans. So that's where I took my break in between stops.
So when I left, I kind of had an idea of what I was getting into reading my dad's journal but obviously, the experience was a lot different. Overall I'm really happy with what I packed, I mostly brought what I needed. I wouldn't change too much about it. And I think mentally it was harder than I was expecting, being by myself, but physically it wasn't as bad once you get into the routine honestly it kind of just flows once you get used to it. So, overall, the trip was a lot of what I was expecting, actually. It was pretty spot on. I was really happy with how it went and I think I got everything out of it that I was searching for.
Surprise, I'm actually not tired of biking so the next thing — two things are on my mind, I really want to do the Tour Divide which is Banff to Mexico. And then the alternative to that would just be biking down the West Coast so kind of leaving here in B.C. and going down to California, I think that'll be gorgeous. But not tired of biking yet, there'll be more of these trips in the future.
Ryan
Again, as I said, it's amazing. I have a hard time biking for an hour, two hours I can't imagine six, eight weeks. But he does an amazing job. And all he keeps saying is, he has the urge to do more. He's got bigger trips planned. Anyhow, it's amazing, glad he made it home safe. Awesome.
The update everybody's looking for: I have the dynamic duo from MTBco, Bruce, and Cameron in to talk about what's going on at the club, how memberships are doing, and what exciting things are coming down.
Bruce
Thanks for having us on again Ryan. Hi everybody it's Bruce here from MTBco. It's great to be back on the Fresh Air vlog. As I mentioned in the last vlog we went from 600 members and we were pushing for 800, and we've reached that milestone. So thank you very much. Please continue to remind your friends and family to get their memberships, things are going well. Speaking of milestones, we've got our first bike raffle in the bag, a huge success for the club. We raise a lot of funds and some lucky rider is out there on a beautiful bike.
I've talked about this in the last two vlogs but we finally launched the economic impact study. You'll see volunteers at the trailhead in all the major riding areas in and around Kelowna. Please take a few moments to help them fill out the surveys, they'll be completing a short one, in person, which is just one to two minutes and then you'll be asked to do a longer one which is online and only take 10 minutes or so. We need locals and visitors to complete the study so please let your friends know who are in from out of town to help out with this as well.
These economic impact studies are paramount for every major mountain biking community. They've been done in Whistler, Pemberton, Squamish, North Van, Roslyn, all the great biking areas you go to, they've done them and that's how they access the larger funding required to create the great mountain biking environment they have. This is what we need so please give them the support they need. And from here, I'd like to hand it off to my good friend and fellow board member, Cameron.
Cameron
Hi everyone my name is Cameron, I'm a board member, along with Bruce. We are excited to bring back the Cranksgiving Funduro. One of our pillars as a club is to create a mountain bike community that we're all focused on the same thing and getting out there and riding and what better way to do it than an event?
The other thing is I know we have had some questions about our MTBco socks. They have been a big hit. We're super excited about them, and we are currently in the process of designing a new one. These ones here, you probably will be able to get your hands on if you'd like to buy them. But hey, if you want to volunteer and come on out, chances are you'll grab a pair for that as well. In addition to the socks, we are having some shirts made up as well so if you want one of these MTBco shirts, volunteer and get one on your back. There may be some surprises along the way as well. Super excited about it, lots of things happening. Looking forward to seeing you on the trails. Have a good one.
Ryan
And again, what can I say? It's amazing to see the enthusiasm in the mountain biking club this year, and it's just going to carry forward. So make sure to get out, get your memberships, not for this year for next year. Tell everybody about it, there are amazing things coming this fall and next summer going ahead. And that's all we got today. I know it's been a while since we did this, we packed a lot of stuff in ourselves and the family adventuring. All I can say is guys get out in the sunshine and enjoy the fresh air.
Kelowna's local sports store is here for the outdoor community bringing you all the gear you need for your summer adventures. See what we've got in store.