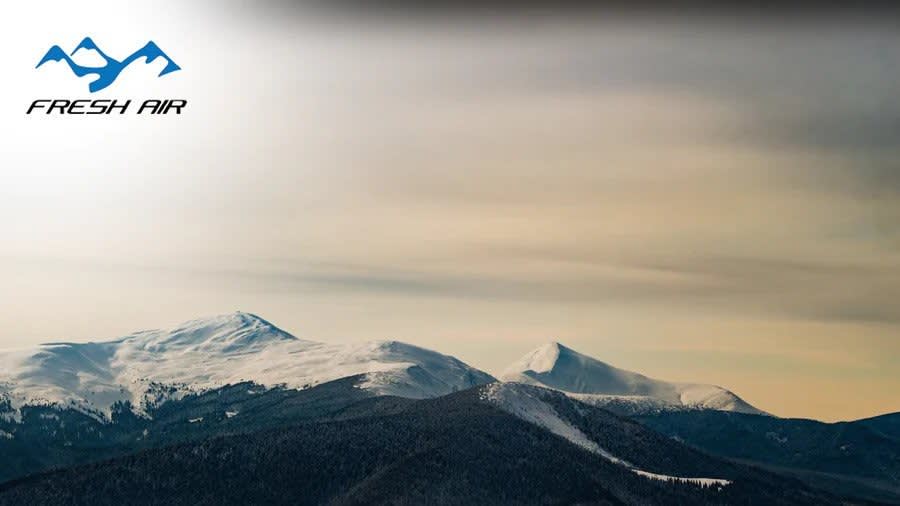 Fresh Air Vlog: Holidays, Skis, Goggles, and E-Bikes
Here we go! Beginning of December, practically Christmastime. I got my list out early to the family. We do a little family draw - not sure who's got my name but we got some camping supplies on there for next summer. So I'm pretty excited!
Up today our guest - when he moved into Kelowna, he actually lived in a suite in our basement. I think he thought I was a little bit crazy, because I'd be out at night. You know when the kids are sleeping, I was out in the yard plucking every dandelion. I wanted to have the greenest grass possible. I actually have a couple buddies, every time I cut the grass I send a photo. It's looking good. I'm working on this new checkered chevron pattern on the grass right now when I cut it. It's looking sharp.
So our guest today, Justin Jackson he's with us. He does Smith Optics, summer and winter LINE skis, Full Tilt boots. Hot stuff. Here's Justin to talk about his products.
Hey guys I'm Justin. I work for Smith, LINE and Full Tilt, and I'm here at Fresh Air tonight to talk a little bit about what we have to offer. Here we've got the LINE Blade™. Brand new this year, and it features Gas Pedal Metal which is a metal laminate top sheet that provides incredible torsional stiffness, while still providing that fun, playful feel you expect from a wood or fibreglass ski.
Here we have the Pandora 104. This is a perfect lightweight ski for the chick who rips, or anybody who wants to get out there and have a good time in any snow condition. The 104 you can have fun anywhere on the mountain. It features a maple Polonia core, so it's got a really great strength to weight ratio.
This is the 4D MAG™. It features ChromaPop™ lens technology and something that we're calling BirdsEye vision. You'll notice here if you look at the goggle, the lens actually wraps around the bottom of the frame. What this allows is for the goggle to improve your peripheral vision by up to 25 percent. The 4D also features Smith's MAG technology which is a magnetic interchange system which incorporates two locks that allow you to change the lens at any time you like but ensure that the lens will only come out when you want it.
This is the Ascendant Sammy Carlson. This boot is perfect for shredding anywhere on the mountain. Whether you're going up or down, skiing deep power bumps, this boot does it all. It has full tech toe and heel for touring. As well as a walk function so you can ascend it, and send it. It was a long strange summer with all the stuff going on. It's really great to be back in the store talking about ski stuff and getting excited for the season. I'm really excited for this year. I appreciate you guys for having me here. I hope to see you guys out on the slopes!
Fantastic Justin, thank you very much. The LINE stuff is always hot sellers for us. You know every year it's like we double our orders, and it's always gone before Christmas. We're shooting the beginning of December. You guys gotta hurry in quick - this stuff is not gonna last. Gotta get out, enjoy the snow.
So we're back to our rider's gear. Customer today has been a loyal customer of the store ever since I've been here. We've seen him evolve, not only him but his family. You know I'm the kind of guy that sits back and I observe a lot. You know, this guy had always come in. He'd buy a lot of stuff for himself. His wife would come in and be like "I can't believe he bought this, and bought this". And you just don't have the heart to be like yeah but "he's got this on hold too, or on special order". You know over the years he's learned. So he's actually started working on his wife's bike now. So she's got to come in and fix, so then he has an excuse to come in and buy stuff. It's genius. Here we go, our guest today Mr. Mark Roberts, talking about the bike he bought for his wife to ride around town, and now it's kind of more became him because I've never seen her ride it. But Mark's gonna talk all about his e-bike, and the great time he has in the Okanagan.
My name is Mark. I have been a Fresh Air ambassador since I was knee-high to a grasshopper, and when Marty Tim was a young lad. About a year ago, I bought the Electric Veil™, and it's an electric e-bike. The reason why we bought it is because it fits both my wife and I. My wife's about a foot shorter than I am, and we can share it all at the same time. It gets us to and from work. Me during the warmer summer months, and her during the winter months. She's a lot tougher than I am so we outfit it with studded tires, and she rides it through through the deepest snow. It gets her to and from work in the coldest weather with no problem on battery life.
So for myself, I have to ride about 12 and a 1/2 to 13k to work each way. And included in that, is about a 200-meter climb. I live out in Glenmore and work over in West Kelowna and have to make my way up that bridge hill, and up into the top of Lakeview Heights. When I get to work I'm not out of breath and I still have lots of energy for the rest of my day. Then I get a nice cruise home at the end of the day. And I still have lots of energy to play with family or go on another bike ride of my own.
I really love the power assist. Or the pedal-assist, rather because it means that I actually get a bit of a workout while I pedal instead of just relying on the throttle in order to get me up the hill, like some of the other e-bike brands.
Awesome, thank you very much, Mark! Mark's family, they're outdoor enthusiasts. You follow him on Strava Instagram you know they're in Revelstoke, Whistler, biking, skiing, ski touring. His son is in the Freeride Club. They're everywhere enjoying what the Okanagan has. That is what our customers do to get out and enjoy the Fresh Air and we're glad to see them enjoying everything. It's the moment we've all been waiting for.
The mountains are all opening, the snow is fantastic, it's only gonna get better. Make sure you bring your stuff in. We get it all tuned up. The guys have been busy for like a month, so give us a bit of lead time to get you set up for the holidays, get everybody ready to roll just to get out and enjoy the snow. Awesome everybody! Thank you very much, it's been great having Justin on.
It's great having the mountains open, so get out and enjoy the Fresh Air!
Share Post: