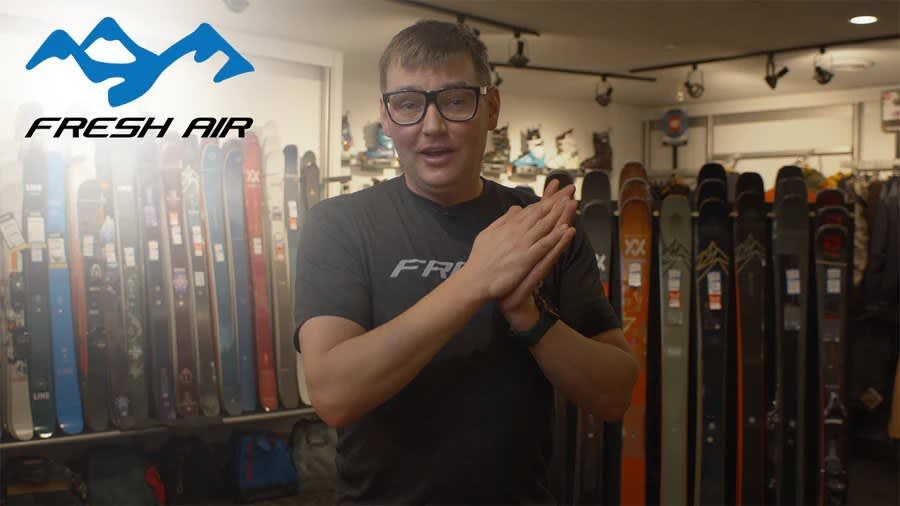 Fresh Air Vlog: Plans, Summer Thoughts, and a Brief History
Here we go! New vlog! A lot has been going on. I know before Christmas we talked about, well, heck in the whole last year we talked about my bunk beds, and how they're not done, and how I don't complete things. So, I got a get-out-of-jail-free card! We sold the house! We're moving! So, I don't have to finish the bunk beds! But, we're gonna build some new ones. Not only that, I've talked Amie into letting her build me a murphy bed downstairs, so we got a playroom for the kids, and when friends come over we got a bed! There's gonna be some, lots of excitement, we got a couple months before we move, so working on some plans and we'll get it done! And, it will get finished this time. I've already been warned.
So, I've said this many times, we're always very fortunate about the staff that do come. We're lucky this year to have another good Ontario boy! We have Leif here today, talking about his ski setup and his experience in BC.
My name is Leif McFadden, I work at Fresh Air. I'm a tune-goon in the back here. I love working here it's awesome, one of the best places I've ever worked for and my bosses all have helped me out tremendously, and happy for the opportunity they gave me. I'm from Meaford, Ontario. Small little town, Georgian Bay, close to Blue Mountain. It's all ice there, so I figured I'd come out and shred the Okanagan champagne powder, see what real snow is like.
BC's been nothing but great to me and I love the skis, that I actually bought here when I got here, because I wasn't skiing any real snow or any real mounds so I needed some big boys and got the JJ's under feet and we're laughing now. I've noticed with the JJ it's your all-mountain shredder like, although they're 116 underfoot, you can still shred them in the park and tread them in the trees if need be, and with all the snow we've been getting lately they've been ripping up the mountain just great, keep a smile on my face ear to ear.
Leif brings a totally different element to the shop. You know usually, it's like rock and hip hop music playing. Country boy, we've got some country music playing in the background, adds some excitement. He's super passionate about skiing. He's the guy that gets your skis fast, tuned up, ready to go. Pop in, say hi when you're in the store next time.
It's hard to believe it's middle of winter and we're planning summer. You know, it's funny we're always like six to eight months ahead and right now we're just kind of bringing on new staff, hiring staff. But, the one person who has a crazy story of how he got involved in Fresh Air, and who's been here forever: the one and only Mr. Marty Tim! So he's here today, he's going to talk about how he got involved in Fresh Air and how long he has actually been here!
Hi, my name is Martin Tim. I have been with Fresh Air since 1994. I'll let you do the math on how many years that is. Yeah, it all sort of, a sort of a fair getting into this place. I had a roommate that worked here, long story short, he couldn't make it to work that one day. Anyways, I showed up. I wasn't actually an employee, next thing you know well, you did the math you know how long I've been here now. At some point, you stick around long enough you almost run yourself out of a job. You better buy-in or else, or else you're out. So that's what I did that has also been a phenomenal huge change in my life. Especially really change how you look at things when suddenly you're on the other side of the paycheck, I guess. Yeah, it's been phenomenal and I think it's a really exciting time for me moving ahead. So much, much, time passed and then I met my good friend Ryan Olar. Ryan Olar is a blessing that came to us from back east. I can't think of any other way to say than that. So nice. He's been- he's been a phenomenal change in this place and it's been great to have so much good energy brought in with some great ideas, really helped me to really rethink how I see things in Kelowna and retail in Kelowna and sports. All the stuff I love, just being over the trails and the hills and skiing and biking and running. I am one of those nerdy triathletes too, so I'm out there doing that stuff as well, yeah. It's been a real interesting like, up and down road, through this place. There's been all sorts of interesting changes and so many great staff over the years I've worked with. I've just been, I don't know, tons and tons of great people. Huge, huge, experiences out of this place. It's been awesome.
We always get asked questions; what do you use, what do you wear? So what we're going to do, have a little fun, I'm going to throw my kit on! We're going to give it all away, over the next few vlogs! All you have to do comment below, tag a friend. We're going to announce the winner on the next vlog

Here we go! First prize! We're giving away my Scott Shield goggles! Scott helmet! Lucky winner, remember: comment below, tag a friend. These guys here are going to be yours. It is hard to believe, we still got lots of great time on the hill. The snow is great, sun's out. If you missed your chance to get your skis early in the year, we got tons of demos in the shop right now. We got samples from next year's stuff in the store as well. Come on down, try out some new stuff, the snow is great.
Get out, enjoy the Fresh Air