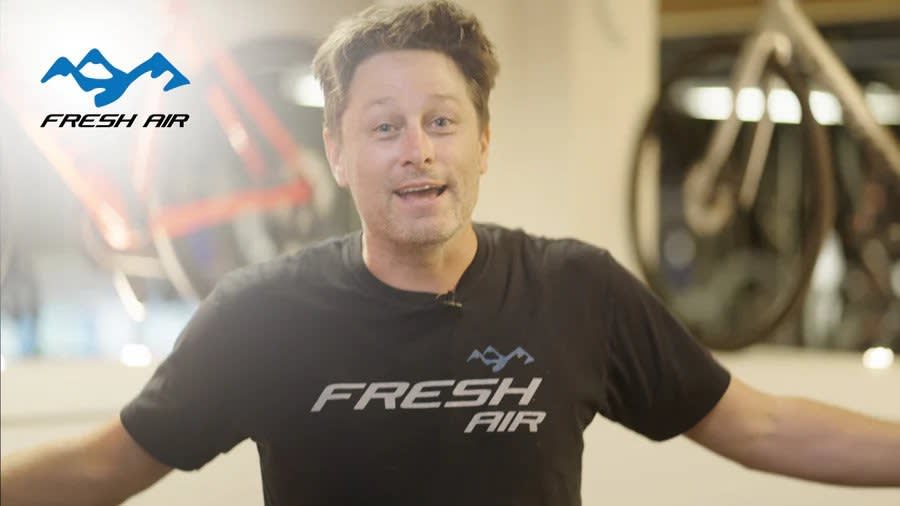 Fresh Air Vlog: Silver Star Trails, Predator Ridge Anniversary, Cross-Canada Check In
Here we go guys, we got a new vlog, thank you for joining us. Let's get this going. First off, I got to thank my wife, it was our anniversary, we had a great trip. She surprised me, we went out to Predator Ridge. It was amazing, got in a quick 18 holes of golf, a little dinner at the restaurant. Did a little biking in the morning, it was fantastic. If you're looking for a staycation in the Okanagan definitely, highly recommend going out and checking it out.
As I said on the last vlog, there's lots of stuff going on in the Olar family besides our anniversary, Jack's birthday and a couple other things going on with year end and I forgot to mention Marty's birthday. It's not quite the big birthday yet, but he's getting a lot closer, and I got in trouble with my in-laws. Auntie Lauren Happy birthday, it was a big day. Number 30! Getting up there. Happy birthday.
Also, I don't know if you guys have been checking out Instagram, Will's making this trek across Canada. Last I checked, he's already in Ontario. So I think he started on June 1. Today's date is June 24, making really good progress. One day of rain, a couple hot days, but he's been great. We got Will here, check out his update. He's doing a fantastic job.
Will
Hey, it's Will, just checking in on my journey across Canada. So I made it into Ontario this morning and right now I'm camping in Kenora. And it's just absolutely beautiful here. Very, very, very grateful to see forests and lakes again, went for a swim tonight and it's overall been really refreshing. But yeah, the trip has been going amazing so far. The Prairies, really had their ups and downs. The first two days in Saskatchewan had 35 degree temperatures plus a 30km an hour headwind so it was a bit of a battle for a couple of days but then the winds actually shifted behind me, and I started being able to cover like 200 plus kilometres a day. And I actually even did a 200 mile day which was pretty crazy, for sure.
So really big ups and downs on the Prairies. Also got hit by a couple storms overall just very foreign compared to what I'm used to in B.C. But it was really cool, and then B.C. went really well, really smoothly. I mean as fresh on the start of it so knocked the hills off pretty quick. And yeah, so far so good. I'm about 2500 kilometers in. Yesterday I passed the geographical halfway point, but I still have about two more days until I'm halfway, distance-wise. Anyways still feeling good, the trip's been amazing so far and I just wanted to check in.
Ryan
When Will first said he was going to bike across Canada and do multiple days, I was like, not my cup of tea, but when you're following him along on Strava it's like — did 240 kilometers yesterday, he did 300 today, like, my butt is sore just reading this. It's very impressive knowing like the hills, the flats and the headwinds and tailwinds. But the guy's doing a great job, very into his ride — and he's doing it on the 2018 Specialized Diverge gravel bike. Follow him on his Instagram and TikTok. It's an awesome adventure.
And the summer's here, what else does that mean? The resorts are opening up. This weekend, we got a kickoff for Silver Star they're opening up for the summer operations. They got a couple new trails, Title mountain bike trail. Check out the Instagram video. It looks sick, I'm excited to get out with Jack. We've got Ginny here to talk about what's going on over the summer up there. And here's Ginny:
Ginny
Hey there, my name is Ginny Scott and I'm the local sales manager for Silver Star Mountain Resort. We opened the bike park on June 25 and it has been absolutely amazing. We have the new Title line, berms for days. The new Jump line, jumps for days, and an amazing new trail going up from the comet chair, which is the Electric Avenue.
So now we have a designated route from the bottom of comet, all the way up. So pretty exciting and we're looking forward to seeing everybody. We're open seven days a week this year and can't wait to see everybody back up there. Wednesdays and Fridays, we have extended play, so the park is open from 10 am until 7:30 pm.Great time to finish work head up to Silver Star and end your day up on the mountain.
Although we're still in the midst of COVID things are gonna feel a lot more normal than last year. So we're going to put more people on the lifts going up, a lot better flow, our park crew has been extremely amazing getting the park ready for you guys. We've doubled our crew this year, so you can expect smooth terrain, and a great time for you and all your friends. Grab your mountain bike, get out and enjoy the fresh air and we'll get dirty Silver Star.
Ryan
So if you're looking for a great escape from the hot down in the valley, head up to the mountains. Like Ginny just said Silver Star's got lots going on this summer, temperatures cooler. Amazing mountain bike trails, get some wind blowing in your hair. Get out and check it out. Alright guys that's it, thank you for checking in, check out Will, check out SilverStar, get out, enjoy the fresh air.
Kelowna's local bike store is here to outfit your summer adventures. Whether you're looking for a road bike or you're a road runner — we've got you covered.Let's get started.