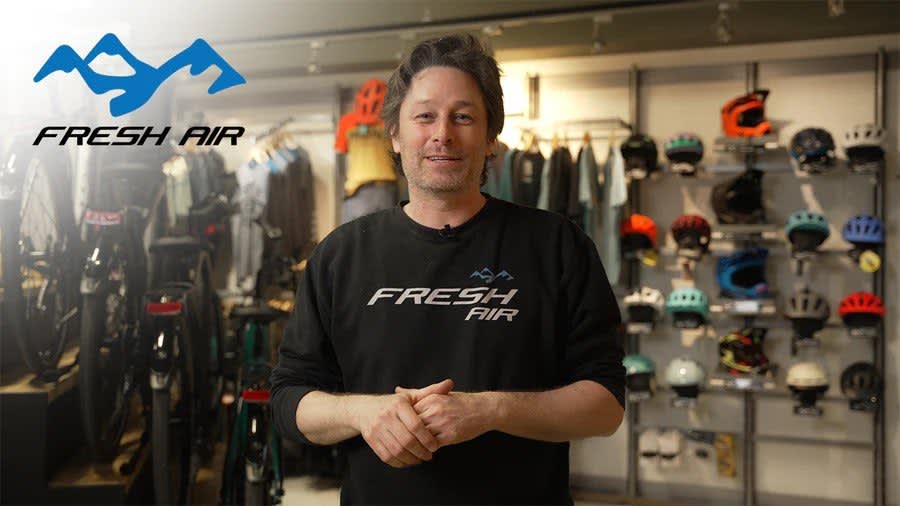 Fresh Air Vlog: Spring Break, New Specialized Levo, Bike Assessments, and Giveaway Winner!
Hey guys, here we go, a new vlog. It seems like it's been a while since we've done one. You know, it's been busy around the store — automatically just went from winter to summer, the weather's beautiful outside, there's just lots to do in the Okanagan. If you guys have been in our stores you'd notice the seasons change and slowly winter's going out. Snow shoes are going away, bikes are coming in! It is full on summer. The guys are working hard in the shop getting bikes ready to go. We're just all excited, but we're still trying to squeeze the last little bit of winter out, and the snow is amazing. We were up at SilverStar the other day, tons of fresh snow, Big White last night, huge dump. You just don't know what to do. But in the Okanagan you can ski in the morning, you can bike in the afternoon, you can probably fit in a little swim or golf game in there too. The options are endless.
Everybody's probably seen you know Castanet, Facebook, Pinkbike ...You know it looks bleak, you come into our store, we have some bikes, we're definitely really low. There's a shortage of bikes, shortage of the parts. You know our racks are a little empty right now, but we got lots of bikes, coming in, it's just a little slower than normal. The exciting part is, there are new bikes launching. I don't know if you guys saw the video for the new Specialized Turbo Levo e-bike, I think it's the 2022 Specialized Levo electric mountain bike, it looks epic. If you watched the launch video there's a little cameo of our store in it which is pretty sick because it's a worldwide video. We do have one coming in, within the next week or two. And then we have lots coming in, probably within the next couple of months after that. So pop in and take a look, check it out, see if it's right for you or not.
So aside from watching the videos, checking out all the reviews on this, the reviews sound amazing. I mean, I've been riding the Specialized Kenevo for about four years now. It's a game changer. It's ride uphill at like 30 kilometres an hour, it's amazing. The new Levo they compared it to, I guess maybe its main competitor right now, the wording they had on it was more playful, more nimble, quieter, more power and a longer range. How can you beat that? Sounds amazing. Come on guys come in and check out this bike, like I said we got a few coming in, we'll see you soon.
And the other part of the equation is bike service. I follow a lot of different stores online just to see everybody's up to. I was amazed the other day some shops are booking into May, to the end of May, for service. I find it kind of hard to book an appointment a couple of months out, and then you take your bike in and then you gotta wait a couple months for the parts because there really aren't any parts. We kind of expected this whole thing coming so we made a change to our whole service side.
So, when you are booking an appointment with us, either online or in store, you really only have one option. It's a service assessment. So you bring your bike in, Kyle in the back rolls through every bike that comes in, just to assess and see what you need to make sure we have the proper parts for you or give you options. He will email you, text you or call you with a quote just to go ahead. Our turnaround time now for about two, three days out for the assessments and then the service time is about three days after that. So we're probably looking within a week turnaround time, which is a lot better than the end of May right now in some towns.
The first giveaway, sorry it's taken us a while. Scott helmet, Scott Shield goggles, the winner is: Andre Blais @kratos5_75. My wife's been in touch with you over Instagram. Congratulations! Hope you enjoy this at the end of the season. If not, next year you've got a really sweet kit.
Spring break, we're shooting this a little after, but it's fantastic. You know we got away and the family went up the SilverStar for a few days. Avery got to go tubing for the first time, it was a blast. Amie got out with the kids. I got out with the kids tubing. Took Jack and his grandpa out skiing for a day, and then the kids, all of a sudden both Jack and Avery wanted to go snowboarding. So we just, one night after everything closed down and found a little slope, you know, grandma and grandpa and I went out and pushed the kids around. They're having a blast, because Jack's whole goal, which would make him a super happy kid is to be able to ride a chairlift with a snowboard.
So we went out, did a couple runs. First run, it just, something clicked for him. He linked like 10 turns together, it was amazing so we snuck up again, took a little bit longer. We were out past our curfew that Amie gave us. Got in a little bit of trouble, but Jack had a great time so it kind of covered up the trouble we got into. But it was great the whole family had fun. It was just nice to get away, especially before the chaos of packing and moving.
So, even though we got to get away. You know we got to ski all winter. I keep talking to my buddies. You guys might remember Clay that worked here, he lives back in Ontario now, they've been locked out all winter they couldn't even ski. We're very fortunate, both Big White and SilverStar were open. We got to ski all the time, take ski vacations. But you know I think when I was growing up, I had Thunder Mountain in my backyard. We had a tree fort, we turned it into a ramp. Using my dad's machines, we had our own training park.
And I got my buddy Craig from Ottawa. He was one of my best friends. We always went snowboarding together. Josh had this amazing setup in his house all the time. Just a little rail. I mean they're still young at heart and Craig's got a set up in his house now and Josh is still hitting urban setups. It's fun to see, even though they're locked out of resorts, just the creativity being able to get out and do stuff. Luckily for them, the resorts have opened, got to go skiing for a month or so. I mean they're still missing the Okanagan snow but hey, at least they're out sliding and having fun.
Awesome guys, thank you very much. It's always fun doing these. It's great getting out, showing you what we got in stores. Like I said, we're gonna get bikes very soon. We've got some amazing new stuff coming out from Specialized, the new Levo. Come into the bike store, check it out, check out the video online. Get out and enjoy the fresh air.
Get ready for summer in the Okanagan with Kelowna's expert sports store. We're ready to get you rolling with a bike assessment at a quicker-than-the-other guy turnaround time. Contact us to get started.