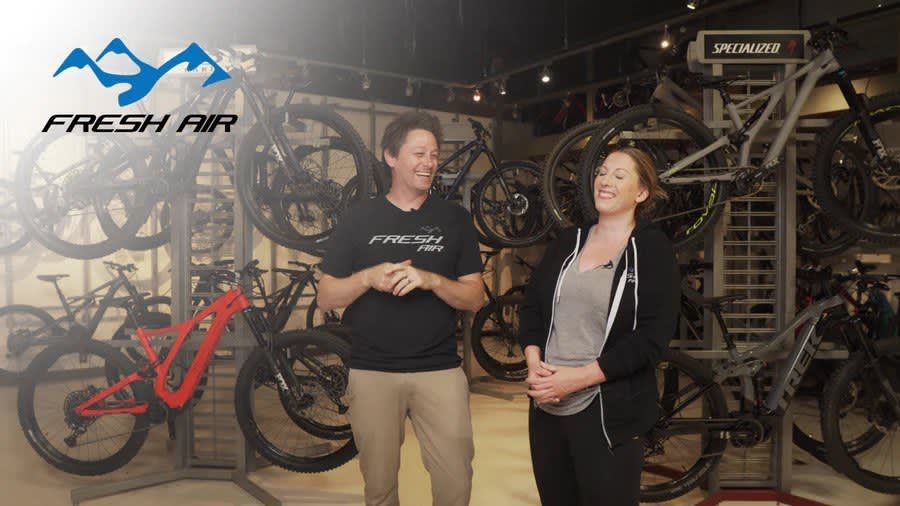 Fresh Air Vlog: The Boss, Virus Safety, Predator Ridge Trails, and a Giveaway!
Awesome, here we go! We've got a new vlog. Had some critics over the time; the boss is here. Every time we do a new one, we edit it and get approval. It's like, well, your hands are moving too much, your eyes, your hair. So anyhow, the boss is here! She's gonna help out, gonna make some improvements to the vlog. Awesome, so it's been a super challenging time for us, we've had a lovely inspector in the store a few times over the last couple of weeks, just making sure we're following the rules on social distancing.
We've had some really nice comments for us. In turn, it made us make a couple of changes. So we actually have some clarity on what we can do. So, you know, we're moving forward! Made some changes and upwards and onwards for us at Fresh Air. We did close down for a couple of days over Canada Day. A little holiday for the staff and on our side we did a little renovation just to make everything flow a little smoother. Yeah because that's your favourite thing to do! Whenever you have a free moment, it's just "do some renovations". Just like the bunk beds!
Which are still not done.
Amie says my true love is the store and everything else is put to the back. But, it's coming! Every night I'm out there at 11 o'clock, watering the grass, talking to the grass. The grass is beautiful! Bunk beds...were supposed to be done. Bunk beds aren't done, we could talk about our master bathroom, we could talk about the cabinets sitting in our garage... We could talk about...oh, the laundry room! I mean, there's a long list. But we all got great intentions!
The most common question we've had, probably the whole time these vlogs have been going on. We are not expecting baby number four. We were done at baby number three! So that's definitely not gonna happen.
But, the most common question we have is: "What's going on with your Experience store?" Honestly, when everything happened, it happened pretty quickly for us. We didn't know if we were gonna be able to open, have both stores open, we had a lot of staff that didn't feel comfortable working, we had a lot of staff that were students that were going home, just because nobody knew what was going on. So we kind of condensed everything down to just one store. Just so we can actually work in a controlled environment, and control it. We started selling stuff, and to be honest there's nothing left at Experience.
For the moment, we're shooting for September to open back up and get ready for winter. We honestly just don't have product. We, unfortunately, can't get any more product in a timely manner, for the store to open. But, we are working very hard. The store will open. It is not closed. It's just a matter of getting products for the store, and honestly, I can't wait for the winter to come. I'm just mostly excited, I heard today, school for elementary is going back to five days a week. So that is what I'm clinging to right now at the moment. School and daycare. A nice little break from three kids at home every day.
So our guest today, super exciting, we've been working with her for the last few years, one of our partners from Predator Ridge. Carmen Lindsay! So she is here to talk about the trails and the riding out at Predator and what's going on with the summer as well as going over her bike and what she loves about it.
Hi everyone, I'm Carmen from Predator Ridge. I hope you've been having an awesome season on the trails, I know I have so far because I was set up with a brand-new Specialized Stumpjumper this year. A 29er and it has been amazing on the trails. If you haven't had a chance to ride one, I highly recommend it. This thing is responsive, it's great on not only the trails at Predator but I've been hitting up stuff by Gillard, and I hope to take it up to Big White and Silver Star this year. If you haven't had a chance to ride our trails at Predator Ridge, we want to welcome you up there. Cam Sorensen, our trail-builder, has done an excellent job building a trail network that is a range of greens, blues, blacks and they all go down into Ellison Park for an additional 40k of riding.
Stop at our brand-new bike shop, you can come say hi, rent a bike. We also offer an Okanagan Rail Trail shuttle that will drop you off at one end and will pick you up at the other for a full-day experience, where you can have lunch and enjoy some of the great views down there.
Leave a comment below on your favourite Okanagan mountain bike trail and we're going to pick a lucky winner for a $100 gift certificate to our range, lounge and grill. Come for a ride and then it's dinner on us!
Hey guys, thanks so much for all your patience with the store and everything that's going on in the last couple of months, Ryan for the vlogs for the past few months. It's his baby, he loves doing this. I'm here to close off this last vlog because Ryan is away "parenting" at the moment and— here we are! This is how his parenting goes.
Hope everybody has a great summer and that we can kind of get back to a little bit of normalcy for the next few weeks and I hope everybody is staying safe and enjoys the fresh air.
Share Post: