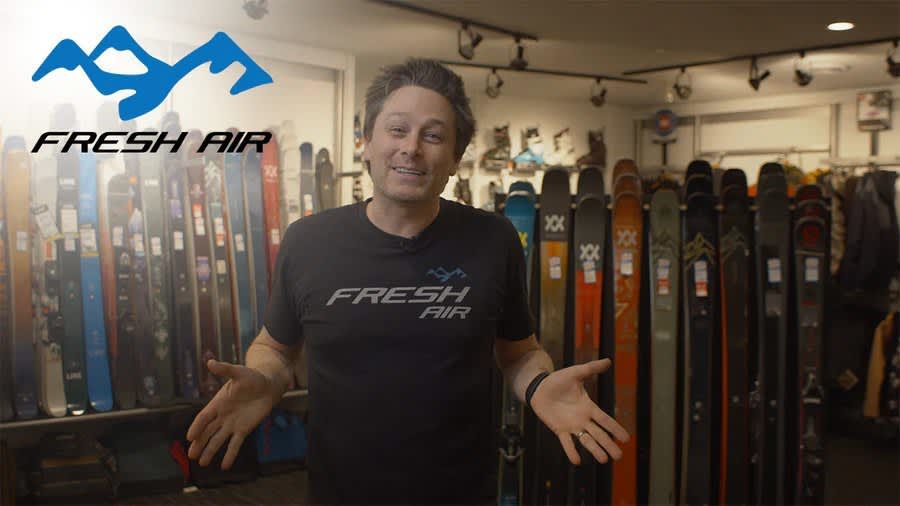 Fresh Air Vlog: Vlog Anniversary, Family Time, Backcountry Skiing
Here we go! We got a new vlog and it's our anniversary. We're just checking it out; this is the one year anniversary of our vlogs. It's been a ton of fun and thank you everybody for following and joining along this journey with us. So, it's end of January, early February.
You know January has always been the month where it's like, Christmas is super busy, we get to relax have some fun. It's been about family time, The Olars. Our life changed with a baby in March so we're kind of adapting. We are so close to getting some freedom, some family time. Jack's in school, Avery's in daycare three days a week. And now, starting in February, Luke is going to daycare as well.
So Ames and I got a couple days off together, well we're kind of working, but we're gonna squeeze in some fun time. You know, give us a chance to go skiing together. Haven't done that in a few years, cross country skiing! It's been a long time since I've done that. I've been kind of shamed into it a little bit but I've got a couple friends up and out who keep sending me pictures of their loops. We're gonna get out, enjoy the snow, and have a lot of fun. You know, there's some gem places around Kelowna. We've been taking out the kids, having some fun, just kind of staying local, seeing what creative ideas we can come up with. You know, Avery all of a sudden wanted to go snowboarding! So we took kids out snowboarding at a schoolyard, did some tobogganing, just played in the snow. Aimee even got in on some tobogganing. We went skating, we found these cool ponds up in Crawford, took the kids skating. It was a beautiful evening, but it's just trying to find something to do. Hopefully, we can tire the kids out and get them to bed early. It's all good fun and just crazy adventures with the kids.
So, our guest today, I met him when I first moved to Kelowna. He was a student at the university, some crazy adventures, his skiing. I mean, he was a great skier when he started but he's been like doing some crazy stuff, and the things that gets me—he's the one athlete we have that just actually switched from skiing to snowboarding. Um, you know, stuck in town, his girlfriend snowboards, he wants to snowboard. It's pretty cool to see. Usually, everybody goes the other way so like: oh I got kids, I'm going to teach them how to ski! But it's fun to see the passion in somebody trying something else and seeing how they relate. So, here is Jay to talk about his equipment!
Hi guys, my name is Jay Starnino. I'm here to talk to you guys today a little bit about some of the great work Fresh Air's been doing and my fun gear. So yeah, I grew up in a small town, southern Alberta. Spent lots of time in the mountains. Skied the Rockies growing up. I moved from there to Revelstoke when I was 17. I've been back country skiing ever since. A little over 10 years consistent back country skiing now, and it's something that I really love. Like, it's part of who I am and yeah, I've been in Kelowna for the last seven years or so. Here and now, skiing Big White lots, the Coquihalla lots, Malakwa and Rogers Pass when I get a chance to travel a little bit more. And then spending all summer riding bikes and hanging out with the guys at Fresh Air.
So I've been an athlete ambassador for Fresh Air for about five years now. I was really lucky to be introduced to kind of, the guys in the shop, and the guys in the front end, and became evident pretty quickly that these guys are some of the most knowledgeable gear experts in town. Which is something I value really highly, especially spending a lot of time in the backcountry. You got to know your gear works. My daily driver for when I'm exploring and hanging out in the backcountry, I love my Liberty Origin 112. I use the Marker Kingpin bindings. They've been a great binding, really reliable over the years. They have a high din setting which is nice and a pin toe, which is the best kind of situation for walking uphill.
I've been snowboarding kind of on and off for the last few months as a way of enjoying the mountain in a different way. It's been a really, really, fun experience. It's just totally different than skiing and connects me, kind of, to my background and skateboarding and other board sports and stuff. So it's been super fun. Totally different feel than skiing, carving on groomers and stuff. I've just been really, really, enjoying that. I ride a Salomon Super 8 in a 154 and the laid back camber on it is really fun, poppy through the back foot and whatnot. The extended rocker tips help surf a little bit in the soft snow and keeps the front end from hooking up too aggressively when you're carving on groomers and stuff. And overall it's just a super fun versatile snowboard.
So as you can see from the videos Jay's had some crazy experiences, some amazing powder days, some crazy lines. It's awesome to see his enthusiasm, see what he's doing in his career. He's crazy with sustainability, it's always awesome to catch up to Jay. Awesome, thank you for joining us for this vlog.
It's crazy to think it's a year. You know, Johnny and I were in Denver last year looking at new product, this year everything's on zoom. World's crazy. Things are different but one thing's for sure we got snow in the Okanagan. So, get out enjoy the Fresh Air and the skiing.