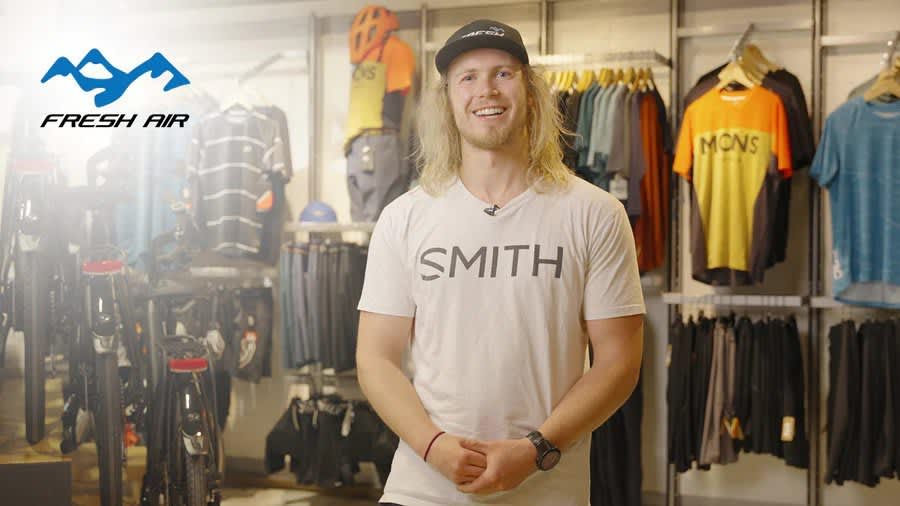 Fresh Air Vlog: Will's Cross-Canada Journey, Family Memories, June Vibes
Here we go guys, new vlog from us at Fresh Air sports. We're into June. Besides playoff hockey, we've got lots going on in the shop, you know we've got rollerblades coming in, running shoes coming in. We've got more bikes — e bikes, road bikes … not only are we kind of finishing up trailing in of 2021 bikes, but we're actually getting 2022 bikes starting to ship. It's pretty exciting. I know it's been like a bit of a dry spell coming on. The summer and fall are looking fantastic for getting bikes in so you know check our website, pop by the store, see what we got. It's pretty exciting.
You know to me about biking. It's always about creating memories. You know, like dad teaching his children how to ride a bike, going to Whistler for the first time to ride bike parks, there are always memories coming. The guest we have today is not only an employee who's been working at the shop for five, seven years, but he has an incredible story that he's going to share with us today. He's actually sharing it through our social media sites, and Specialized social media sites over the entire summer. We have Will in the house today, he's going to talk about his journey, and what's going on.
Will
My name's Will Z. and I'm biking across Canada in memory of my father. So yeah, my dad, unfortunately, passed when I was three years old, but one of the trips he did that I learned about growing up was biking across Canada when he graduated university. And so I graduated last year into the pandemic, and that's been on my mind, so this summer I'm going to do the ride in memory of him.
My dad went to UBC Vancouver for mechanical engineering and this spring I actually graduated from UBC out here in Kelowna, and mechanical engineering as well. Got his iron ring right here, so that kind of ties it all together, which is pretty cool. My dad actually did the trip with his brother right after graduating. They started in Long Beach in Tofino dipped their wheels in the West Coast, rode all the way to Halifax, Nova Scotia dipping their wheels on the east coast, so I'm hoping to do the same just starting from Victoria to Halifax.
They did the trip over 62 days. I actually have a journal from when he did the trip so I'm going to try to retrace the route as best as possible, and I'm thinking 60 ish days as well. That works out to 100 kilometres a day of riding so it's definitely a big goal but we'll see how it goes.
During my degree, I was fortunate enough to work here at Fresh Air. They've been generous enough to help me out with the ride as well as Specialized, which makes the bike I'll be using for the ride, the Diverge gravel bike. And just a big thank you to helping me with this goal of mine.
So this is actually a photo album from their trip. You can see there in the paper, back in the day, they did it in 1982 so almost 40 years ago, which is pretty crazy. My bike is hopefully going to be a little easier than their ten speeds back then. But yeah, you can see here starting in Long Beach, Tofino. Their first night in the journal all of their food got eaten by a raccoon which is not a great start to the trip, but they persevered and kept going.
Definitely the first like, B.C.'s obviously the hardest part of the ride with all the hills, so there's a lot of complaining in the first part of the journal and then they start getting more optimistic as it gets flatter and flatter. Like I said I'm going to retrace the route as best as I can. Some highways, well, not highways, but some routes have definitely changed.
So they actually started in May and I'm starting in June, partly because of how COVID has been going but also partly — they got caught in a blizzard in May so I figured I'd give it an extra month and hopefully let things warm up a bit and not have to deal with that but we'll see. I'm going to be bringing a one-man tent as well which is what they had. So, hopefully not in severe weather like that, but you never know.
So yeah, here's the rig, 2018 Specialized Diverge. I'm going to roll with my sleeping bag and pillow up front, big water bottles, sleeping pad, kind of just little things on the fork, all my extra layers and clothes in one bag and then this is going to be just for food. Basically, which I think is gonna be one of the biggest logistical problems is figuring that out. And then yeah tent and sleeping out on the back.
Ryan
You can see the passion Will has. He started off, like every other employee, he's a skier, he's a biker. Next thing you know he's into ultra marathons he's running a fun Sunday afternoon for him is running 30 kilometres in Crawford. Not my kind of deal, but everybody has their own sort of fun. Now he's biking across the country it's pretty sick. Make sure you follow either Fresh Air or Will just on the updates of his journey.
Choose a busy month for the Olar's. Not only is it Father's Day, playoff hockey, but, mine and Amie's anniversary is coming up pretty quick. And we have a rule in the house, we're not actually supposed to talk about Jack's birthday until two weeks leading into it, but he's been slowly dropping hints. Jack's birthday is coming up, he's pretty excited. He's turning eight. He looks like he's 12, but he's pretty excited for the summer. Alright guys, that's it for today, it's kind of like the school year. Everything's over. Get out and enjoy the Fresh Air.
Let Kelowna's expert sports store outfit you with everything you need to make summer memories. Get tuned up, road-race ready, or whatever you need to make the most of the season.Contact us to get started.