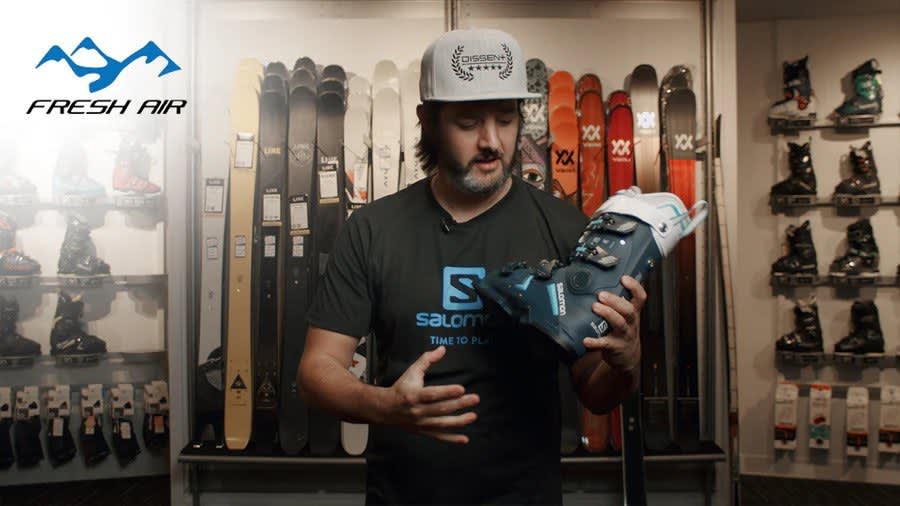 Fresh Air Vlog: Winter Preparation, Ski Boots, and Online Booking
Hey! Welcome back! We've got the Fresh Air vlog today, we've got Pete from Salomon here super excited to have him here. He's..give him a little credit, he's got a little 10 month old at home and I know they keep you up at night! So maybe a little disheveled, little bags under the eyes, but super excited to have him here super excited to hear what he has to say about this upcoming season!
Hey, I'm Pete! I work with Salomon. I have work on the nordic side as well as the alpine side. I'm really looking forward to this coming winter. Obviously, we all feel like we had a bit of a short end of the stick there, with closing around what was it? March 15th. But you know, supposed to have a La Niña year I believe, so we're really looking forward to that!
Working at home has been quite challenging this year. My wife's at home, I have a little 10-month-old running around as well so you know everyone goes to bed, I'm up late trying to get some work done, up early with the baby but really it's my wife who's been the shining star, the big hero early mornings, late nights for her and taking care of all the dirty diapers as well... So, big shoutout to her for that and allowing me to get back on the road. I think I'll be on the road a little bit less this year but hopefully come around doing some demos or figuring something out this year.
So, I just wanted to take a second and talk about my personal skis and my one-ski quiver with the Salomon 106. So, it's 106 underfoot but it has a nice tail rocker and tip rocker. As well, I have them mounted up with the S/Lab binding. The shift binding, here. Cool thing about this binding it's the regular alpine binding but if you decide you want to take a little rip off the resort um climb up a little bit, actually ski tour it transforms and you have pins. So, you can get your boots in there, pop the brakes away and you can tour up the hill. When you get to the top, and you want to come down make sure you're free of any snow, and you can pop them back into ski-mode. And, when they're in ski-mode it's a full multi-norm certified binding works with any ski boot so Salomon's really known for its innovation.
On the ski boot side of things, we have a new innovation called Coreframe. What that is, it's a little bit of carbon or fibreglass that gets molded into the boot, keeps the boot nice and stiff, gives it lots of power transmission and keeps you a little bit lower to the ski so you have better control.
On the nordic side of things we have lots of innovation here on the skate skis with our S MAX. We're going to have a Thin Ply Carbon in the tip and the tail of the ski. It's going to keep the ski really light, also poppy and torsionally stiff. On all of our classic high-end skis we're going to have skins, so a lot less prep choosing the right wax for the day we just need to glide wax the tips and the tails. On all those we're going to have a new binding called our SHIFT binding. It's our nordic version of it, but it allows us to shift the binding forward and back play with the balance point as well as the wax pocket of the ski, because we're not waxing them anymore. We can move them forward or back, we can have more glide or we can have more grip.
Whether it's a high-end boot or a lower end boot, we're known for our fit. Out of the box fit and comfort, as well as performance. We have different features and functions as you go up the line. One of my favourites though, that lines up with our shoes on the Salomon running side of things is the quick lace system. So, really easy and lightweight system to zip down and get a snug fit. Awesome thanks for having me here at Fresh Air, guys! Always a great time coming in, seeing the guys at the shop um and hopefully I'll see you out on the snow soon!
Awesome! Thanks Pete, for that it's great to see everybody. We always get the reps out throughout the year, just kind of give us some pk on stuff. It's amazing to be able to share, to you guys, what we kind of go through. But, as you can see there's some amazing products coming out, we're still receiving stuff. Make sure you get in, get the stuff, get out, and enjoy the slopes this winter.
So we're booking appointments online at our Harvey location to eliminate lineups. I know it's getting a little bit colder outside for everybody, so we just don't want to have a bunch of people waiting outside in the cold. I'm going to take you over and show you how to do that.
So, to book appointments for our Fresh Air Harvey location, just go to freshair.ca, click on the "book now" button. It's going to take you to this page, to explain our policies and procedures. Hit the "book now" button, it'll take you to this landing page you can choose your service. So, you've got alpine fittings, boot fittings with Johnny, nordic fitting with Bri-bri the nordic guy. From here, you can choose your time and date and then come on in. We'll confirm your appointment on our end and then that way you can avoid the lineups this year.
So, end of October here we are! Shocking, the bunk beds are not done. October was supposed to be the month of completion, it is not. It's also supposed to be our birthday month. We're not counting birthdays this year, 2020 doesn't really count. Ryan's counts, Ryan got older. I didn't get older. Staying young, older and wiser! Awesome!
Thank you very much! Winter is coming, get out enjoy the Fresh Air.
Share Post: