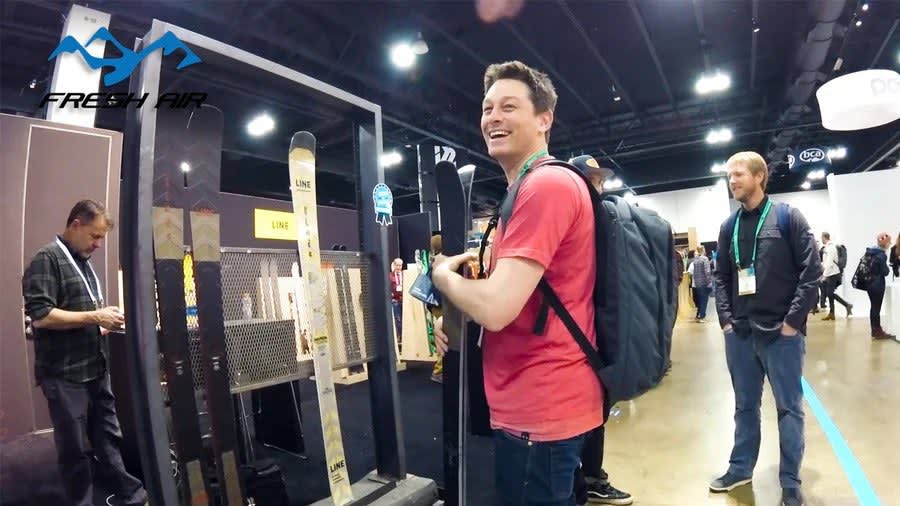 SIA Exhibit, Snowboards, and Midwinter Sale
Hey guys, video number three! Welcome back to Fresh Air. It's been a busy couple of weeks. Lots of fun going on here in the shop, lots of fun on the mountain. I guess the most exciting part, for me and Johnny, we got a little trip away from the shop. It was Johnny's first trip down to SIA. SIA is a huge, huge retailer exhibit, of next year's product. Last year, they combined it with an outdoor show, so it's huge. There are all kinds of stuff, it just puts everything into perspective of what's going on right now in the ski industry and what's coming down the line.
Carrying on the theme from our last couple episodes, first, it was Brian then it was my turn, we had a chance to show you our gear, what we're having fun with. What's the product we're using this year. Up at number three is Matty. So, Matty take it away!
Hi, I'm Matt. I am one of the guys in the back making sure that makes sure everybody's day goes really well with all your gear getting tuned up. Basically, I've got three boards in my quiver. I snowboard most of the time. I'll ski every once and a while.
The board I get the most amount of time on is probably my Rossignol XV Split board. I spend a lot of time in the backcountry, hiking around, and this split board - that XV is incredible. Stiff, when you need it to be. It's playful when you want it to be, and in variable conditions that you find in the backcountry it'll plow through everything and it just does everything you need it to do. It's awesome.
My tried and true, all-mountain board, the Rossignol Jibsaw HD. It's stiff, with a little bit of rocker. Kinda playful still but most of the time if you're just blasting around the mountain you'll plow through whatever you want.
The second one I just got this year, I'm really stoked on it, is the Sashimi from Rossignol. Big powder board, actually it's a little powder board. Big nose, short little tail. It's a good time.
As you can see, Matty's pretty passionate about snowboarding. Loves his touring. My only wish is the guy be a little faster coming down the hill. Next time, I'm gonna wax his board so he can go a little quicker. I don't know how many of you guys have been in the shop in the last little bit, or both shops. It's kinda that awkward season right now, we're changing over. The store over on Pandosy is going to be full of bikes.
We're bringing winter stuff over here. As usual, we're getting ready for our Mid Winter Sale. All the winter products are going to be at the store on Harvey. The store down on Pandosy is switching over to bike. As I just mentioned, we have our Mid Winter Sale. We've been kinda getting into a cycle. We do two sales a year.
We've got our Boxing Day sale we got our Mid Winter Sale. All of our winter product is at the Experience store, on Harvey. Everything's priced to go, we're selling down, we're making room for bikes. Y'know, skis, bikes, boards, cross-country skis, clothing, Amie's got a lot of stuff booked for next winter. We've all got stuff coming in, so we just wanna make some room. Give you guys some deals to enjoy the rest of the season.
Make sure you come down, check out our sale. Pop in, there's going to be some fantastic deals. There always is. And get back out and enjoy the snow.
So, I must say, I have a very, very loving wife. We have two kids, two young kids. And number three on the way. I don't know, in a month? It's coming pretty quick.
But anyhow, I had a buddy come back from Ottawa out for a weekend of skiing. He was here for like, five days. So, luckily, I snuck away for a few of those days. Had a couple amazing snow days up on the mountain. A chance to tease him about his life, what he gave up from living in Kelowna to moving back to Ottawa.
But anyhow, it was fun catching up.
That's it guys, video number three! Thank you very much for watching, again, I hope you like my babbling, stories, pictures. I had a blast the last couple of weeks. Its been fun. But, now it's payback. I gotta do some chores around the house, cuz Amie let me go skiing with Clay. So you guys have a great time, we'll see you out on the trails.
Share Post: