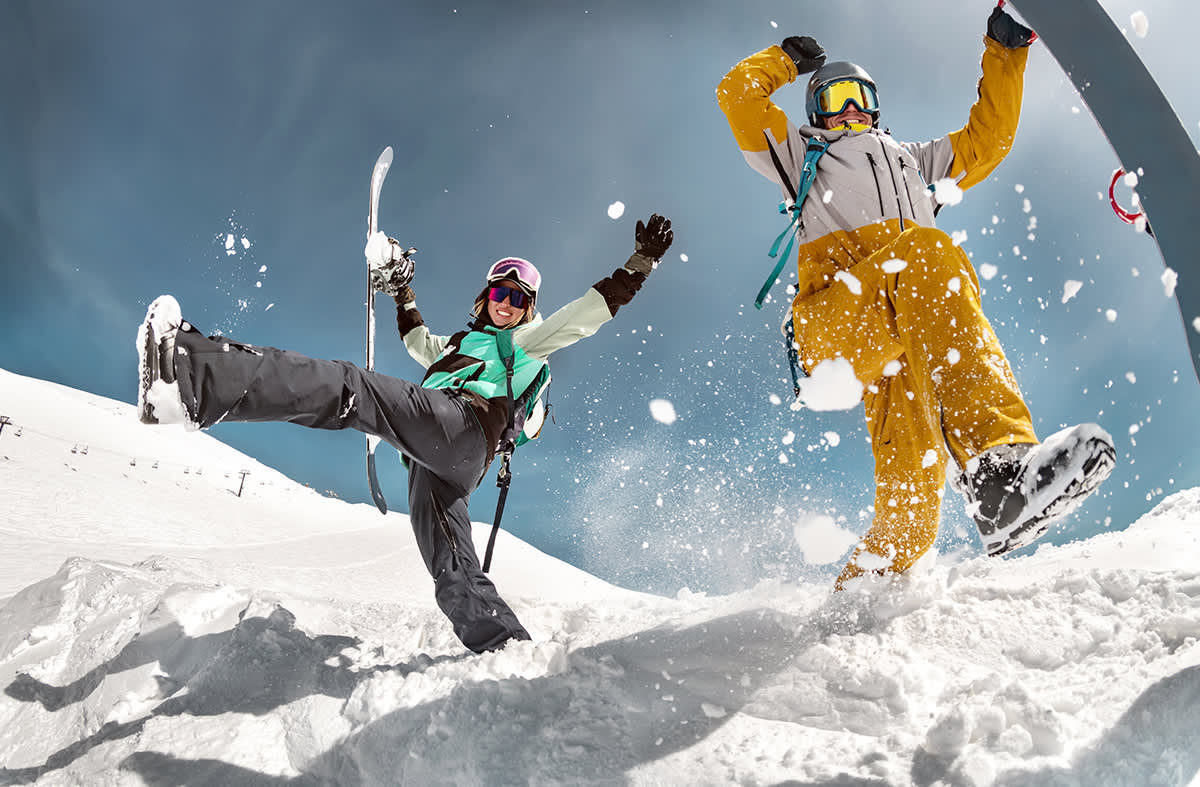 Dust Off Your Ski Gear, Kelowna! The Seasons Are Changing, Are You Ready?
Summer always goes by too fast, but that means one great thing is just around the corner—ski season! Some of us wait all year to get back on the hill, so we're actually pretty stoked down in the ski shop. If you're not set up for winter, now's the time!


Ski and snowboard tuneups
The time to bring your gear in for a tune is now! We strive for 24-hour turnarounds, but the busiest time of the year is the week before the ski hills open, so the earlier you get your skis to us, the sooner you'll have them back and ready to ride!
Getting your skis tuned once a year is key to a smooth ride that's adjusted to the type of skier you are. We offer a simple edge and wax or performance tune. Not sure which is for you? Just ask! We're happy to help guide you. You can learn more about ski and snowboard tunes on the blog.
Already know what you want? Book an appointment, or just pop into the ski shop! Appointments aren't necessary.


When are the Kelowna ski resorts opening?
It's just around the corner! We can almost taste that champagne powder. Here are the current ski resort opening dates in the Okanagan:
Big White: November 23, 2023
SilverStar (tentative opening dates):
Nordic: November 24, 2023

Alpine: November 30th, 2023
Apex:
Alpine: December 9, 2023

Night skiing: Dec. 15, 2023


What gear do I need to have a good time this ski season?
The answer to this question is always snacks. Lots of snacks! But in all seriousness, the key to a fun, safe and comfortable ski season is knowing how to layer in the right gear from the bottom up.
Socks and base layers
Ski socks and base layers made from warm, dry, moisture-wicking fabrics are key. Merino wool is one of the best materials you can get for these features. We love Mons Royale base layers for their stretch, warmth, and durability, but as long as you're starting with a quality base, you're on the right track!


Mid layers and puffy
Your mid layer or puffy is the insulation that keeps your furnace warm and stoked on long, chilly days. A good fleece, like the Arc'teryx Kyanite or puffy like the Cerium, can stand alone between runs or offer compact warmth under your shell.


Ski jacket and ski pants
The last layer you put on is there to lock in all the heat you've been building while keeping you dry. A good shell is also going to be breathable while keeping moisture out. Gore-Tex is the big name in water resistance. You'll want to go for a comfortable fit so you can move freely with all of your layers.
When it comes to pants, a bib or pants can be a personal choice, but a bib ensures maximum coverage, closing gaps where the snow might creep in if you fall. They also contain tons of storage, so more room for those snacks we were talking about!


Necessary accessories (gloves, hats, balaclava)
Protect your hands and your head from the cold with the right accessories. Pro tip: while gloves provide more dexterity, mitts are the warmest choice thanks to the circulation and heat they provide by keeping your fingers together. A good balaclava will also keep your face from windburn while remaining breathable.


Skis, ski boots, and bindings
The most exciting part of your kit—the skis. This is such a personal choice that you want to be happy with for seasons to come. One thing is for sure: our experts are able to help you get the right fit for your ski boots so you can have long days out in comfort and warmth.
Have a look at our skis, ski boots, and bindings, then when you've got more questions, head down to the ski shop, and we'll help get you in a kit you'll love!
If you're more into riding, don't worry; our board shop is stacked with options for snowboard lovers. Fresh Air co-owner Ryan Olar was a semi-pro boarder himself, so you're in good hands. Check out our snowboards, boots, and bindings, then come on in, and we'll help you find the right setup for you.


Don't forget your helmet!
Most importantly—don't forget your helmet! It's only a good day if everyone gets home safe and healthy—shop helmets.
Quit dreaming, start doing. Our sports stores in Kelowna have everything you need to find your new sport. See what's in store, then get out and enjoy the Fresh Air!

Share Post: