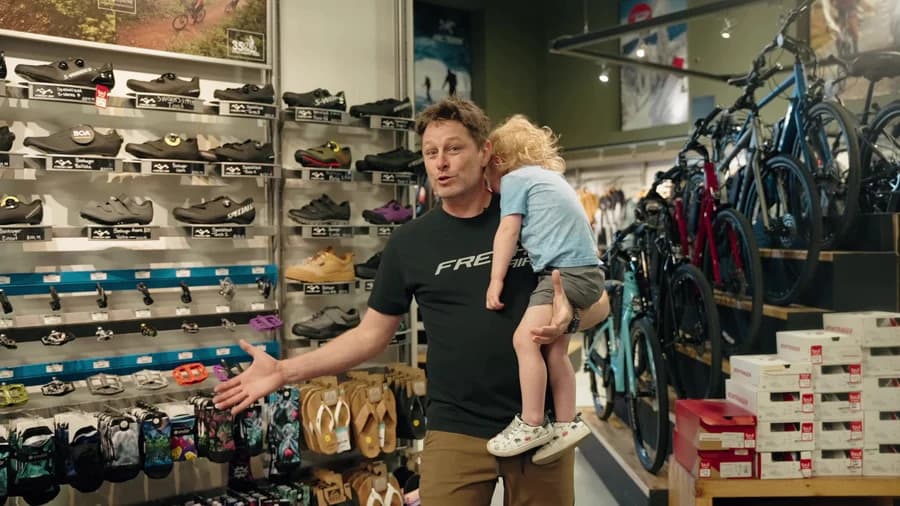 Fresh Air Kelowna Vlog: Event Season Is On, POC In The Bike Shop, The Trek Checkpoint Gravel Bike
Here we go guys got a new vlog. It's amazing, middle of summer, the sun is shining, everybody's out doing activities and BAM! Events are on. We've been crazy here at Fresh Air Kelowna ever since COVID lightened up, but we've been going and it's been phenomenal.
We've been working with CMHA Ride Don't Hide. These events have been raising tons of money for local charities to help out and support families and people in need. It's been amazing. On top of the rides we've been doing, we've been out in the field doing marathons, half marathons, the Midsummer 8k, the Okanagan Graveller and the Okanagan Granfondo. We've been out doing everything. It's kind of hard juggling staff here and there, but it's been exciting.
Johnny and Ivan were down at the Across the Lake Swim clinics handing out wetsuits and had a little chance to enjoy some paddle boarding in the sun. It's been amazing. I just want to give a shout-out to all the volunteers and everybody that made all of these events possible. It's been fantastic and thank you very much.
Well, we have a special guest in today. We've got Nino coming in from Whistler talking about POC, what's new with POC, and all the safety protective gear they've got going on for the bike park opening. Here's Nino:
Nino
Hi there. My name is Nino. I work with POC with you guys. So the new Otocon mountain bike helmet has a number of really cool technology features. One, it is a fully downhill mountain bike-certified helmet but, in a size medium, it only weighs around 730 grams. So it's super, super lightweight.
A couple of cool things with this mountain bike helmet that we have is our NFC chip. So this little Wi-Fi-looking logo that you see up here is basically a near-field communication chip where you can actually upload all your medical details: so your blood type, if you happen to be diabetic, that way in a crash situation, if you are unconscious, a first responder can actually get there and see this little logo and actually use their smartphone to scan it and pick up all those details.
So that's gonna do it for me. If you guys have any questions or need anything, obviously come into the Fresh Air shop, ask the guys and then if you stump them they can always get a hold of me and I can give you the nitty gritty stuff.
Ryan
Awesome, thanks Nino for coming in. It's great to see the new products we've got new stuff arriving in the bike shop all the time. If you need anything to get up to the bike park, come in, see the guys at the shop and we'll set you up with some amazing equipment to get you rolling.
For our next guest, we got none other than the Okanagan favourite realtor, ex-employee, and ex-roommate. We've got Seth Cowie in today talking about his new Trek Checkpoint. Also the events he's doing and the riding he's been up to here's Seth:
Seth
My name's Seth Cowie. I'm a realtor here in Kelowna and a Fresh Air ambassador. My most recent purchase has been a Trek Checkpoint. The Checkpoint's a great gravel bike. Tons of tire clearance, great geometry comfortable for long rides. One of my favourite things about it is the internal frame storage. Check all of your little goodies in there: extra food, tubes, co2, you name it.
One of my favourite trails right now is the Rail Trail. It's a great, flat route that you can take all the way to Vernon. The perfect bike on there is the Checkpoint.
Ryan
Awesome. Seth, thank you for coming in. I know you're super busy by following your Instagram. It seems like you're biking everywhere, enjoying the summer and the Okanagan. Again. Thank you very much for coming in today.
Awesome. Thank you, guys. That's another vlog done. We're into summer and I hope everybody's outside enjoying the lake, and the sunshine. Enjoy the fresh air.
Summer's in full swing and so is the action at our Kelowna bike shop. We're here for expert advice and fittings on your bike, paddleboard or running shoes in Kelowna. See what's in store.
Share Post: