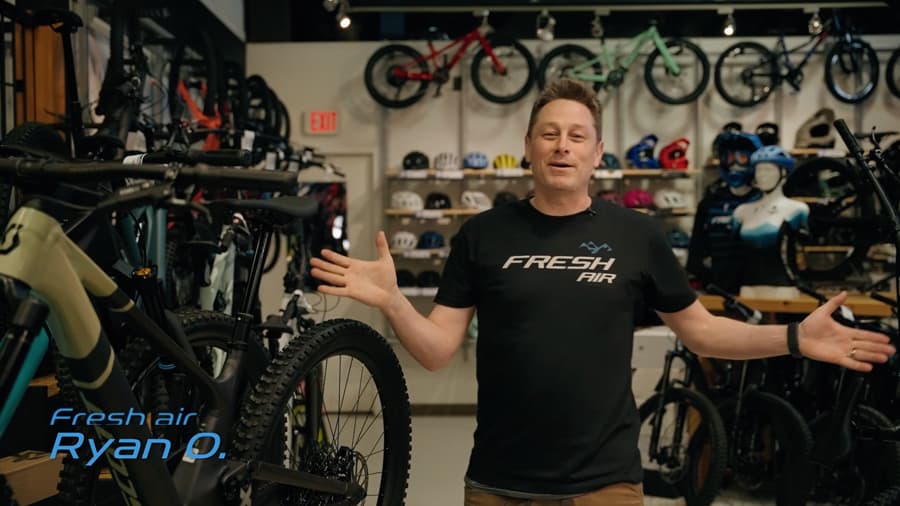 Fresh Air Kelowna Vlog: MTBco Open House, YMCA Cycle for Strong Kids, Our Fave Mountain Bikes
Man, where is everything going? Hard to believe we're into May already, looking forward to May long weekend, so much stuff to do, but here we go!
It was an amazing turnout for everybody coming out to the MTBco open house. Again, thank you for supporting the mountain bike club, hope everybody got the membership. Kelowna mountain biking trails are drying up—everybody get out, enjoy the trails and just have a blast out there!
I had a chance to fulfil a lifelong dream and I was able to take Jack with me. We scored some tickets to Toronto Tampa Bay in Tampa. It was phenomenal. I got to see my buddy, Chris, got to cruise around Florida for a day and enjoy the sunshine, the warm weather and the hockey game. The atmosphere was amazing.
And as you're cruising through May, we're getting into events this summer. The first event is always on our schedule, YMCA Cycle for Strong Kids on May 28. Come down to the YMCA, h2o, and check out what's going on. Maybe hop on a bike. I know we're gonna be there, the whole team first thing in the morning, spinning for a great cause.
We've got Bree here today from the YMCA to talk about the event.


Breanna
Hi, I'm Breanna. I work for the YMCA of the Southern Interior of British Columbia as the annual giving manager, and I'm excited to introduce you to Cycle for Strong Kids. Cycle for Strong Kids is our largest fundraiser of the year that helps subsidize our programs for low-income families.
This year, we're hoping to raise $130,000 to help support our financial assistance program that allows children and youth to access not only our swim and gym program but our mental wellness programs, our employment service program, our after-school care programs and our snack programs.
We're hoping that you're gonna get involved by spinning with us and signing up on our website to register in one of the 45-minute time slots. It's quick, easy, and you give back to the community so much. You can also donate on our website if you can't be a part of a team, which we appreciate and thank you for it.
Our programs run up and down the valley from Penticton, West Kelowna and Kelowna. We are the largest daycare provider in the province and we offer our $ 10-day daycare. Cycle for Strong Kids will help subsidize this and make sure that these programs are the best they can be for everyone.
A big thank you to you and our sponsors and we hope to see you on May 28 to Cycle for Strong Kids.


Ryan
Awesome Bree, thank you for coming in. Again, come down and check it out. If not, support our Fresh Air Kelowna team. It's always a great event and it's great helping families.
As I said, the mountain bike trails are drying out, and the riding's getting great. We've got a couple of bikes we're going to highlight for you this year. Had them in the bike shop for a bit and they're kind of flying off the shelf. There are always some staff favourites. There are some unsuspected ones coming in but come in and check them out. Go for a little ride around and see how it feels.
First off we got the brand new Trek Fuel Ex series. This bike is amazing to change it up, it's turning into a staff favourite. We've got a few guys on this now it is a very capable bike for the Okanagan, ups and downs it's just everywhere. It is fantastic.
Next on the line we've got this Trek Slash. This has been a staff favourite for the last three-four years. We've got a couple of new colours coming in. We've got like eight guys riding this bike in the bike shop. This thing is fun, you can take it up to the mountains, it's a great downhill mountain bike, and it still pedals really well. This bike does everything in the Okanagan.
My favourite, the one I've been riding for the last little bit: the Specialized Stumpjumper EVO. We've got like four models of this guy. This thing does everything. Pedals up, if you need a little help on the up. This thing is amazing. It's great. I ride it at SilverStar. A great Okanagan mountain bike.
Finally, a new brand we picked up last year but didn't really get a lot of stock, we've got the new Scott Genius. The hidden rear shocks stiffen the bike up. Super capable bike, really good for the up, and super fun on the way down. You've got to come in and check out this bike. It looks super cool.
Awesome guys come into our sports stores and check out these bikes. We've got a ton of other bikes in the shop. If not just get out, ride, and enjoy the trails. Enjoy the long weekend. Fingers crossed it's sunny and warm. Just get out and enjoy the fresh air!
Bike season is upon us! Time to get in on the action at our sports stores in Kelowna. We're here for expert advice and service to get you on your road bike, mountain bike or e-bike. See what's in store.
Share Post: