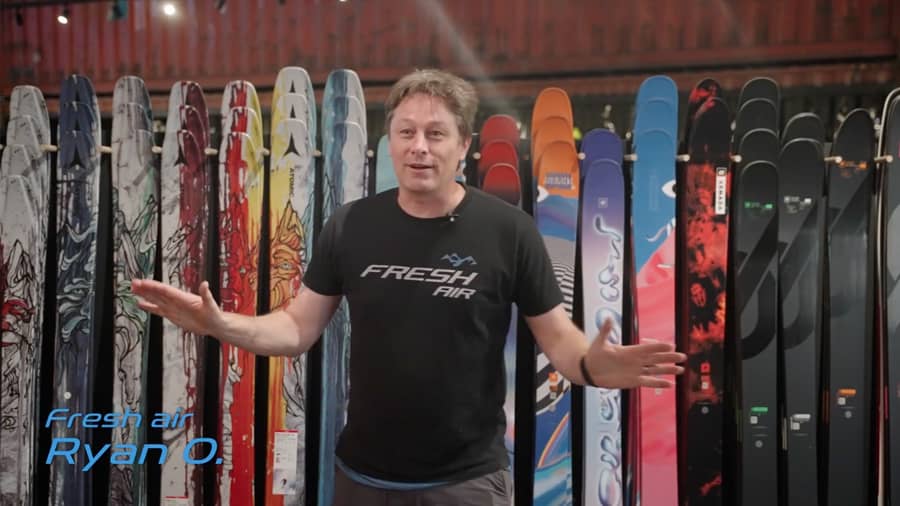 Fresh Air Kelowna Vlog: Road Bike Adventures, SilverStar in the Bike Shop and Meet Caleb!
All right, guys, what can I say? The summer is cruising along, and the dirt has been fantastic. We got up at SilverStar, Big White, we've been up there a couple of times, and we snuck out to Predator Ridge for a couple of rides. The trails everywhere have been fantastic, and the e-bike takes the hills away. So it's been fun going both directions. It's been amazing.
As Amie says, this is the year of Ryan. Not only did we go to Tampa Bay to see the Toronto Maple Leafs play and they won. I know they lost after that, but they still won the game. I was there. We actually snuck away to Calgary and saw Blink 182. You know another surprise, it was actually a makeup concert from before they got cancelled in the pandemic, But it was fantastic. Super fun.
Not only the year of Ryan, but we've got to do the recap on the fondo. Let me tell you, I probably should have trained a little bit more than I did, but hey, I still bike leading into the golf games, it's been fantastic.
My legs are a little tired after let me tell you, butt's a little sore. But check out the footage. It was a fun day, super fun being around the group. Thankfully, my wife and mother-in-law were there to pull me along.
Probably the one question I get asked all the time, maybe not really asked is the statements like wow, you work at a bike shop. You must get to bike all the time. What do you do with your time? I know he moved in a couple of months ago, but we're still kind of unpacking. We've got our TVs installed, finally, you know, we're checking things off the list.
We got the images on the windows, you know, slow and steady. We're getting stuff done. We got a couple of cool things coming on the inside. And we got a couple of big projects on the go. But there's still lots more to go, and we're just kind of working away.
Now on top of that. I know we're into July and we've taken skis in starting in June. We sold our first pair of 2024 skis, unbelievable. It's actually been going all year long. We've probably sold about ten pairs of skis. We've got Johnny in to talk about the new skis right now. We just got Armada and Atomic in. Johnny's gonna talk about the new stuff, and we got tons of stuff coming in in the next couple of weeks.


Johnny
All right, I'm Johnny from Fresh Air, I'm here in the skip shop. I am super stoked because we're only a couple of months away from winter. I know it's hard to believe, it's 30 degrees outside today, but damn, we've got some of the sweetest skis in the valley here.
We've got Atomic skis and Armada skis in stock. We've got Line skis on the way. We also have some more Salomon skis on the way, K2 skis as well. Pretty much all of our major brands are finally shipping early after the last couple of years and I'm really excited.
We've got the Atomic Bent Chetler series here! These have sold out every year early. We constantly get people coming in, and they're like, hey, I want that Bent Chetler 100. It's Halloween at this point. We're like, sorry, guys. We're out of stock.
Look at these things this year. These are some of the coolest skis that I've seen out there. Amazing graphics, this ski is going to take you all over the mountain. So whether it's hard pack, soft snow bumps, or powder, this is one ski that can really rule it all, and you'll look super cool out there doing it.
If you're looking for a little bit more powder, then we're getting more into that 110. So we've got quite a few staff members now on this ski, and they'll ski this ski pretty much every day at Big White. We've got HRZN Tech; it's like a boat haul. So if you're out there on your boat in the Okanagan Lake, it's got a little bit of curvature on it makes it way easier to point the ski where you want to go without actually having to turn in carbon.
If you're a strong skier, this could be your one ski quiver at Big White, Revelstoke, Red Mountain anywhere like that. Or, if you're not as strong of a skier, you're looking for your first powder ski. This is a great addition to your narrower ski that's out there.
We did get our Armada skis in the sports store. At this point, with Armada, we've got a wider range in ARV. ARV has been in the family with their motto for numerous years. We've seen it in park skis, powder skis, full-on deep, deep powder skis.
Alright, so new ski in the lineup this year, we've got the ARV 100. We've seen this in a 96. We've seen this in 106. And there's always been those people out there asking, "Can we get something in between?" This ski right here answers a lot of questions.
We've got 100 underfoot, we've got a wider tip and tail with a nice rocker profile. This ski can be one ski to rule at all for the right person. So if you're freestyle oriented, you want to go anywhere on the mountain, you want to ride the park, powder, and groomers on the same day, this is going to be your one ski quiver. You've got one trip that you can go out there, and it's going to be the best experience of your life; this ski might be the actual one for it.
This thing is almost as wide at the waist as it is just at the tip of the tail. It's got a 50-metre turn radius. Turn radius only matters on groomers. In powder, the longer, the better; super pivoty, and super fun to play with. And this might make you able to do that unlimited amount of vertical that you've paid for on your heli trip. We've got one pair, and if it doesn't go by the time we go heli-skiing as a staff, me and Stefan are fighting over who's going to buy this to bring it out there!
All right, so as you can see, we've got a ton of stuff already. We're sitting there; it's the last week of June right now. We're gonna get more products every single day. So if you're a groomer skier, beginner skier, intermediate, someone that wants to do a little bit of everything, park skier, or a powder skier, just come on in. We're gonna have new stuff every single week, and we'll have the best product in town to get you out on the mountain and have a great time.


Ryan
I know Johnny's fired up about skiing. He's already trying to see what two or three new pairs of skis are gonna get, and the staff is pretty jazzed up. You know me, I'm still waiting for the snowboards to come in. But everything right now, as it comes in, is live on our website. You can browse and see what we got. If there's something you see that we don't have from all the brands we do, drop us an email we can get it for you. The season hasn't started yet, but it's still early, and we can get it for you.
Awesome guys. I know it's summer. I know there's still lots of biking and running and swimming, but winter is coming. I keep telling the staff as of July 1; summer's over, winter's here. We're like two weeks away from changing the Fresh Air shop over to winter. Yes, we're selling bikes on the floor at both stores, but we will have a lot more skis on the floor starting at the end of July. Get out and enjoy the sunshine and the fresh air while you still can before the snow flies.
Winter is coming! Time to get in on the action at our sports stores in Kelowna. We're here for expert advice and the latest skis to get you out doing what you love. See what's in store.
Share Post: