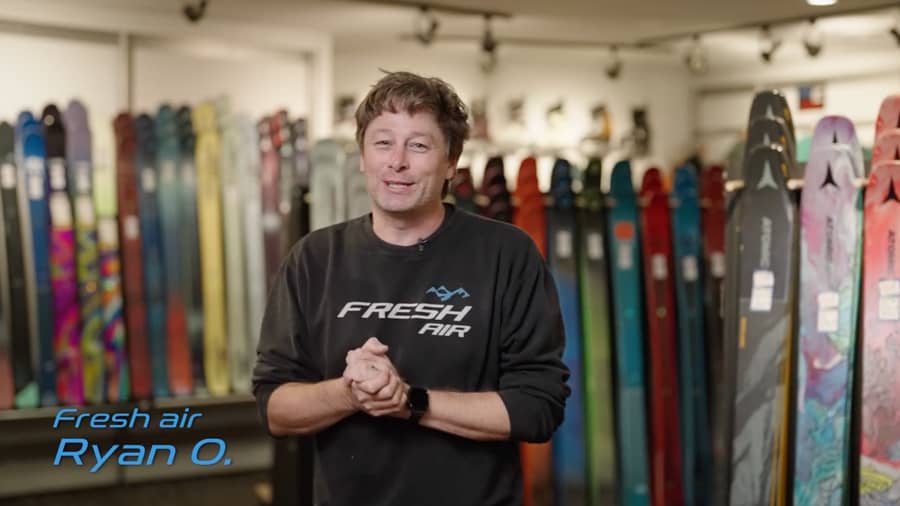 Fresh Air Kelowna Vlog: Staff Picks, the Store's Fully Stocked and Winter is Coming!
All right, here we go, we've got a new Vlog. We're into October it's getting a little chilly and seasons are changing. It's coming up to Thanksgiving, my favourite holiday. Who doesn't love turkey? Also this year we've got a little another wedding in the family, so congratulations Auntie Lauren, looking forward to it.
I'm not sure if everybody's had a chance to see but the Farmer's Almanac is looking amazing. It looks like it's gonna be super cold all over Canada, except for a little smidgen down in the B.C. interior where it's a little warmer and a lot more precipitation. I don't know, but I think that means a bit more snow for us, kind of crossing our fingers here at the Fresh Air shop and hoping it's gonna be a good year. We had a little dry spell last year, so we're hoping we're going to make up for it this year.
We changed things up a little bit this year. Normally, we do a lot of product knowledge sessions with our sales reps. They come to the sports store and we're sitting in the shop learning about the products, but this year we did things a little bit differently.
We kind of jumped the gun at the end of bike season. We took all the staff, closed down the shops and went up to SilverStar. They had this amazing facility — who would have known it but SilverStar has an auditorium movie theatre. We brought some sales reps out. We did a lot of product training early in September and we got on the mountain bikes. It was a phenomenal day for the staff. Everybody's ready to go and eager to help you out. If you have any questions, please come in and we can help you out with all the amazing products we have in store.
On that note, it's been every day that there's stuff coming in. I can't even describe the amount of product. Last year we were kind of like pins and needles. Is this going to come? Who knows when it's coming? There's not much information out there for us. This year, everything's in. It's October and we're pretty much fully loaded for winter. We're still waiting on some dribs and drabs here but if you want the selection you got it now, come on down.
And, as always, Thanksgiving means ski swap season. There are tons of products out there, just be careful when you're purchasing and make sure everything's compatible: ski boots go into bindings, and bindings work with the boots. We see a lot of stuff coming in during the season, just be careful to look it over, and make sure it's top quality before you purchase.
All right, we've got a few staff picks on today. Here we go, watch out, we've got tons of products in the store. Over the years of me snowboarding I got to try a lot of different things, a lot of fun things, some things, eh, not so much. But one thing I'm excited to try out that we have in this year is the new Nitro Profile Step On snowboard boot and Burton step-on binding system.
Pretty excited to try these things out. These are amazing, you know Johnny's always hassling me: I've always got to wait for you snowboarders sitting down, tying your boots. Boom! Look at this. Now it's going to be me waiting for these guys, they're going to be looking for their pushers and stuff and wipe out in the snow. So this can be a game changer for me just to keep ahead of the boys, but come in. Check it out. It's in the store right now.
Brett
All right, my name is Brett. I think this year. I'm most excited about the new Blizzard Hustle. It's taken all the favourite things from the old Rustlers and put them into a lighter-weight package. So, making them backcountry capable or still just a lightweight ski on the resort.
Steph
Hey, my name is Steph and the thing I'm most excited about this coming winter is the Salomon Rumble Fish. It truly is a one snowboard that does it all. Multi-camber, super fun, in that more kind of traditional shape.
Quin
Hi, guys, my name is Quin and this winter I'm really excited about the Dynafit Radical Pro ski boot that we're carrying. This boot provides uncompromising performance across the backcountry with 60 degrees of cuff rotation, and this really cool Hoji lock system that allows you to go into touring mode without even undoing a buckle. You just pull it like that — and now we're in walk mode. It's a pretty sweet boot. I'm really excited for winter. I'll see you out there!
Ryan
Awesome. Thank you, Stephanie, Quin and Brett for coming on today. They're pretty pumped with all the products coming in, this is just a snapshot of what we have. Come on in and check out the new stuff. Awesome, guys, that's a wrap on this vlog. Again cross your fingers and pray for snow! Snow season's coming. Get your passes to Big White and SilverStar, get out and enjoy the fresh air.
Winter is coming and so is the action at our sports stores, Kelowna! We're here for expert advice and fittings on your skis or snowboards to get you ready for the hill. See what's in store.