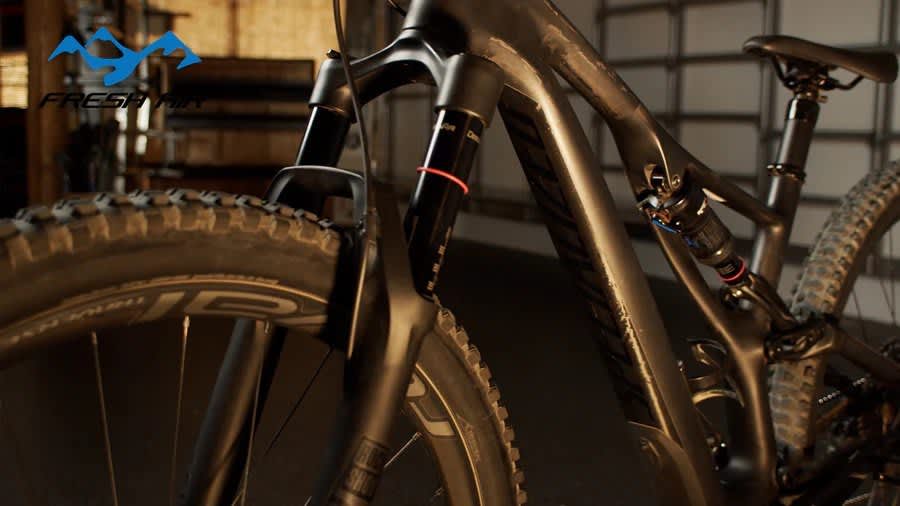 Fresh Air Vlog: Bikes, VHS, Memories, Mountains, and Bunk Beds
Welcome to Fresh Air, it's sunny in the Okangan! Who can complain about the weather? We have some great, I guess we have a great guest on today. Super fun, he's one of our competitors, he works over at the One Boardshop. We've got Scott coming in today, talking about his bike and just kinda catching up! I mean, we've got a lot of spare time.
You know I've spent some time, as you guys know I watch Van Life it just- watching old snowboard videos and I'm sitting there, rocking baby Luke in the morning or hanging out with Avery, showing snowboard videos. Amie's always like, "turn it off, let's watch the news or something" but you know, just kind of catching up. Y'know, a lot's changed since I started to snowboard to now. Here's Scott, he's going to talk about his new Specialized bike, where he's riding and just his passion for snowboarding!
Scott: Hey everybody! Scott here. You might recognize me from another shop in town. I'm here with Ryan today talking about some mountain biking stuff. I'm usually, right now I'd be snowboarding but unfortunately, that's not going to be happening, so... Spending quite a bit of time up in the hills, doing some mountain biking and wanted to talk to you guys today about my Specialized Stumpjumper. I've been a big Specialized guy for a long, long time actually. My first bike was a Specialized Hard Rock back in the early 90's and it treated me really well. I kinda graduated from that, got into some Stumpjumpers, definitely been a great, great bike. Especially for the Okanagan. It handles everything super well.
I do really, really like the 29er. Definitely handles, the rollability of it is amazing. Pretty stoked on that. I've had a few Stumpjumpers, just got a brand new one at the end of last season and so far it's been absolutely amazing. I spend quite a bit of time at Knox and Glenmore highlands, I also really enjoy Smith Creek and the Crawford area. Those trails are super, super fun and a bike like the Stumpjumper handles everything extremely well, so, yeah, just really, really happy with my bike.
Ryan: I don't know about you but I've got a lot of time on my hands, around home with the kids and trying to rock a baby to sleep. So, last night I ended up listening to a podcast. There's this one, I think it's out of Vancouver, FNRad Podcast. They had Todd Richards on. Todd Richards was - I really liked Todd Richards back in the day. And then, even when I get up with Avery in the morning, it's like, "let's watch a snowboard video!" so we're watching old videos on YouTube. It's just kind of cool, seeing how snowboarding's progressed. Like, watching the old days and you're like "Man, I remember when they learned how to do a backside rodeo or seeing stuff like that, or riding with no highbacks. Yup. The first round of no- baseless bindings, it's amazing how far snowboarding has come. And it's super cool to listen to these guys talk about, they're actually the ones progressing it. Yeah, definitely. I was in my crawlspace the other day, I have lots of time to clean the house and go through everything. And I came across an old box of VHS cassettes and had all my Mack Dawg Productions videos in there, Simple Pleasures, Decade all that stuff and took that upstairs and started watching some of those videos. Yes, I do have a VHS player still. It's absolutely mind-blowing. It was so long ago that the progression really ramped up. To see it now, you know, it's come a long way but it kinda hasn't at the same time. I think that snowboarding has kind of hit a bit of a plateau if you will, in terms of tricks being done. But yeah, JP Walker and Peter Line, just to name a few, that really pushed the envelope back in the late 90's. It's absolutely phenomenal. So yeah, it's like a trip down memory lane. A lot of history. Good times to reflect back.
I guess if we can't snowboard, we can certainly talk about it. Every day I check social media and see and everybody's posting stuff like "ooh this memory, like from last year, at this time I was skiing during spring break and having a blast". You know, I was thinking about this year and riding up at Big White, and riding the chairlift and it's windy and the snow's good. But it's so cold, and I'm like "there is nobody here." It's a powder day, where is everybody? I was kinda more skiing on powder at Gem and there's nobody there so I don't really know where everybody goes. I've been skiing Big White for like 10 years now. I don't think I know where the best spot to go is or where everybody's favourite spots are. So I was gonna find out where Scott's favourite spot is on the mountain. Where the hidden gems are. This is going to be like, a new secret tip for everybody for next year when you're dreaming about snow. Where's the first spot you're going to go? You know, we've got some other guests coming so it can be like a question along the way, and find out. But where is your favourite spot to go?
Scott: Uh, favourite spot on the mountain...um probably gonna have to go with Black Forest. Get off the chair, go right and dip into those trees. A pretty awesome area in there. Shh though!
Not only are trees good, but it's also protective - there's no wind. So you can get in there, isolated. There are no lineups for Black Forest either out here. So you gotta stay in Black Forest. Great snow, Scott said it's good snow. There's no wind. Just think of us being super cold on the other chairlifts with wind and stuff, it's not much fun. So, plan next year: Black Forest when you think about winter. So, it's great to have Scott, chatting about snowboarding.
So, Aime and I have a little dilemma. You know, we've got a three-bedroom house, we've got us, and we've got three kids. So, the idea is - once we had baby Luke we're gonna put two kids in one room. We kinda came to the conclusion we're gonna do bunk beds.
So we spent some time looking for bunk beds and couldn't really decide on anything. So I was like, you know what? We're gonna build one. I wasn't quite sure how I was gonna tackle it, just from diagram construction blueprints online. It still didn't really make sense to me but I was able to steal some ideas and make my own. So, you know, one day - I had a couple of days off we're gonna start making the bottom bunk. And it was really successful. Y'know, Avery was happy she got to sleep in her own bed and then we started on the top bunk. It took a little bit longer, just because I wanted to make sure it was nice and safe. You know, Jack is gonna sleep up top. I don't know if anybody knows about a six or seven-year-old boy, but they like bouncing on beds quite a bit, so I wanted to make the bed super secure. Because Amie said if the bed fell off and squished Avery that would be the end for me.
So, the beds aren't done right now but the beds are to the point that both kids are sleeping in it. Both kids have been sleeping in it for maybe a week right now? And they're super happy to sleep in their beds. Now, that being said, there's been some fights. So, just to go back a little bit before we get here, Amie's dad is a doctor. So he always looks on the safety aspect of every step we do along the way. And it's funny with Jack growing up, all I hear from Amie and her sisters is "wow, he would never let us do that as we were growing up, just wouldn't be safe". Going through this process, I talked to Amie's parents quite a bit, my parents quite a bit like, "Hey, we're building bunk beds!". Never heard anything, showed them pictures. They're like "Oh, wow! It's going to look amazing" and then I'm like, "I'm gonna build it!" and they're like, kinda gave me that look of doubt.
So, anyhow, we're going along. Kids spent the first night in the bunk beds, everything was great. I go to work and have a talk with Amie, she sends me a text. She's like, "So, everything's going great but we had three incidents on the bunk bed today" and that's just being the first day. And automatically, I'm like wow. I'm not even done with these things and I'm going to have to rip them down. A little bit later, I'm on the phone talking to Amie's dad and I was like, "Wow, Amie said we had three incidents on the bunk beds today" and he starts chuckling. He's like, "Hahaha wow, I expected way more than that, I just didn't want to tell you!" but anyhow after day number one, it's all been pretty good. Just aside from typical fighting. Avery wants to be in the top, Jack and Avery in the top and Jack doesn't want her there. But, for the most part, both kids are going to bed on time and they're sleeping. Not quite sleeping in as much as we like, but they're sleeping. So, I take it as a win. A moral victory. Over the next couple vlogs I'm gonna show you guys some pictures until they're all completed. I took the week off this week but next week I'm hoping to get back to it and get them finished up. Awesome guys!
That's the end of the vlog, I just want to say thank you to everybody. I mean, the support has been amazing from everybody coming out to the store. It's great to see so many smiling faces and see people out on the roads and trails. Just remember, be respectful when you're out riding. Share the roads, give some distance, watch out for cars, and enjoy the fresh air! Thanks a lot, guys!
Share Post: