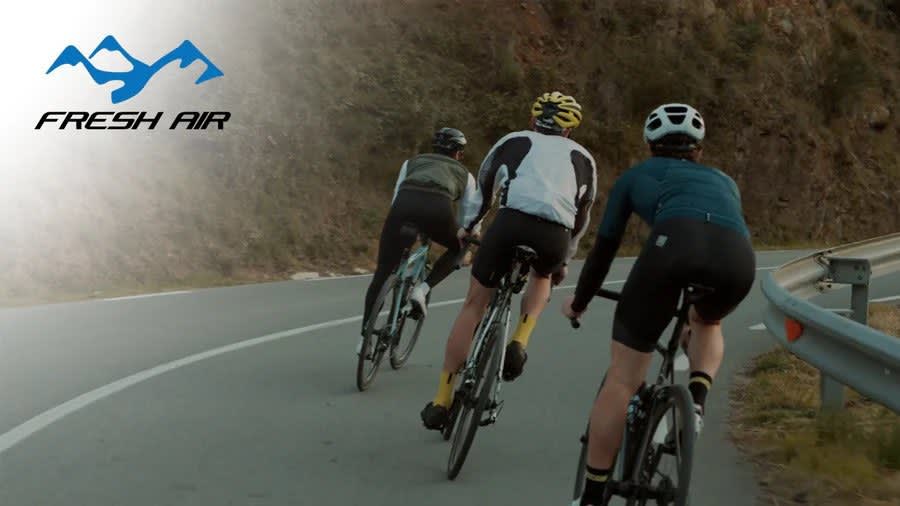 Fresh Air Vlog: Canada Day, Bikes (what else!?), Expert-Mountain-Loving Staff & More!
And here we go! We got a new vlog. It's great to see everybody! Enjoying the great Okanagan sunshine, and it's a little late, but everybody- Happy Canada Day! Hope everybody got out! It was a little bit different this year, without fireworks and the celebrations, but it's still great just to get out, for us to have a day off and relax - have some family time.
For us, our business is always different. It's like, each season we can break it up into two-month segments. We're busy in the store and then the snow melts, and then we've got events going on and we got different things, we got bike demos.
You know this year is just totally throwing us off because right now, we'd be just finishing up the Apple Triathalon and Canada Day, and we're going through preparing for the cross-lake swim and doing swim demos and bike demos. You know, we have had a couple of meetings at work and we talk about it being different and how we can take advantage and make it better for next year. We don't really know what next year's gonna look like. We don't know what fall's gonna look like. We don't really know what the rest of the summer's gonna look like. I mean, at this point we still have one store closed. We're hoping to get everything kinda up and going.
I guess really the only normalcy we have is our bikes! Everybody still loves their bikes. We've always taken great pride in the employees we hire. We take a little different approach than everybody else, we hire some really young guys. We're hoping they stay for like three or five years, either through high school and university or they're coming to Kelowna for university. And we've been very, very fortunate for the staff. We have had some amazing staff, they're very passionate about their winter or summer.
This episode, we're going to two guys with their quivers, erm with their bikes. Both guys have been with us for five to six years, in different capacities but they bring a lot of energy to the store. We have Will. Will came on the bike side, he's an avid skier, started picking up snowboarding this year. Into ski touring, like multiple-day ski touring, road biking, bike touring. But it's just amazing to see the passion and passing that onto customers.
The second one is Mackenzie. Mackenzie came to us, definitely on the bike side, he's been a huge help in the shop either at Concept or Experience. And again, he just kind of falls in with everybody else. Into skiing, he's from Kelowna so he loves all the sports, he knows all the secret spots when you're mountain biking. So he's a great guy to hook up with to go. Here we go! We've got Mac and we got Will here's their bikes.
Hey, my name's Will, I've been working here for Fresh Air for the past five years part-time while going to school. I'm into pretty much everything we sell here at the shop, biking, skiing, running. Mainly, right now, it'd be backcountry skiing and biking but last summer I was really into running as well. In fact, today we're going to take a look at my gravel bike which is the first-gen Specialized Diverge. Specialized just recently released the second version which has some upgrades to it, but the first-gen is awesome as well. I've used it for some bike-packing trips, specifically last summer, the big one I did was the Sunshine Coast. So, just a quick weekend trip leaving from Vancouver, up the Sunshine Coast, back over to the main island, down to Nanaimo, and then back to Vancouver again. Lots of ferry rides, little bit of gravel, lots of on the road, lots of pretty ocean views. Really fun trip.
Hi, I'm Mackenzie. This is my fifth year working here at Fresh Air. I mostly work in the back shop, doing bike builds and a little bit of service stuff. Today we're going to look at my 2019 Stumpjumper. This is the third season I've been riding on this Stumpjumper. It's been pretty great. It's perfect for around the Okanagan valley, still has plenty of travel to do more of the intense stuff that you can find in a couple of places. It's not totally stock right now, I've stolen a couple of parts off it to put on a couple of other bikes but it was pretty sweet in the stock setup.
Awesome guys, thank you very much! We're super proud, this past year would have been their final graduation, so everything is up in the air with the guys finishing up school. We're really hoping they would stick around another year or two, I know they're really looking to get on with their careers. It was great to watch the guys grow up over the last five or six years. As we hire all these guys, it's like, we're here as mentors for them. We make impressions and all the time it's, we always joke around when they come in. The guys start off at 15-16, they've got heartbreak or they're buying a car. They come in either super happy or sad, or they're bummed. So as the older guys in the shop, we try and cheer them up. We've always got music playing.
Country music is amazing! You can find lots of stories in country music. Young Jessie was coming in, he was buying a truck. Since the whole COVID started, we started playing Joe Diffie, "I'm a pickup man" for Jessie and we were like, man it's going to be amazing! Girls are going to be coming all over you! And Jessie, being Jessie, is all shy and blushing. We had Spencer who worked for us, we always helped him out. Kenny Rogers - "The Gambler", you can learn some life stories from Kenny Rogers! And it's just a little fun we have!
It's really fun watching these guys over the last 10 years I've been here. We've had quite a few guys come and go, and stay with us for five years. So it's really interesting, hopefully, they've had some fun with us, learned something from us. It's really fun watching the guys grow and move on. And that's a wrap! Thank you very much again, everybody! Thank you for your patience out at the store, I know. We're trying to work through everything, trying to get to you as quickly as you can. Thank you.
All I can really say again is get out, enjoy the beautiful Okanagan, the sunshine and the fresh air. See you guys later.
Share Post: