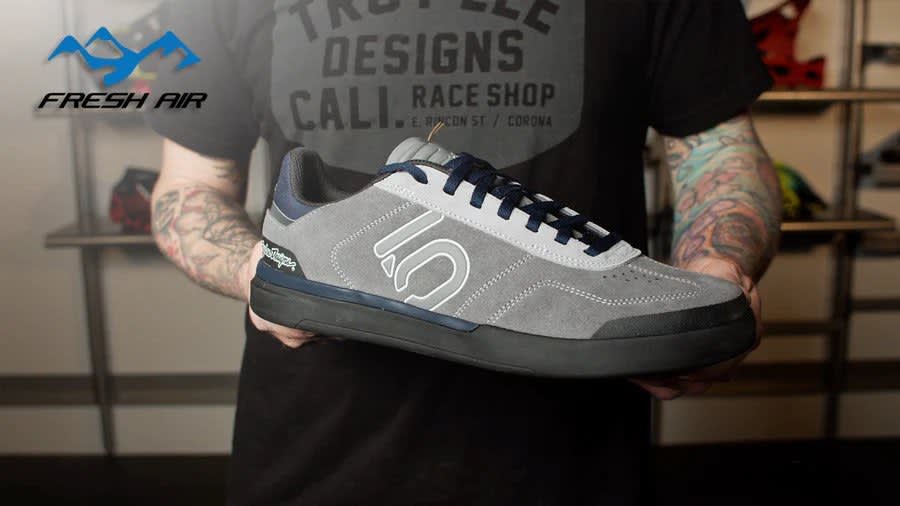 Fresh Air Vlog: Helmets, Shoes, Dirt-bikes, Youth, and Life
Again, beautiful weather in the Okanagan! The sun is still shining. I guess now, snow is melting, bike trails are opening up. Be careful of ticks! It's tick season!
But here we go. We've got a special guest this time. When he first was introduced to us he was actually working for Oakley. Like most reps, he's kind of got his own agency and keeps adding more lines to it and now it's like, I don't know, he's kinda building up his own super agency. So, not only does he have Nitro Snowboards, but also Troy Lee Designs, and SPY. He's probably got a couple of other ones. But anyhow, Mike Budgens is going to be here. He's going to talk about the new Troy Lee stuff coming out. Such as the new D4 helmets, we're just super excited to see what's new with Troy Lee.
But, more importantly, Mike's got a little guy, he's a little bit younger than Jack but I keep watching them and it reminds me of my childhood. They're super into dirt biking. The video I saw last week was little Ever hitting his first jump. They're riding in farmer's fields and stuff and it's pretty cool. Chatting with Mike, he's super excited about everything going on and how he's progressing. So, with building up all the suspense we have Mike Budgen here, he's gonna talk about our Troy Lee. We've got some really cool helmets coming in, keeping up with our bike safety theme. We go from full-face to trail riding helmets. Here's Mike and here's what he's got.
Thanks, Ryan, thanks for having me on the show. Hey guys, my name's Mike. I work for Troy Lee Designs here in BC, Canada. I'm actually a Kelowna local as well. As Ryan was saying, we've been getting on the bikes a lot and riding dirt bikes with my five-year-old. We decided quarantine time was a great opportunity to train a brand new puppy, so that's been keeping us super busy over the last couple of weeks for sure.
I just wanted to come in and quickly talk about some of the things that Troy Lee Designs has got going on for summer 2020. With that Daytona Series helmet, the new and exciting launch for Troy Lee Designs for 2020 is the new D4 full-face DH and BMX helmet. This one is, once again, ground-breaking design and feature-filled package. So, starting off with the D4 Carbon that I have here.
This one is using TeXtreme carbon, which is a carbon material that is used by companies such as Porsche. It's used in a lot of the cycling companies for road shoe soles. It's just an ultra ultra-lightweight, but also highly impact-resistant carbon material for that outer shell. It also has a ton of increased venting through the front of the helmet and a lot of large exhaust ports in the back, all working in unison with the liner material it promotes just great airflow through the helmet while the rider is moving. It uses things like lightweight titanium for a lot of our D rings and fasteners. It actually has a collarbone suspension system that can work with or without, in conjunction to a neck brace if you're riding downhill BMX. And it has quick-release safety cheek pads so in the event of an accident, paramedics and EMS workers are able to remove the helmet safely and easily from the user's head. And that's all in a great package, starting only at 1000 grams in size medium, which is quite lightweight as far as this product category goes, in comparison to everything else you find out there on the market.
The next helmet that we have here is the Stage helmet. The Stage launched about a year and a half ago now. This is our lightweight enduro, aggressive trail riding full-face helmet. It fits right in a very popular category right now for people who are maybe just doing the odd day in the bike park. My kid actually wears this one on the BMX track here in Kelowna just because it's ultra-lightweight for the young guys. It does come in pretty small sizing. So, it's just ultra-lightweight, 690 grams for a size medium. This guy uses a Polylite shell which is basically the same sort of shell material that we use in our XC and Trail half-lid helmets, with a combination of EPS and EPP foam.
Next up, we have the A2 helmet. This is our premium half-lid, cross-country, trail riding, enduro-style half-lid helmet. Lots of great safety and tech features here. This has been winning some top five awards, if you will, for ratings from Virginia Tech, one of the large universities down in the US who has been testing independently on all the helmets in the market. A1 and A2 helmets from Troy Lee have, year after year, been given a top-five result there for safety. This comes from a combination of EPS and EPP foam on the inside lining, so for slow speed and high-speed crashes, also with that MIPS Rotational Impact System that you see there in the yellow. Very popular system for safety in trail helmets these days.
We also have a lot of great little collabs that Troy Lee has been doing over the years. So Troy is pretty good friends with a lot of the team over at Adidas and now that they are producing some of the 5-10 shoes they have a Troy Lee collab that you can find at Fresh Air. It gets some signature colourways for Troy and a little signature across the back here. There are a few different models in those shoes from Adidas and 5-10.
Thanks again, Ryan! Thanks for having me on the show, it's been great to be here and just talk to you guys a little bit about Troy Lee and everything that we have going on for 2020. And hopefully, we'll see you guys out on the trails.
Awesome! Thank you very much, Mike! It's great to see everything, unfortunately, we didn't have the clothing here today but check out online. We've been working super hard, we're gonna have everything up very shortly. If not, come down to take a look. We're working on a couple of cool ideas with clothing in general for the store so keep in touch on Facebook and watch out for that. But, we're super excited, we're always excited with Mike and Troy Lee. So, thank you, have a great time on the trails.
And before I forget, here's a quick update on the bunk beds! It's coming along great. I'm hoping to have it done, totally done by next week. I know Amie's like, "get it done!" but, hey. The kids are happy, it's a victory for me. Thank you very much for watching the vlog, again we really, really appreciate the support everybody is giving us. I enjoy seeing everybody out on the road, and I've seen so many customers in the stores that normally wouldn't be riding bikes or haven't ridden bikes in years. It's great to see everybody out on the trails.
Remember, after watching Mike with Troy Lee, Mike with Trek. Everybody remember, safety when you're riding and careful when you're in traffic. Everybody get out and enjoy the Fresh Air and have fun on the trail.