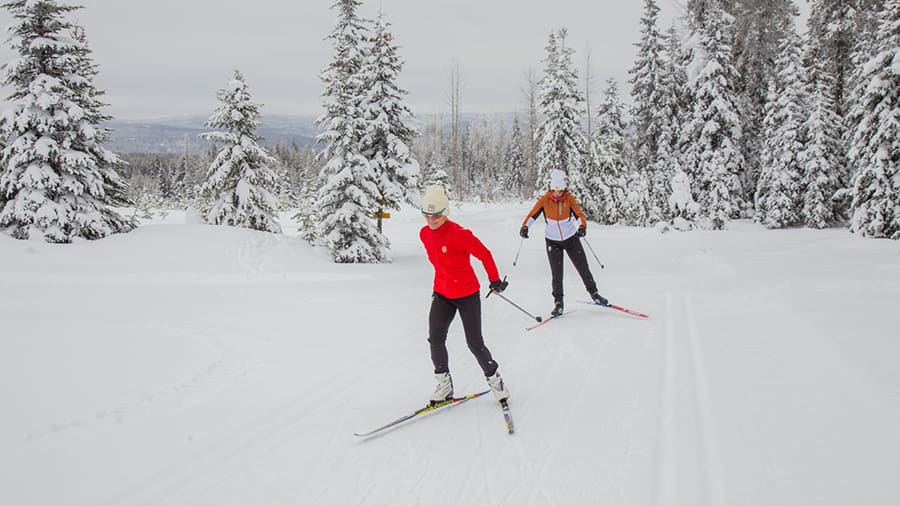 A Beginner's Guide to Cross-Country Skiing
Welcome to 2023! If one of your New Years' resolutions is to try out cross-country skiing—it's time to quit dreaming. We've put together a simple guide to cross-country skiing with our tips and tricks to get you started. Here we go!


Types of Cross-Country Skiing
There are two types of cross-country skiing: classic and skate skiing. It's pretty easy to see the difference right away when you look at people performing the two sports.
Classic is nordic skiing on a straight track, and what you would probably think of when you picture the sport. It's also the type of skiing we'll discuss in this post.
Skate skiing is not on a track, and looks like the skier is pushing laterally forward. You might see skate skiers in the ungroomed part of the trail next to the tracks.


Which Gear to Use
You'll want proper-fitting skis, poles, boots, and bindings. The best way to get the right fit is by speaking with an expert at our ski shop.
While you're figuring out your preferences, renting is a great way to test out the sport and see what you like. Then, when you're ready to make the plunge, you'll have a better idea of what you're looking for.


What to Wear
You will get warm as you get moving because nordic skiing is such a great cardiovascular workout. That means dressing in breathable layers is key—plus gloves and a hat are a must.
Base layers and synthetic or wool, moisture-wicking materials will keep you warm and, importantly, dry.
There are plenty of great nordic ski jackets out there that are lightweight, breathable, and warm while also cutting the wind. Some people also reach for nordic ski pants, which are warm, well-fitted, and keep out wind chill.


Where to Go
A facility like the Telemark Nordic Club and Kelowna Nordic is a great place to go for your first-time cross-country skiing in Kelowna. Tracks are set for all levels so you can safely explore the movements required to get on nordic skis. There are dog-friendly tracks as well!
There are many other trails to explore, including Big White and the Sovereign Lake Nordic Centre near SilverStar.


Etiquette
There are a few rules to live by if you want to be a considerate cross-country skier:

Go with the traffic. There will usually be tracks on the left and right of the trail, and you should follow the direction marked on the one-way route.

If sharing the tracks with skiers going the opposite direction, yield to faster skiers or those going downhill, who will be picking up speed.

Care for the tracks. Don't unnecessarily ruin the grooming for others by walking in the tracks, and never bring your dog unless explicitly permitted.


How Do I Move?
When starting out, remember balance and your centre of gravity. Keep a slight bend in your knees and have your weight centred over your feet.
Practice moving your feet back and forth in the tracks until you are comfortable enough to get some gliding motion. Add a kick to your stride for some more momentum.
Check your ego at the door: Falling is part of the process!


Do I Need a Lesson?
While it's possible to start out on your own and stick to easier trails, a lesson or two can work wonders for building confidence.


Wait—How Do I Stop?
Great question! On beginner tracks, you're unlikely to pick up a ton of speed, so you'll often come to a natural stop. Stick to easy trails when starting out!
If you find yourself picking up speed and need to stop or slow down, snowplow (or pizza) by popping one ski out of the track and turning it on a diagonal, similar to downhill skiing, but with one leg.


Quit dreaming; start doing. Our sports stores in Kelowna have everything you need to find your new sport. See what's in store, then get out and enjoy the Fresh Air!
Share Post: