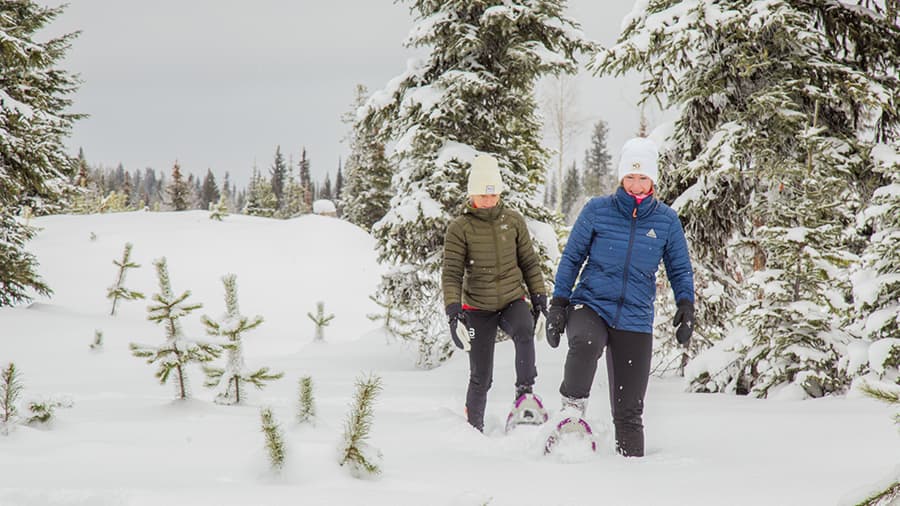 A Beginners Guide to Snowshoeing in Kelowna
Hikes don't need to stop when snow falls. If you dream of walking over fresh powder and feeling like you're defying gravity on snowy trails, snowshoeing is for you. Snowshoeing in Kelowna is fun for the whole family, any level of fitness and easy to get into as a beginner.


How do snowshoes work?
It kind of seems like magic, doesn't it? To be able to walk on snow and not fall into it, postholing your way in frustration. Snowshoes work by spreading your weight over a larger surface, distributing it more evenly on the snow and preventing that dreaded sink.


What do you wear to snowshoe?
Good news: you don't need special footwear to snowshoe. Wear warm, dry winter boots and your binding should fit over the boots, no problem.
Moisture-wicking socks will keep your toes dry and comfortable.
As with all winter sports, layers are key. You may start cold but you'll warm up as you move so you want to adjust your layers and not get too hot and sweaty. A good base layer, mid layer and ski jacket-type of coat should do the trick. Always bring a warm hat and gloves.


How do you pick a pair of snowshoes?
Snowshoe binding will fit a wide range of boot sizes, though you can explore men's, women's, and youth's to find the best fit.
Having an idea of the kind of terrain you plan to explore is a good start. Some snowshoes, like the Tubbs Flex Alp, excel on steep or uneven terrain. If you're looking for more of an all-arounder, a model like the Tubbs Panoramic will do the trick.
If you're looking for more guidance, pop into our sports stores in Kelowna for expert advice from the team.


Do I need poles?
Just like some people prefer trekking poles on a summer hike, this is a totally personal decision. You may want poles for the stability they offer. Check out our snowshoe poles and decide for yourself!


Where should I go snowshoeing in Kelowna?
Cross-country skiing facilities will have snowshoe trails as well, like the Telemark Nordic Club and Kelowna Nordic. Centres like this will also have gear for rent if you're not ready to take the plunge yet.
Myra Canyon, Bear Creek and Knox Mountain Park are all great options to explore when snow is on the ground.
If you're venturing further into the backcountry, be warned: hiking and snowshoe trails can also cross avalanche paths. Research the area you plan to explore before you go so you can play safe!
Quit dreaming, start doing. Our sports stores in Kelowna have everything you need to find your new sport. See what's in store, then get out and enjoy the Fresh Air!
Share Post: