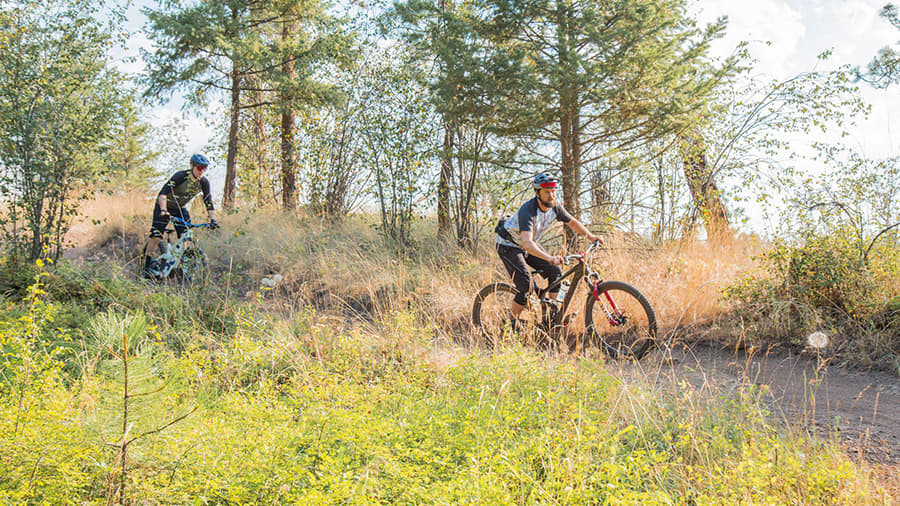 Five Things to Consider for Your First Mountain Bike
Sure, snow is still on the ground, but it will be bike time before you know it, and we can't wait. If you're considering mountain biking for the first time, looking at bikes can be overwhelming—suspension, sizing, budget. Let's cut through the clutter with some of the most important things to consider when buying your first mountain bike.
1. Get the sizing right
When it comes to riding, getting the right sized frame for your frame is vital. Poorly fitting frames can make you feel insecure, cause discomfort and even result in injury. When in doubt, ask a professional. This is the one place where you really don't want to cut corners, and a trip to the bike shop and a proper fitting is worth it. Learn more about bike fitting.
2. Hardtail or full suspension?
More often than not, a hardtail mountain bike will be the cheaper option, but does that mean it's the right option for you? If you're just starting out, chances are you'll benefit from a hardtail being more cost-effective, lighter, and lower maintenance. Full-suspension mountain bikes tend to really shine on complex terrain by providing increased stability and a sense of confidence. At the end of the day, there is no wrong answer here.
3. Don't be blinded by buzz
Carbon this, lightweight that—fancy technology is everywhere. Those features all absolutely have a time and place, but when you're shopping for your first mountain bike, try not to be swayed by hype. Comfort and reliability are key, and it's more than likely that a year or two from now, you will have grown as a cyclist and have a greater understanding of the upgrades that will best serve you. Stay the course!
4. Keep room in your budget for the extras
It's one thing to put aside enough money in your budget for the bike, but don't forget to include room for the important add-ons, like a quality mountain bike helmet, the right backpack for any adventure—and you'll be grateful for glasses that stay put while keeping mud out of your eyes, trust us. These little things add up but improve the riding experience significantly, making your life much easier if you factor them into your budget from the get-go.
5. Don't overthink it
With so much to consider, it's easy to get overwhelmed. Every reputable mountain bike brand has excellent entry-level options, and just like we said earlier: you will improve and have a better idea of what you want. This is unlikely to be the last bike you ever own, and there's a great resale market out there. Cut through the noise, ride your bike, and enjoy the fresh air!


Quit dreaming; start doing. Our sports stores in Kelowna have everything you need to enjoy life outdoors. See what's in store, then get out and enjoy the Fresh Air!