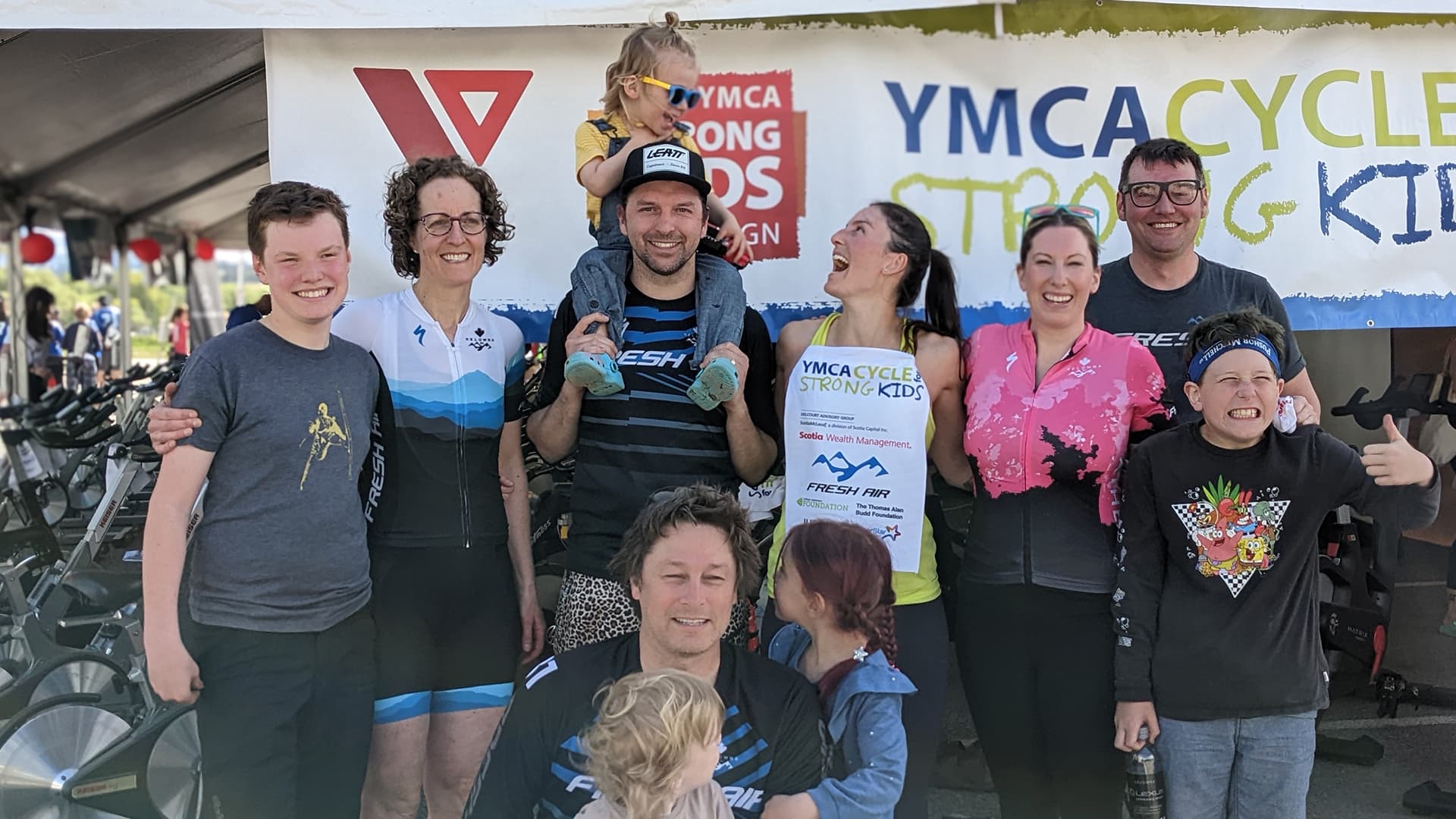 Get Ready To Give Back! Fresh Air Kelowna Q&A With Cycle For Strong Kids
It's that time of year again when our bike shop gets ready to step into our toe clips and support an Okanagan initiative that's near and dear to our hearts: the YMCA Cycle for Strong Kids.
Fresh Air Kelowna is a longtime sponsor of the event. We love the mission, we love the organization, and we love to get together and have a good time. To get people excited, we sat down with Breanna McDonald, the YMCA of Southern Interior B.C.'s Manager of Annual Giving, to learn more about the impact of their biggest fundraiser of the year.
Quick Facts About Cycle For Strong Kids
2023 Goal: $130,000
Number of children in Southern Okanagan living with financial insecurity: 1 in 5
Number of free programs for at-risk youth: 5
Programs supported:
Provides financial assistance for those who struggle to afford:
Child Care Programs

Spring and Summer Camps

Swim Lessons

Recreation and Sport Programs

Health Memberships
Why is it so important to provide the kinds of programs supported by Cycle for Strong Kids?
A lot of times, charities are looked at as reactionary, so if there's an emergency, here we are; we've got it covered. Whereas the YMCA, for over 150 years, has been the place where we help prevent. We're all about responding and getting ahead of things that grow into larger problems to solve. With financial assistance, it's allowing families and children, and youth specifically to have a community and structure that they may not have elsewhere and to give a kind of hope to their futures and resilience. It helps let them know they are able to do things and that there is a community there to support them throughout their whole life.


Can you tell me about the children and families this event specifically impacts? What are some of the challenges that they face?
A big one on top of mind in B.C. is childcare. The government has helped to subsidize that, but we take it the next step further. Financial assistance for single parents, for example. This will help subsidize it fully. If someone is at that poverty breaking point, we can actually fund them.
Another one of my favourites is Beyond the Bell. Three days a week, children come in, and they're actually able to be children. Oftentimes when you're at that poverty rate, you're going home, and you're having to be an adult, you're having to make supper for your younger siblings, you're having to put on a brave face, whereas this program offers you a hot meal, it offers you homework help, and offers you free play time, counselling, and all of those things that you need. That's one of my favourite ones. It's been shown to really work in allowing children to flourish.


What are some of the results you've seen, personally?
We had a kid with Beyond the Bell who they thought couldn't speak; he wouldn't have conversations. By the end of the first year, he was just laughing and playing. We're also one of the oldest providers of employment services for youth in the Okanagan. That's actually a program that works with the school districts and youth that are selected to partake and they get credit for it. It helps them learn how to be a part of the workforce. They come in for eight weeks, they do a job shadow, and then at the end, we help them find work. We got to go see a graduation of that and it was really cool to see how the kids just are so proud of themselves.
It's that kind of behind-the-scenes work that really affects the community from the foundation up.


I would say, why not? It's a quick, easy, fun way to just give back and you're doing it through energy, which is what the Y is all about. You don't have to have the most funds or be the best at what you do. but if you show up we can guarantee that you'll be leaving with a little bit more hope and providing hope for others.


You grew up in Kelowna and you've always had a Y membership. What does the Y mean to you?
When I was a kid, I was very shy and very fearful with a lot of things. It helped me find a way away from that and build that confidence. I remember learning to dive and I felt like I was going to have a heart attack every time. But you're just surrounded by fellow children and people who want to see you thrive, and I was able to do it. It sounds so silly now, but that little moment helped me get out of that shell and be able to do so many things later in life. I think about it often whenever there's something challenging or difficult. It's like, you did that when you were like six. Think about how scared you were then and you're being so silly right now. So it sounds so small, but it's so big.
When it comes down to it, we're not all going to be professional athletes later, but those little skills that you've learned and the team mentality and the support that you not only receive but what you're able to offer really plays for the rest of your life.
Join us in giving back! Support the Cycle for Strong Kids or learn more about the YMCA's programming on their website.
Fresh Air is more than a sports store in Kelowna. We're here to help everyone get outside and live their best lives. Learn more about Fresh Air in the community, then get out and enjoy the fresh air!
Share Post: