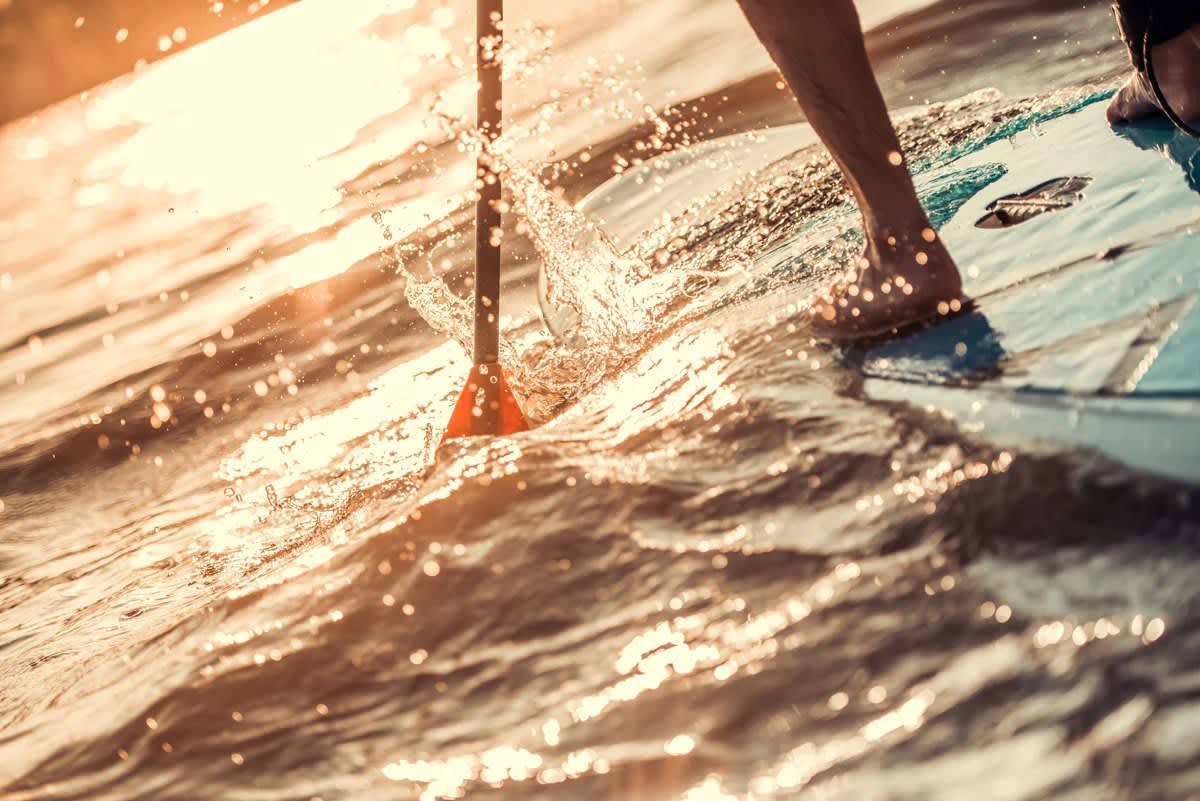 Stay Safe: Tips to Prevent Mountain Bike Injuries
There's always something new and exciting happening at our run, ski, and bike shop, and right now — just in time for summer — it's paddle board time. Paddle boards are the latest addition to the Fresh Air Kelowna family. We put together this paddle boarding 101 guide if you've been curious about this super zen way to explore lakes and other bodies of water.
What's SUP?
Not much, you? Just kidding. SUP stands for "Stand Up Paddle board," and we can't resist a little wordplay. These inflatable boards allow you to stand on the water and navigate with a paddle.


What do I need to paddle board?
If you're a beginner, it doesn't hurt to test the waters by renting a paddle board for the first time to see if you want to commit. You'll need:
Stand up paddle board
Paddle
Personal flotation device (like a life vest)
Whistle
If you're using a paddle board in cold water, you'll also want to wear a wetsuit.
How to get started paddle boarding?
You might be wondering: How do I stand up? Here are some tips to get you started:
Stand beside the board in water that isn't too deep.
Brace yourself with the edges of the board and pull yourself on, knees first.
From that kneeling position, stand up one foot at a time. You can keep balancing using the edges of the board for this — take all the help you can get!
To fully stand, keep your knees bent (sort of like a skiing position: bent knees, balanced body), then slowly get to full height.
You did it! Keep your gaze in front of you to keep your board balanced. Your core muscles will work in harmony with the rest of your body to keep you standing and out of the water. Use your paddle to move forward, backward, turn and stop with basic paddling strokes.
You can find a course near you through Paddle Canada if you're looking for deeper instruction.
Which length is for me?
The length of paddleboard that you'll want is determined by how you plan to use it. Shorter boards are great for cruising, while longer boards are ideal for more adventurous performance days on the water. Check out our 8.8 foot or 10-foot inflatable SUPs from K&B. These boards are the ultimate in versatility, with the ability to transform into a kayak with the proper seat attachment (not included).
[Shop Paddle Board Accessories]
It won't be long before you're practising yoga on your SUP or taking on bigger adventures like ocean paddle boarding.
Find new ways to explore this summer with your favourite sporting goods stores in Kelowna. Fresh Air has two locations staffed with experts to help you get the gear you need. See what's in store.
Share Post: