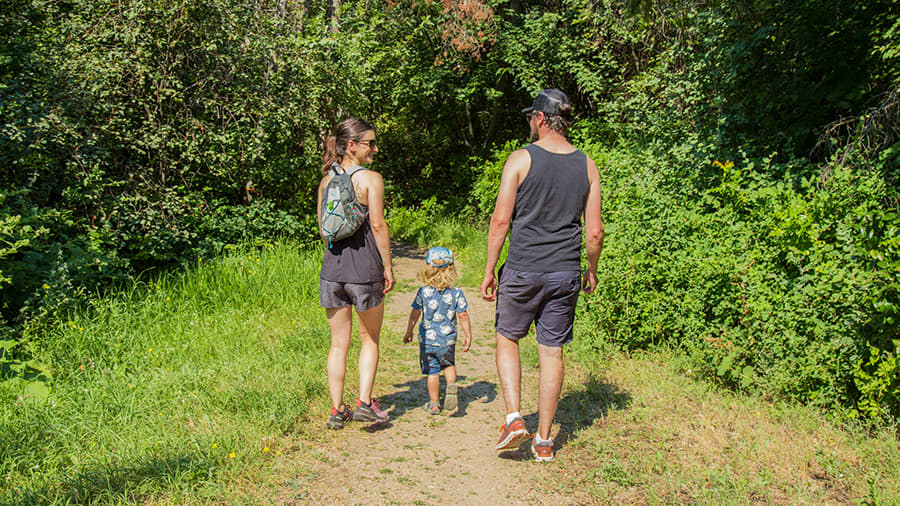 Shoulder Season Hiking 101 With Fresh Air Kelowna
When fall rolls around we don't get excited about pumpkin spice. The nip in the air means hiking season has arrived! You'll still find us taking advantage of the epic Kelowna mountain biking but if you prefer to escape the summer heat, extend your season and take in the changing colours, shoulder season hiking is where it's at.
How to hike in shoulder season
One foot in front of the other! But in all seriousness, there are a few tips to keep in mind before heading out in the fall:
Check the weather, check it twice
Look into the location of your hike and take into consideration the altitude. Weather sites like SpotWX allow you to pick a precise location and look into multiple forecasts for the area. Fall and spring tend to be a bit more unpredictable with precipitation, so it's good to be prepared.


Bring a map, know your route
This doesn't have to be a paper map, though it doesn't hurt to have one in case your phone dies, at minimum have the trail loaded on your phone using GPS. Apps like Gaia GPS have very helpful free, offline features so you don't lose your way and wind up on the trail longer than expected.


What to wear when you hike in the fall?
If you're used to the get-up and go of summer hiking without thinking too much about the temps — don't fret — shoulder season requires just a tiny bit of planning. A trip to the sports stores in Kelowna like Fresh Air should give you the advice and gear you need to get started.


Jackets
Fall is quite mild in the Okanagan but you still want to be prepared for surprise rain showers or wind chill on the summit. A lightweight, packable jacket that stows in your bag is a perfect layer to have for those just-in-case moments. We love the On Weather Jacket by On Running for its tiny pack size, breathability and stretch.



Tops
A breathable, technical long-sleeve top is the way to go. Remember, while cotton is a comfortable fabric, it holds on to sweat which can give you chills on the trail. Go for a merino wool blend or synthetic fabric conducive to airflow, like the Mons Royale Icon Raglan long-sleeve top. Perfect for road bike laps or alpine treks, long sleeves get bonus points for sun protection, as well. If you prefer short sleeves, the same material notes apply and be sure to have a light layer to pull over if it gets chilly.
Shop Tops


Bottoms
Long bottoms with breathable, water-resistant fabric will keep you warm when you gain altitude. Something like the Flylow Goodson pant fits the bill with good stretch, durable fabric and airflow.
Shop Bottoms
Get ready for shoulder season at our sporting goods stores in Kelowna. With 40 years of experience, Fresh Air has the gear and expertise you need to perform your best. See what's in store.