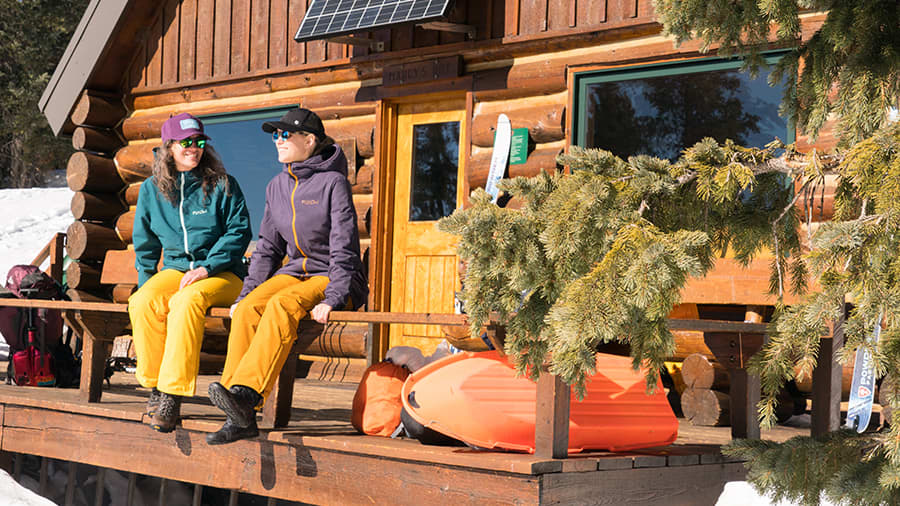 Staff Picks: What the Fresh Air Kelowna Team Takes to the Mountains
If you're overwhelmed by options when it comes to gear, take advice from those who know best: our staff. They spend so much time getting to know the offerings that their picks are gold. From versatility to sustainability to comfort, our team shares some of their favourite pieces of gear from the ski shop this winter and why they love them.
Stephanie
Stephanie's go-to snowboard for sustainability and performance on the hill is the Salomon Highpath.
"I really like that a lot of companies are moving towards building their boards with sustainability in mind. This board is built with a bunch of bio-based and recycled materials, making it the most sustainable snowboard they have ever built without sacrificing the high performance I have come to love from my years of riding Salomon! It's a true all-mountain quiver killer that glides crazy fast and is still so easy to ride. It's one of those boards that, after a couple of turns, you just start to giggle! It does everything well! I also love the fact that they make it in a ton of sizes, making it gender-neutral… anyone can ride this thing."
Comfort is king, and that's why Stephanie reaches for her Line booties when she's done shredding.
"I don't leave the house for the resort without my FT/LINE booties! They are so warm and comfortable. Putting them on at the end of the day is like a warm hug from your favourite person. I know the majority of our Fresh Air crew have at least one pair; I'm only sad I didn't wait until this year to grab them because they made the most incredible purple pair that I want. Who knows, maybe I'll just grab a second pair!"
The Dakine Boot Pack is one of those things you didn't know you need until you have it, says Stephanie. It's the best way to pack your ski gear in Kelowna.
"I lived in Lake Louise for many years and was spoiled by only having to drive 5 minutes to get to the ski resort. I would look outside, judge the weather, get dressed in all my kit, and be on my way, riding 10 min later. I now find myself living in Kelowna and having to travel an hour to get to the hill (I know, tough life, haha). This bag is AMAZING! It fits everything I need for my day at the resort, including extra gloves, layers, goggles, helmet, and boots all in one awesome, easy-to-carry, contained area. I love it so much that I even used it for my biking gear all summer. One bag that fits everything you need for a day of adventure."
Devon
When it comes to boards, the Salomon Huck Knife is Devon's favourite right now.
"It's an absolute blast inside the park; it's got the stiffness to support bigger jumps and the softness to flex through rails like nothing. I really love the profile of the board overall, especially the blunted tip and tail; it makes nose-bonking or tail-tapping anything from rails to dead tree stumps an absolute breeze!"
For rider-owned outerwear and sustainability, Devon reaches for 686.
"In terms of kit, I'm a huge fan of 686. They're one of the only truly rider-owned outerwear brands remaining, and I believe it's super important to support sustainable companies that are run by people like you and I who have a genuine love for the sport and the planet. My jacket of choice is the Hydra Thermagraph Jacket from 686. The Thermagraph patches inside of the jacket do an awesome job at keeping me warm all day long, even on the coldest days."
For easy lens swaps and incredible quality in cloudy conditions, Devon reaches for the Smith Squad MAG goggles.
"When it comes to goggles, without any hesitation, I'm choosing my Smith Squad MAGs. The smooth interchangeability of the magnetic lens system makes swapping lenses, even with mitts on, so effortless. I also think that the low-light Storm Rose Flash lens that they come with is one of the best out there. It makes cloudy days so much easier to handle on the eyes, and I would be lost without them, literally!"
Liam
Free the feet! Liam loves to let his feet loose almost as much as hitting the hill.

"You won't see me up at the hill this winter without my Line Apres booties. No better feeling than hopping out of my stiff ski boots and into my warm booties."
When it comes to warmth, from your fingers to your toes, it's all about the layering. Liam reaches for Merino glove liners to pair up with Hestra gloves for extra warmth.
"I generally run pretty cold so I'm constantly layering. My hands especially, I almost always run my Mons Royale merino wool glove liners and my Hestra Fall Line gloves."
Protecting your eyes is number one for Liam.
"I generally don't leave the house without some sort of eye protection. Whether it be my Oakley Line Miner goggles or my Polarized Smith Lowdowns. You only get one set of eyes; you've got to take care of them. Also—my Smartwool baselayer because Merino wool is the bomb!"
Find your favourites for the hill at our sports stores in Kelowna. The Fresh Air team knows their way around gear and is here to pass that knowledge on to you. See what's in store, then get out and enjoy the Fresh Air!