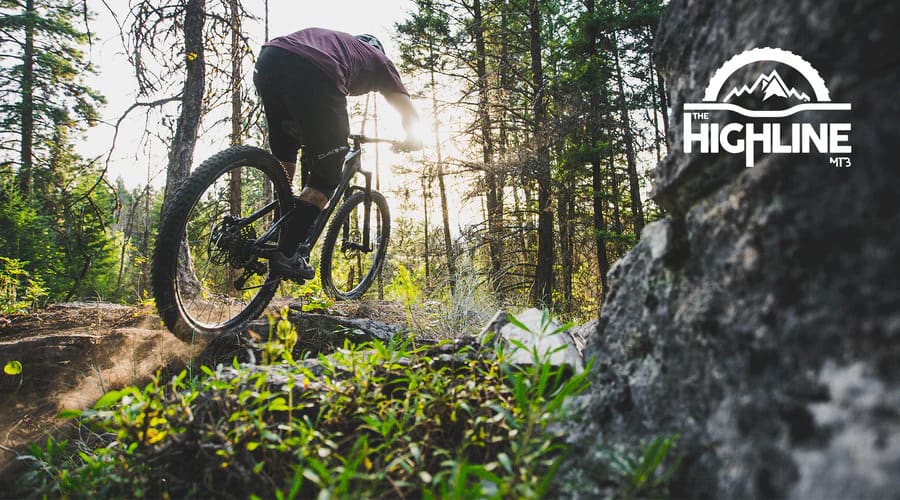 The High Line Mountain Bike Skills Development
Schedule:
Standard Clinics: 8x Thursday Nights 6:30pm-8:30pm, July 13th - August 31th
High Line MTB Week 1 ($24.99)
Bike Setup and Basic Maintenance - (7/13/2017) 6:30pm - 8:30pm
Set your suspension sag and rebound, seat height and tilt, cockpit angles, and other comfort and performance basics. Also how to patch a tube, change a tire, fix a snapped chain, and ensure your bike is safe to ride.
High Line MTB Week 2 ($24.99)
Position & Balance, Wheel Lifts & Bunny Hops - (7/20/201) 6:30pm - 8:30pm
Basics of bike balance including an understanding of "Climbing, Neutral, and Ready" positions. Front and rear wheel lifts while standing, as well as seated front wheel lift (aka wheelie) developing into wheelies and manuals. Intro to terrain awareness and active line choice.
High Line MTB Week 3 ($24.99)
Operation of Controls, Braking, and Cornering - (7/27/2017) 6:30pm - 8:30pm
Learning to brake without skidding, using one or both brakes. Line choice and body position through corners. Beginnings of bike/body separation through inclination, angulation and rotational skills. Practice of banked and flat corners on various terrain surfaces.
High Line MTB Week 4 ($24.99)
Technical Climbing and Terrain Awareness - (8/3/2017) 6:30pm - 8:30pm
Focus on effective pace(cadence), route choice, and technical uphill riding for max efficiency and comfort for long periods of time in the saddle. Learning to scan the trail, switching between now and next for smooth and efficient line choice. Critical techniques like slow switchbacks and overcoming blunt obstacles. Discussion about efficient fueling, hydration, and more.
High Line MTB Week 5 ($24.99)
Terrain Awareness & Direction Control: Steeps and Technical Rollovers - (8/10/2017) 6:30pm - 8:30pm
Static and dynamic line choice. Trail scanning for speed and efficiency. How-to and when-to brake on steep, inconsistent terrain. Approaching blind rolls and maintaining speed through technical terrain to minimize fatigue and maximize comfort.
High Line MTB Week 6 ($24.99)
Advanced Maneuvers and Cornering - (8/17/2017) 6:30pm - 8:30pm

Learning to manual, stoppie and perform cutties. Adding rotation, effective braking, and timing while cornering. Bringing multiple skills together to make you a faster, smoother rider.
High Line MTB Week 7 ($24.99)
Pressure Control: Jumps & Rollers - (8/24/2017) 6:30pm - 8:30pm
Basic air position, and controlled take-off and landings. Judging speed, angle, and pop while riding or from a stand still. Effective pumping, basics of moto-style whips and tables, and maintaining momentum through transitions.
High Line MTB Week 8 ($24.99)
Race Day Tactics - (8/31/2017) 6:30pm - 8:30pm
Preparation, pace, fuel management, line-choice and pre-riding, and a calculated approach to race day to ensure happiness and success.
Young Shredders Clinic (124.99)
Week 1: Position and Balance
-Bike Basics
Week 2: Operation of Controls
-Effective use of Brake and Gears
Week 3: Terrain Awareness
-Picking smooth lines
Week 4: Direction Control
-Staying on the trail
Week 5: Pressure Control
-Developing bike control and learning maneuvers
Week 6: Timing & Coordination
-Putting it all together


Private Lessons:
$50/person/hour for the first hour, $40/p/hr after that. (Up to 4ppl for 3 hrs)

Contact: thehighlinemtb@gmail.com
Okanagan MTB Guiding:

$30/first hour + $10/person/additional hour
Contact: thehighlinemtb@gmail.com
About:
The High Line is the local leader in professional mountain bike guiding and teaching. We offer weekly skills clinics for adults and children, as well as private instruction and guiding.
The High Line MTB Skills camps came out of the desire to guide and teach others; the principle of sharing. Here at The High Line, our love of the outdoors defines our lives. Motion, silence, and nature's beauty. Adrenaline, endorphins, and the laughter of friends. These are the moments and feelings that keep us alive and happy.
Jay and Chris, the founders of The High Line, were brought together by moments like these. Since their first days on mountain bikes 10+ years ago they have explored tens of thousands of kilometers of trail across Canada and the US, and more recently have ridden just about every trail in Kelowna and the Central Okanagan. Jay and Chris are also active trail builders and members of local trail societies.
At The High Line, we aim to be the bridge between you and the biker you've always wanted to be. We focus on the fundamentals and promise to break things down to critical skills that will make every ride better. No matter what your goals are, we can help make them a reality. Taking The High Line will help you rise above your former self.
Coaches: Jay Starnino & Chris Siemens
Instructor Certifications: First Aid Level 1, Professional Mountain Bike Instructor Level 1
Our Mission: To provide instruction which enhances the skills and strength of cyclists wishing to progress their riding from entry level to advanced, through the use of weekly and/or private sessions focusing on fundamentals of mountain biking and having fun.
Skills Development Plan:
Develop confidence and capability through weekly skills clinics and/or private lessons for kids and adults, with the focus on safety, fun, and learning. Lessons are limited to 6 people/young shredders, so sign up early! This ensures you get our full attention and learn the most.
We provide a consistent lesson format and clearly explain and demonstrate techniques which allow us to make you a more comfortable rider. We ensure that the practice terrain will be safe and appropriate, while still providing the excitement that got you into mountain biking in the first place.
We also offer performance tours and route design for people looking for the best riding in the Okanagan without the lesson based format.
Clinic Methodology:

Each clinic will begin with 30 minutes of verbal instruction and skill drills in the parking lot, after which we will split up into 2 groups and go hit the trails! Each of the 2 groups will be limited to 6 individuals to ensure you get the best coaching possible.