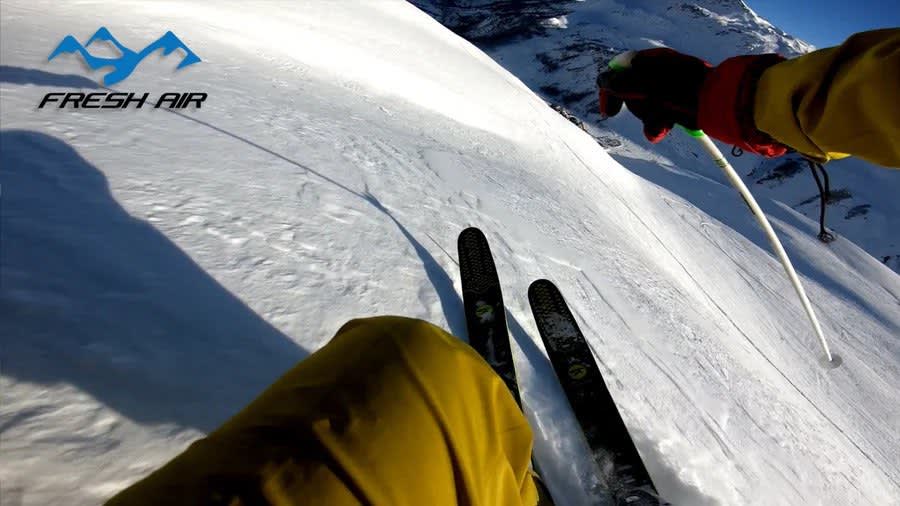 Baby Names, Snowstorms, Skis and Fat Bikes
Here we go! Number five! Thanks again, guys
It's been super busy - both in the shop and in personal life. We are expecting baby number three! There's a lot of work that goes into a baby. I've got two sisters-in-law, a mother-in-law, my mother. A lot of work goes into a baby's name. I have been not sleeping at night just because I'm kind of narrowed into a name. And there are lots of names floating around there. Did you know there are websites that can kind of match everything? It's pretty intense. Thinking back to how we named our first two kids, it was pretty amazing. When we settled on our son's name, Jack, I never really thought about it when we named him but growing up I watched a lot of The Young and The Restless. It's Jack Abbot! He's an icon. Strong, that's Jack. Baby number two, it's Avery. Avery's a character on The Young and The Restless. Obviously, number three is going to be on The Young and The Restless! My vote's for Victor, unfortunately, everybody else says no. But we'll see!
So, our special guest tonight is Justin Jackson. He is our Smith rep, our Line rep, our Full-Tilt rep. He actually has some bad luck. Probably Revelstoke's biggest snowstorm for a week. He lost his car keys! The poor guy. But, he does work hard. He does get to ski a little bit. He wasn't here, so Johnny and I filled in to talk about his job. So, growing up in Ontario, especially when you're skiing, snowboarding. You always have this fascination, "what would it be like to be a pro snowboarder"? Your goal is always gonna be "I'm gonna be a pro athlete!". I learned, rather quickly, I was alright as a snowboarder. I wasn't the best. Johnny, if you google him, he was actually a "pro skiboarder".
But as we go along working our retail lives, know everybody kinda comes into work. Part of our job is to help train them to move on and progress in their career. We're fortunate enough, Johnny worked for us, Johnny left for a year, Johnny came back. Y'know, life on the road isn't really what its cracked up to be, especially when you've got a wife at home. Johnny barely had any time. He couldn't golf, couldn't bike ride, couldn't ski, just work work work. Justin's had a long winter. And now he's sick. So he couldn't be here tonight. So - He didn't call in sick when he had to go cat skiing a couple of weeks ago. So we grabbed some photos, some videos, off his Facebook to share. I think Justin's the hardest-working sales rep in all of BC, myself. All in all, Justin's a great guy. mountain bikes hard, he plays hard. We're sorry he's sick. Justin, I hope you feel better. I really hope you feel better too, Justin. I can't believe we had to fill in for you again. We'll see you on the slopes buddy.
The next employee with their quiver is from our Concept store, Andrew. You can find him every weekend at Big White. In the summertime, he's riding his bikes. Here's Andrew and his quiver.
Hey guys, I'm Andrew here at the Fresh Air Concept store down on Pandosy. And I'm gonna show you some of my gear. First piece of gear, kind of this time of year with all the snow we've got falling my one-and-done true tested JJ Ultralite 185s. Such a playful ski, super fun, super surfy. I've got them mounted up with some Salomon shift binding so I can take them touring. We took them cat skiing, or just ski the resort. Kind of a one-and-done ski, in my opinion.
The next ski that I use when it's not a powder day, are my Benchetler 100s and they're 188 centimetres long. Super fun, I've had the big boy version and the 100s are just as fun, just as playful kind of a ski that I can ski every day and not wish I had something different.
And then my third winter toy would be my Trek Farley 7 Fat Bike. So I take any chance I can get outside and ride a bike I do that so this puppy cruises the greenway, and I mean, we even rode Angel Springs two weeks ago on one of the warm days. So, another tool that you kinda can't live without for the winter.
As you can see, Andrew's much like me. Part of the time he's on the mountain he's skiing with his young daughter, skiing the Ogopogo. When he has a chance he's definitely chasing powder. The fun part of our job is always trying new gear ahead of time. We're in the future! We are very fortunate to get out to Big White to an Industry Demo. We had a chance to try everything from every manufacturer. Skis, snowboards, it was a blast. Here's a little clip of what we've seen and how we're skiing. It's always fun testing skis, ripping super fast in the powder. I took a different approach, I brought Jack! We skied along, we're in the Ogopogo. Snowplowing, pizza-ing, french fry-ing - we're everywhere on the mountain. It was a lot of fun and we tried skis in different areas. Different ways of skiing that I would never do normally. Awesome! That's it guys, thank you very much! Get out, enjoy the spring break - the sun's shining! Enjoy the slopes, get out biking. We'll see you out there.
Share Post: