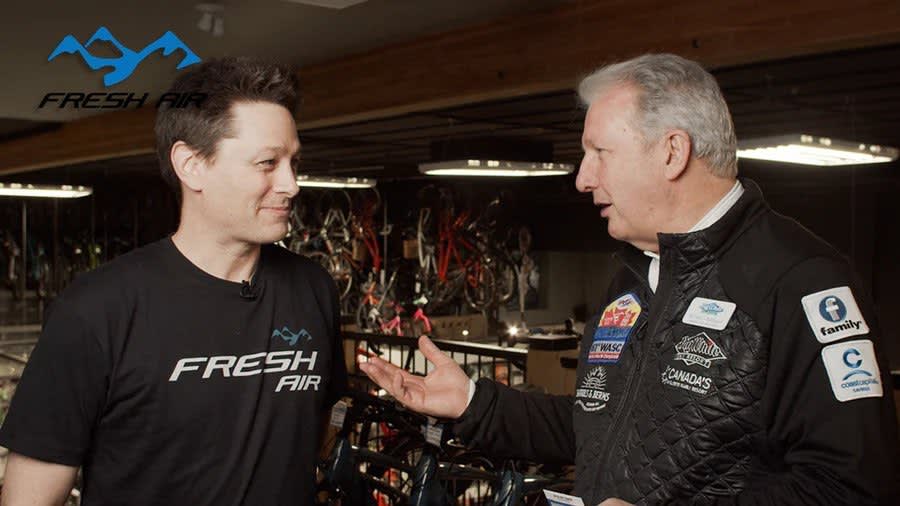 Big White, Radio, Biggie Cards, E-Bikes, Social Media, and Boot Fitting
Boom! Here we go guys, another vlog. We have a very special guest today - Michael J. from Big White. He's the voice of the Okanagan in the wintertime. We're pumped to have him here, let's see what he says. The conditions have been fantastic, snow's falling. Snow hasn't stopped falling at Big White. And the sun came out for a couple of days!
Michael: You know, when people have been asking us, "Is this a record year?" and when I asked Jeremy Hopkinson, who has been at Big White for 44 years. And we were at coffee the other day, and he says to me, "Well, no, I think '75 was better" "You mean 1975?!" he says, "Yeah, yeah that was the year that we really had to dig out a few cabins and there were a few cave-ins".
We've come a long way because we're digging things out that we never thought we'd have to dig out before but we're just over 600 centimetres fallen from the sky. We hit the 300-centimetre base the other day, we had a big party for that. My bet is that we're going to be over 1000.
Ryan: We've changed our marketing strategies at Fresh Air quite a bit in the past few years. We've done a lot of radio. Every time I go in they always do voice checks. We always joke around about "champagne powder", we always try to emulate Michael J's voice. You hear the voice, you automatically think snow. It sends chills up your spine and you get ready to go.
Michael: You know, radio has been an incredible medium for us to use - "And Okanagan champagne powder!" is something that that just, one day, that's what it was. And someone said to me, well that's the Dom Perignon of champagne powder. And then I got a call from Steamboat, Colorado who had trademarked the name "champagne powder". And my argument was, well, this is Okanagan champagne powder. And, by the way, champagne is a trademark of the country of France. Like, what court do you want me to meet you in? And then Kickinghorse is the home of "Canadian champagne powder" you know.
If you've got great snow, and you get to talk about it, radio's just a medium that we have a lot of fun with. We're very fortunate to work at Fresh Air in Kelowna, we have amazing partnerships with everybody.
Ryan: We're very fortunate to have a partnership with Big White. The support Big White does for the locals is amazing.
Michael: This goes back a long way. When I first came to the valley, in 1982, I ran a nightclub called "Tramps" at the Capri Hotel for the Capozzi family. And in 1985 when Mr. Schuman bought Big White Ski Resort out of receivership. I'll never forget the day that he walked up the stairs at 8 o'clock - who goes to a nightclub at 8 o'clock to begin with? - 8 o'clock at night and he told me to turn down the music and bring him a bottle of Dom Perignon - he had just bought Big White. His whole concept was about looking after the locals. Think local, act global.
One thing that we've always done is we've had a deal for the locals. Whether it's our seasons passes, whether it's our tubing, the bus passes for the kids, the after school programs. But everybody has to have a ticket. You know, we have this thing called the "Biggie Card" and we talk about it all the time. I'm not doing my job if you bought your ticket on the mountain. You need to buy your ticket at Fresh Air. And I'll tell you why. This ticket, today at Fresh Air, and every day, saves you $30 that day on the mountain. And when you can tell someone that you can go skiing on the second-most popular resort in British Columbia for $70 a day, when the ski hill down the road is $170 - that's some big sales.
Ryan: Last time we got a text message from one of the employees up at Big White, "It's Michael J's anniversary!" he needed something big to surprise his wife and wanted to try some e-bikes.
Michael: I came to the Okanagan Valley in 1982. I'm from Winnipeg. And I could tell you on one hand, I can count romantic spots in Winnipeg. I would need a phone book to tell you all the romantic spots I've been to in the Okanagan Valley. My wife's Australian, as a lot of people out there would know, and she's fit. I mean, she's been a cross-country customer of yours for many, many years. And she thinks e-bikes are "cheating". I convinced my wife that it's not cheating.
We went down to Summerland, we stayed down at the Summerland Hotel right on the water. And the first thing you see is that big hill. Now, there is no way, on a regular bike, that I would make it up that big hill, to get to the first winery. Well, away we went. We started pedalling a little bit. Then, all of a sudden, we're going 24 kilometres an hour, up this hill, and we're laughing, we're giggling. This is magic, it's not even an effort.
We get to the first winery, and normally, you would do a wine tasting and that's very nice and move on. Well, we did two wine tastings. Because we weren't drinking and driving, and so we went to a second winery. We went over to the Dirty Laundry, where they have the most incredible wood-fire pizza, and had lunch there. Then, we just laid in the meadow in the vines, and just absorbed the atmosphere in the Okanagan Valley. Because we knew we could handle the terrain up and down in the Okanagan and those ginormous hills when you're on a regular bike. But when you're on an e-bike, it makes all the difference in the world. And as I've told you, you have all these enormous trails you can take advantage of. If you can pedal a stationary bike, you can ride an e-bike.
If you can ride an e-bike, that means that the smells and the wind and being by the lake is now a part of your lifestyle. And if you've been out of that and you haven't had that for a while, I encourage you to get back into it. Because it's why we live here. This is one of the most particip-action areas in North America. Everybody gets out and plays. It's so much easier on an e-bike. It's really a lot of fun.
Ryan: So, much like everybody else, I wake up every morning and the first thing I do is check my phone. Just looking for a powder alert. Y'know, Instagram, I follow tons of different people, just to see what's going on. So much so, my whole family, we don't even have cable anymore. We just buy certain channels, subscribe to them. My favourite one? Home and Garden TV. I love Vancouver Love it or List it. Watching Instagram for Big White, I know Jillian Harris has been at Big White. Todd Talbot was there this year. Saw a picture of Scott Oxford, says he's teaching his wife how to ski, but I don't know. But, Michael J, if it was up to you and your wife, would you guys love it or list it?
Michael: Well, my wife is into Say Yes to the Dress. And my Friday nights are back to back to back. Look, I love this lady but I'm also infatuated with the people that are on this show. I mean, oh my god. Why would you say that on television? It sucks you in. But, you know. We're into renovating too and I think there's a part of our life that, not only could we go on a reality tv show, but I think they make a lot of sense. You know you watch these renovation shows and you watch these different things that people are doing. We've got our own celebrities up at Big White as well. As you know, Jillian has been up there. My wife, when she found out about the Jilly Box, she had to have one. Now, I'm used to picking up the phone and "can you do a favour for me" and I called Katie because I know Katie knows. There is no way that anybody was cutting the line. You want one of these things? You log on like everybody around the world. There's 5,000 of them!! Diana was online, late, late, late at night and she eventually got one because people were dropping off. And that was just such a thrill for her. It's a different world.
As we first started talking about the media. There are people that show up at Big White, I wouldn't have a clue who they are. But young people are coming up to me, "you know, they got 250,000 Instagram followers!" Like, who?! What?! Because in my world, that's a big deal! Are they gonna tag us? Are they gonna post something about us? Are they having fun? And Big White is, you know, when you've got your goggles and your helmet on, it's a place that if you don't want to be seen, you don't have to be seen. We've certainly had our share of celebrities.
Ryan: I know my wife is ready to sell, I think Michael J. is a little up in the air. Love it or list it, I'm not sure. Either way, Michael J. is having fun on the mountain. So, our next employee showing his gear makes fun of me a lot. I don't know if I've said this or not but my nickname is "Coco". Because my feet always get cold. And you're going to see the reason why everybody makes fun of me, I just didn't click into what everybody else is doing. Here's Johnny, see what he does.
Johnny: Hi, my name's Johnny. I manage our Fresh Air location on Harvey Avenue. As a super-passionate boot fitter, I am really excited about boots and I ski every day. One of my favourite pieces of equipment is my Salomon Mtn Lab touring boots. I've done a few things to modify them. I've got a Sidas custom liner in there. So full, heat-moldable, custom liner, helps with heat retention, helps with comfort, helps with warmth.
Going back to my QST 118 ski from Salomon, there's a few things I really like about that. They've got a CFX hybrid-weave on it. And the big thing with that is it replaces fibreglass in the ski. So it's carbon and flax, a little bit lighter than resin-soaked fibreglass so yes, the ski is lighter. For me, having a ski that works really well in the powder, but is versatile enough to go out and actually pound through that crud and the chopped up snow afterwards, it's the first ski I reached for from my powder days. If I'm going touring, you know, Coquihalla summit, going out to the gorge Malakwa area, that's the ski that I'm grabbing.
Alright, I have another boot and, you know touring boots are great, there are a few little downfalls in them once and a while. So if I'm going up to Big White, to the mountain, I wanna go up and be skiing hard with friends. And it's always a versatile and different day. Some days are going to be cold, some days are warm. One of the best things that I have in my Salomon S-Max 120 boots is my Thermic boot heaters. And people are like, "why do you have boot heaters? You're a pretty young guy", I might look a little younger than I actually am - I'm not as old as Ryan that's for sure. But that boot heater that I have has saved me on numerous days. It's a cold, plastic boot on a cold mountain! We're getting blasted by wind on the chairlift, $400 for me is not a huge investment to make sure I've got warm toasty feet all day.
Ryan: I might be "Coco" but I've got to come up with a nickname for Johnny. The boot heaters seem amazing. Great tips, we'll see him on the slopes. That's it, guys! That's a wrap for this vlog. Thank you again for all the support, its been great. If there's anything you ever want to see, want a staff profile, comment below. We can definitely get them on. Cross your fingers, because it's time! Baby #3 is coming pretty soon! Keep in touch, see you on the slopes!
Share Post: