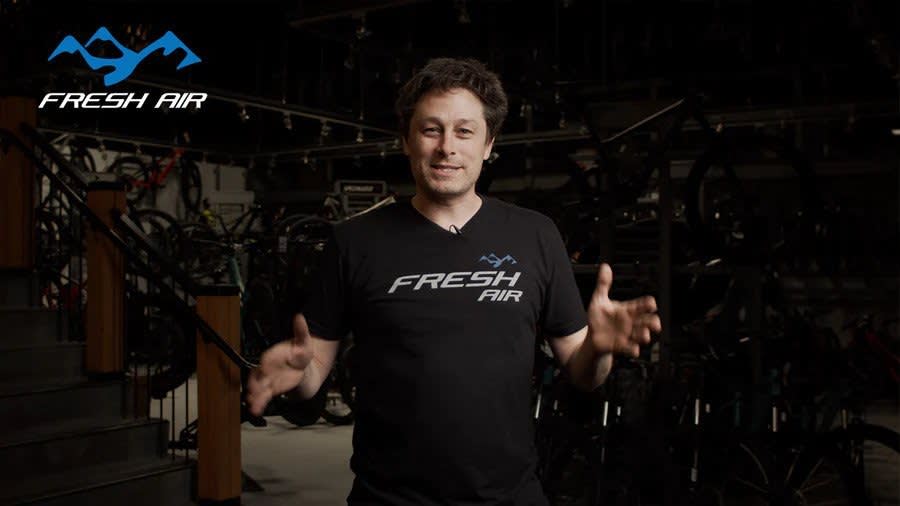 Business Update, Good News, and Bikes
Hey guys, it's Ryan from Fresh Air. Thank you for joining us again! A little secret about our vlogs, we film a couple at a time so we had to go back, re-edit what we did. A lot's changed since last week. Lots changed since yesterday. I don't really know what to say, it's all overwhelming. What I can say is Fresh Air is continuously monitoring the situation and we are taking steps to make our environment safe to help our customers. Unfortunately, one of the steps we had to take early in the process was to close one of our stores.
Our store on Harvey is actually closed until further notice. Our store in the Mission is open at the time. We're running on reduced hours. We're 11 to 6 Monday to Saturday, 11 to 4 on Sunday. We are open during these times.
When you show up to the store, the front door is locked. We're limiting access so it's a 1-on-1 basis with each customer and employee. On a daily basis, we're cleaning the store and we're continually sanitizing the high-traffic areas throughout the day. If by any means you're uncomfortable coming into the store, please call us. We're offering curbside pick up.
You can purchase products online through our website. Please feel free to contact us if you don't see it on there, we can add it, email you the link. We are extending our pick up and delivery service for bike, service, and purchase-related items. Again, please feel free to contact us at the store or email us under our service link on our website and we'll set up a time that works best for you.
Everything's changing by the day or by the hour so please contact us or our website to see up-to-date information on what our hours and what we're doing in the store.
So, we had a really stressful couple of weeks at home, it started off we had a flood in our house! Saturday night was up all night, Sunday morning cleaning, drying. What do you know, boom Monday morning - we're at the hospital. Amie wasn't in labour but we got induced. We had the baby, on Monday. Monday evening. It was fantastic. Right now everybody's home, it's been a couple of weeks, everyone's happy, healthy. Jack and Avery are getting along, it's amazing.
But the one thing we never discussed was the name. Like, we talked on the last one, we had a few names out there. So we're just gonna go through the list and see what everybody thinks we had. So number one we had Victor. Number two we had Cru. Number three we had Tom. And number four was Kevin. Eventually, the poor little guy went home for a couple of days with no name. We settled on it, the whole family huddled. We went with a name that didn't really make everybody happy, but the baby's name is Luke. Luke Douglas Olar. Amie thinks a bit of a Country singer, I think it's a pretty strong name. It goes well with our family. We're super happy. And thank you, everybody, for your comments on the last one.
And now back to the previous edit of the vlog! Here we go, guys! New vlog! Change of seasons! Sun's out, it's spring break. We're at our concept store, you can see we've got lots of bikes. It's an exciting time. I love seeing the sun, I'm torn. I do enjoy the snow but I am looking forward to summer. On top of our busy schedules every day, it's bike season! We've got bikes come in, we're fixing bikes. We've got another staff quiver this week. We've got Dave, also known as "Doves" you can find him at our Mission store. We got skis we got bikes. He's passionate, he's out all the time. Take it away, Dave!
So I'm Dave. I'm one of the techs here at Fresh Air Concept. I'm definitely more of a cyclist but dabble in skis as well. We may as well start off with my bike. My bike for this year I picked up last fall, is the current Specialized Stumpjumper. It's the Long Travel or Standard Travel version. Over the years I've owned many Stumpjumper and it seems to work quite well. I dabble in other bikes and kind of bounce back and forth, shorter travel and longer travel but I always come back to y'know Specialized and Stumpjumper for some reason. It seems to suit Kelowna quite well but also suits me quite well.
As far as skis go, this year I picked up a new ski as well. So on the Line ski, Line Outline. It's a bit more of a powder ski so definitely a bit wider. But it seems to work quite well for me. Here in Kelowna, we have you know, a lot of snow in town so, a lot of snow at the hill a well. One of the other skis I'm on this year as well is the Armada Tracer. I'm really liking that. It's a bit narrower, seems to carve quite well. But a good complement to powder versus carving.
Awesome Dave, thank you very much! And you'll see him on the trails, super quick. Keep an eye out for him. Hey guys, that's a wrap! Thank you very much for watching these. Thank you for the comments. It's amazing. But, the world's changing, changing every day - every hour.
Everybody, please be safe outside, stay close to your loved ones and just enjoy the fresh air.