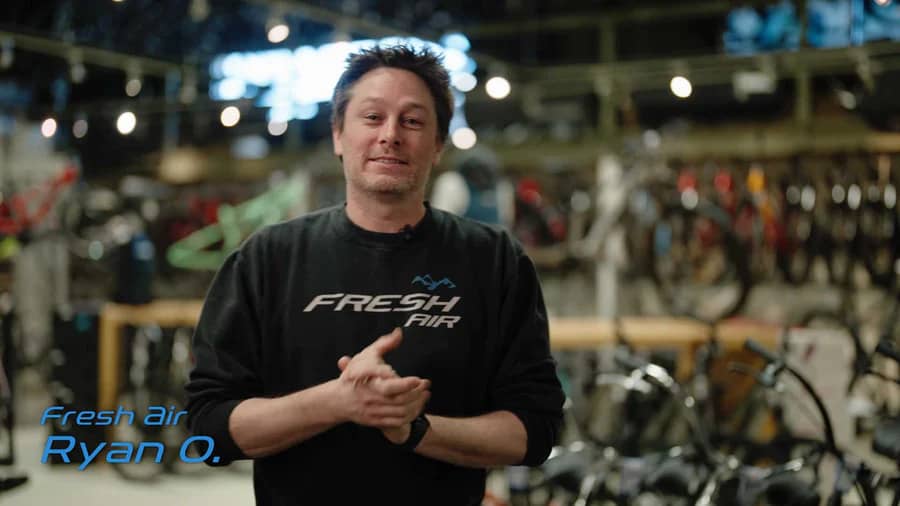 Fresh Air Kelowna Vlog: Andrew's Summer Ride, Trail Updates & Best of Kelowna
Here we go, welcome back. It's exciting to see the end of the ski season. Big White, Silver Star getting tons of snow to finish off the year and the Arkells. The ski season was fantastic considering COVID and stuff, but, the ski season is over. We're all a little sad. Brian is still getting after it. Check out his videos for more ski touring. We're on to the bike and running seasons.
Well for us, the Olar's springtime is always family time. My parents come out and make the voyage from Ontario every year. Maybe not the last couple of years, but hey, we're all super excited. My parents are thrilled to get away from the snow. The snow banks in Thunder Bay are actually waist-high still, we're out at the driving range getting warmed up for our annual golf games. Jack was having a blast with his new clubs. My mom's not stoked on us sending pictures with green grass in the warm weather. But hey, you got to pay a price for living in northern Ontario.
Along with the snow melting. We got Bruce from MTBco in again today to talk about the mountain bike club, where they're at right now, and plans for the summer. Here's Bruce:
Bruce
Thanks, Ryan. Hey, everyone, Bruce here from MTBco again. Well, the snow is melting and the Kelowna mountain bike trails are in fantastic condition. So for those of you who've been up to Knox, and that's many of us, the whole south side is dry and rideable, and in really great shape. The north side is still a bit snowy and wet, so be careful if you're riding on the backside at all. On Crawford, basically the whole lower half is in good shape. And for Gillard, from the seven-kilometre mark down everything is rideability in great condition.
We've had two trail days so far this year with a great turnout, so thank you everybody for coming out and pitching in. We had one at Knox, one at Crawford and we have more coming, so keep an eye on our Instagram, Facebook and newsletter for upcoming trails days.
Memberships — every time I'm here I say the same thing. So thank you to everybody who's picked up their memberships already. As you know, our goal is 1,800 for the year. The sooner we reach it, the better we show a strong Kelowna mountain bike community, the better access we have to grants, and funds, and also it really helps us with our relations with the landowners.
We had our first big event of the year, the spring kickoff in conjunction with our friends at West Kelowna trail crew, Fresh Air and all the Kelowna bike shops came out. Fantastic showing you the community. It's a lot of fun to see everybody back together, so thank you to everybody who came.
Ryan
Amazing. Thanks, Bruce. It's always great to catch up. Again, everybody. Get out. Get your memberships. That helps the club which means more trail building and more development. Check it out. MTBco.ca
Springtime for us is always like Christmas. We have some new brands coming into Fresh Air. The sun's out so we're gonna start with sunglasses. We always carried Smith and Oakley this year introducing Spy sunglasses, come check out the happy lenses and see what they're all about.
Like I said before, the best part about working at Fresh Air is all the staff and all the people we see through the store. We have a great employee ambassador in today to talk about his bike, his ride, and his upcoming plans for the summer. Here's Andrew:
Andrew
Hi, my name is Andrew, I'm an employee and ambassador here for the Fresh Air shop. This is the Trek Slash 9.8 XT. As the name implies, it's got a full Shimano XT build and a line pro 30 wheelset from Bontrager, it's my first carbon wheelset actually, I really like it. I've put some Maxxis Minion DHR IIs on here. It's my favourite tire of the Maxxis lineup. It's really predictable, and it's got some of the best cornering knobs and out of any tire ever tried.
I've put a couple of custom parts on here: 210 mm OneUp dropper. I really like it. I've completed that with a PNW loam lever, a set of OneUp bars cut down to 790. Got my Bontrager bits tool right in the steering tube really nice, really quick, and easy access. This is a sweet downhill mountain bike. All in all, the bike weighs about 35 pounds with downward-facing tires and pedals which is really remarkable for a bike of this calibre and with this much travel. It's perfect for the Okanagan. You can ride Crawford, Gillard, and even go up to the bike park in the summer. It's a bit of a quiver killer, I really enjoy it.
Ryan
This guy's amazing, follow his Instagram or Facebook feeds, you'll see the trails he's riding, he has a totally different line than I ride usually and is a lot faster. But thanks again, Andrew for coming in and talking about your new Trek bike.
It wouldn't be springtime in Kelowna if there wasn't the Best of Kelowna from Kelowna Now. I got some emails, we're nominated. So if you go on, please vote for us, but there are so many other people and I saw people not nominated. I have to say a huge shout-out to Big White and Silver Star ski schools. The coaches and instructors were amazing with their kids this year. It's fantastic to see them progress. I know last year we were in Pedalheads with Avery, her biking exploded. She's so confident. There are so many people out there to thank. A huge thank you to everybody in the community for supporting local businesses and the children.
Well, snow's melting everybody get out, enjoy the sunshine and fresh air!
Ski season is over. Grab your mountain or road bike, get tuned up and get out there. Head over to the Fresh Air sports store for expert bike fitting, service and the best running shoes in Kelowna. See what's in store.
Share Post: