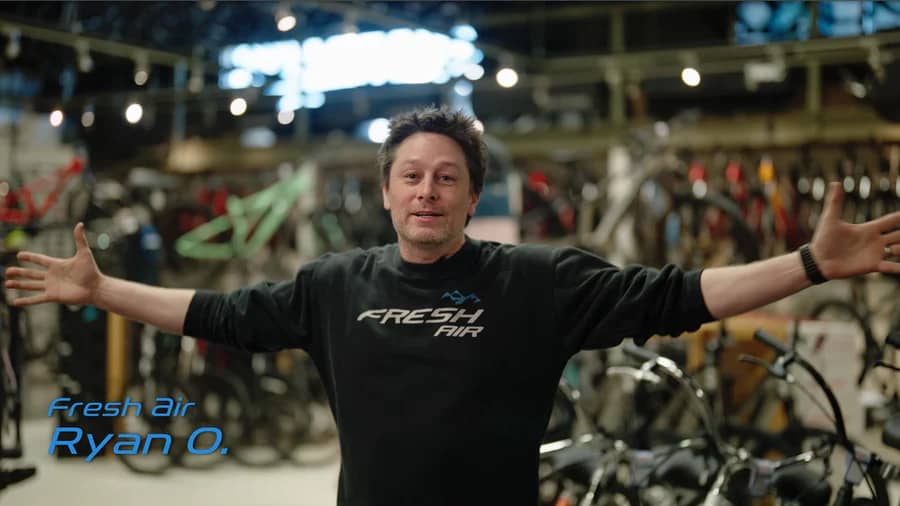 Fresh Air Kelowna Vlog: Jason in from K2, Matt's Fave Trail Running Shoes, Spring Excitement
All right here we go, we've got a new vlog for spring here at the bike shop. You know it's like different seasons come along, we've got different things to do. It's like boom! Springtime, you've got to plan summer programs for the kids already. They're still in school but, super excited. There's a ton of stuff out there.
We've been on the phone with all of our sales reps for our sporting goods stores in Kelowna and are like, "we've got these vlogs going on. For the past two years, they've all been like "Oh, these things are amazing. As soon as we can travel we would love to be on it." And guess what? I've been phoning and we've got a very special guest in today. We've got Jason from K2 in to talk about K2 inline skates, which is very exciting. It's our second year going into carrying them. So here's Jason with K2 skates:
Jason
I'm Jason W., I'm the regional sales rep for K2 in British Columbia and I'm here to talk to you guys about the K2 inline skates.
So, in the anatomy of the skate, there are some really great features and benefits built in. The key technology with the K2 soft boots for inline skating is that it's a soft boot that's actually made in a hiking boot factory. When you first slide the boots on, they fit just like your running shoes, so they fit very true to size. They're very comfortable and very lightweight.
For our junior skaters, we'll have a grow-along skate boot with actually five sizes built into one skate chassis. This is the Marlee, size one to five, it actually has a button on the toe area. When you depress this button, you can move from the size one all the way to the size five. So for that little girl, little boy, you're going to have that ability for multiple years of using the skate because the toe will just move and grow with them every season and then you pass it down to younger siblings.
K2 also makes great lady skates. The women's skates will be anatomically designed for ladies' feet, so it has the women's designed lower boot women's designed cuff, really fits that female foot specifically so she'll have a great fit around her foot. And we'll have all the same ability levels as we have in the men from that recreational to intermediate to advanced level skater.
Ryan
It's always fun talking to all the reps about how they got into it. Did you know Jason was a sponsored inline skater way back in the day and in the X Games? It was actually one of their main sports, kind of fizzled out a bit, but Jason is still going strong. You know riding skate parks and his inline skates with his kids and having a blast. Thank you Jason for coming out and pick up your skates in the sports store.
On top of our great brands already: Bontrager, Trek, Specialized, Smith, POC, 100%, Troy Lee, and we've added a couple of new brands this year. Check out our website with all the new products, when they're coming in. Check out our sports stores in Kelowna, new things are arriving all the time. Super excited.
On top and new stuff coming in, we've got Matty in talking about running shoes. This guy — most of our staff have a collection of bikes, Matt's got a collection of shoes. Today, he brought in a whole bag, dumps it out, and that's just the ones he's running now. He's like stockpiling some stuff and he rotates through them. But here's Matty talking about the best running shoes in Kelowna he's using right now.
Matt
I'm Matt and I'm going to talk about my arsenal of shoes today. I spend a lot of time on the trail, so I have a multitude of shoes, depending on the run and the conditions.
So, up first from On Running is the On CloudVista. I just got this one and have only ran in it once so far, but it handled the mud and everything really well. It dries out really fast on the trail, which is really nice, so your feet stay nice and dry.
We have the On CloudUltra. I've been spending a lot of days in this one, up to like 30 kilometres, and they're really comfortable. The grip is really good. And they are actually pretty squishy and comfy for those longer days.
And for the really long days, I've been running in the Hoka Speedgoat 5. This shoe is the best trail running shoe I've ever put on. It's big. It's nice and soft, and doesn't tire out your feet. It's got Vibram grip on the bottom. Even though they're big and clunky, they're super good on the really technical trails we have around here.
Ryan
I always call up Matty. I'm like how's my childless friend doing today, what did you do today? It's like well, I was on the couch, went for a run, went for a bike ride. It's like what did you do? Well, my day: woke up, the kid threw up, kid poops his pants, man, you got it good. But the guy's amazing. He runs 100 kilometres for fun by himself. But hey, not my cup of tea, but Matty loves it. Thank you for coming in and talking about your shoes, and I'm sure he's got some great biking adventures coming up this year as well. Everybody. Get out and enjoy the fresh air.
Spring is here, it's time to make the most of the warm weather. Head to your local Kelowna bike and run shop for expert bike fitting, service and the best running shoes in Kelowna. See what's in store.
Share Post: