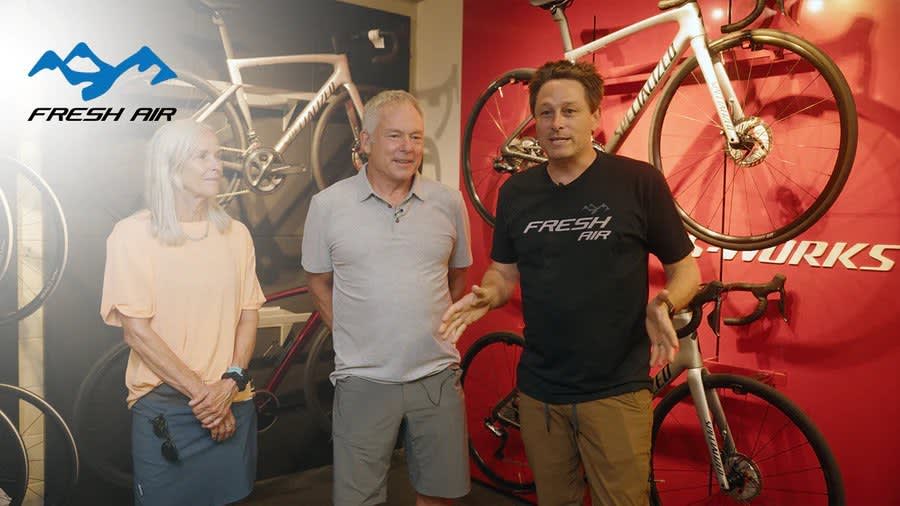 Fresh Air Vlog: Fresh Air Turns 40, Jim and Karen Celebrate, MTBco Seeks Volunteers
Here we go guys a new vlog, again. Thank God we live in the Okanagan. Summer has been amazing. What can I say about having a pool? The pool has been fantastic, come home from work swim around, tires the kids out. It's been the best thing we've ever done. Aside from that Jack and I got a new routine. Every Friday night, boom we're up at Big White, extended play, mountain biking, it's so much fun. It's just great to get out with Jack. I mean even if we're doing a couple of laps, Jack's super happy if we get a hamburger on the way home. It's great time spending with him, we get to bond, ride bikes.
Probably the number one thing I've been asked for, it's not the bunk beds. "When is Jim Bates going to be on a vlog?" We're saving a very special time for Jim. In May, was actually Fresh Air's 40th anniversary. We're very fortunate today. Not only do we have Jim Bates, but we also have the boss Karen Bates with him. We're gonna talk about the beginning of Fresh Air and where it is right now. So here we go, we got the OGs. Jim and Karen Bates.
Jim
Hi, I'm Jim and this is my beautiful bride Karen.
Ryan
I think, you know, from my time with Jim and Karen, I was at the store for about 10 years before we ended up purchasing into the store, the story of them starting the business and getting married is amazing.
Jim
Well, I had lived here in 1974 after high school, worked out here for a little while and went back to Saskatoon and that's when I was first introduced to Fresh Air there. And I got hired on there in 1978. And in those days we — yeah I know it's a long time ago — we sold cross country skis, we sold bikes, we sold runs, and the really cool thing about Fresh Air Kelowna, how it evolved, is back in the early 70s, potentially even the late 60s, it was a group of guys that were Phys Ed grads that actually started the business with the concept of educating and then delivering products that suit the needs of individuals interested in the sports that we cater to.
Karen and I met in university and we were together, and Fresh Air started to franchise out of Saskatoon, and having lived in Kelowna, in the mid-70s I thought it would be fantastic to kind of come out here and open the store.
Ryan
When I started at Fresh Air, it was ingrained from Jim: we're not selling products, we're prescribing products to customers. Make sure they have the right product for when they're out, not right now, but meet the needs down the road. It just came from Jim's philosophy, and it's been fantastic. Customers always come in very appreciative of what they had, making sure we get them in the right shoes, the right cross country skis, the right e-bike, it makes a huge difference when you're out on the snow or on the trails to actually do it properly.
Jim
You know when we first came out here in the mid-70s, for those that were around in the mid-70s ParticipACTION was a pretty big deal and that really fed participation fever. Like when we initially opened in the early 80s running was a big thing and running shoe manufacturers were actually starting to build products for different biomechanical needs, so it was just a really interesting time to launch our business. I have to say that one of the reasons we have been as successful as we've been is because we've been so fortunate with respect to the people that have worked here, wouldn't you say?
Karen
I think all of our staff and I think the current staff buy into what we're trying to do: make a happy customer and have them come back because they love the product and they love what they're doing. And I think Ryan's staff is doing the same thing, catering to the needs of the customer.
Ryan
Every time you go somewhere, you meet a customer, if I'm wearing my Fresh Air shirt, it's like hey I worked at Fresh Air in the 90s, I worked there in high school, it's amazing.
Jim
You know what I value the most about our experience with Fresh Air over the years is the people we've met, the friendships that have evolved are just magical. You know, we created a mission statement, many, many years ago. You know our desire is to deliver an exceptional customer experience and be a meaningful community partner and the meaningful community partner piece is so important for this business moving forward and with Ryan and Amie and their team, you know, the future is just looking so bright. We're really proud of them with the way they've navigated this whole pandemic, the strange things that we have to deal with these days and I couldn't be happier for them and, you know that makes us very happy and very proud.
Ryan
Again, I was very fortunate to spend some time with Jim and Karen over the 10 years or so before we bought into the business, and very lucky that they're still involved in the business that we get to bounce ideas off of them and lean on them now and then. We see them all the time in the store out in the community. They've been fantastic mentors to us, and we owe a lot of gratitude for what they've done and how they've helped us out along the way.
Here we go we've got this dynamic Kelowna mountain biking duo back again from MTBco talking about the exciting things going on through the fall. Our membership update, remember, get your memberships, get your neighbours to get memberships, it goes to a great cause. Here we go, we've got Cameron, we've got Bruce, they're back in the house.
Cameron
Alright, welcome to September. Wow, what a summer. The smoke's clearing, trails are getting tacky. Trail update for you: We are continuing to do our work, we're going to be doing lots more, we've just got a couple of months left before we'll shut down the trail work for the winter. We're looking for volunteers. We're going to set some trail days. We've got Trail Fit Tuesdays starting up. Let's get out there, buff those out.
Bruce
Hi again everyone Bruce here from MTBco. You've seen it on social media, and your local bike shop, we're getting closer to the event we're so excited for: our Cranksgiving Funduro race. We're looking forward to getting the social aspect of riding back which is going to be fantastic. As always, we need volunteers. Without volunteers, the events won't happen. So please, sign up on one of our channels, or contact one of us board members and we'll be happy to help you out. A big thanks to all of you who have been taking part in the trail work, please continue to come out for a Trail Fit Tuesdays we'll see on the trails.
Ryan
Again it's amazing to see the passion these guys got going, not just Cameron or Bruce but the entire club. Maybe we should get everybody on here one day just to meet them all, they're doing amazing work. We're just starting to see the very tip of what they're doing, it's gonna take a year or two to see the big picture, but again, get out to support your club.
And here we go, we're at the end. Again, it was Labour Day, a nice long weekend. We were closed for a few days. Nice to kick back, relax, but here we go. Starting our 40th year of Fresh Air. A huge feat. Again, thank you to Jim and Karen, all the employees that were here before. Looking forward, they left some big footprints, foot sizes, shoes to fill, I'm not sure what it is — I think shoes to fill, but it's been fantastic. I hope we're making them proud. You guys, thank you very much, and get out and enjoy the fresh air.
Fresh Air Kelowna is celebrating 40 years in the community with sales all month long. Check out your favourite sports store for deals on e-bikes, snowboards, skis, and more. Celebrate with us!
Share Post: