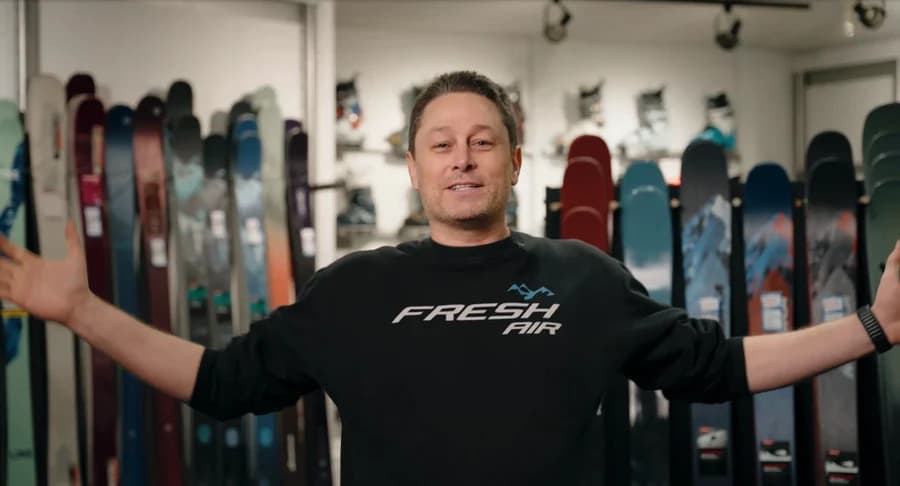 Fresh Air Kelowna Vlog: Get Ready to Race, Leighan's Favourite Skis, Getting Out With the Family
Awesome everybody, welcome back. You know my opinion over the years, my vision of skiing and snowboarding has changed. You know, it's always been like we're going to the mountain we're gonna film this trip. Now. I get out and enjoy it with the kids. It's amazing. We've finally been able to get Luke on snow for the first time. Jack's back in ski programs, Avery's starting lessons. It's amazing to see the entire family out. Enjoying the snow, and it's actually really cool to see all the other families out and see how skiing evolved through my life and how I can share my passion with our family.
For as long as I've been at Fresh Air Kelowna we've always worked with the Running Club. We partner pretty heavily with the Interior Running Association. Today we have Cindy Rhodes talking about their first in-person races in two years!
Cindy
Hi, my name is Cindy, I'm president of the Interior Running Association. Basically, it coordinates the races in the Interior to provide a series for our running community. And I'm so excited because the last in-person race that we had for the road series was in 2020 and that was the only race we had. We only had one of eight. But this year, we're opening it up and we have the first race which is in Vernon, the Lavington 10k and that is February 13.
It is a BC Athletic sanctioned event which means that we are insured by BC Athletics and we follow the rules of the BC Athletics. So, with that said, there will be some requirements for the race. Given that we are in the COVID-19 restrictions but we're hoping that after the first race these restrictions will be lifted somewhat. You can register for this race at interiorrunningassociation.com And there you'll see a list of all the other races that we offer.
Ryan
I'm glad we had a chance to talk to Cindy. I haven't talked to many race directors yet to see what's going on. But you can tell the passion they have in the excitement to see people out. I've actually talked to Amie a little bit about getting back into running. Maybe I might do a couple of races here and there. You know the short ones, nothing crazy. But anyhow, check out their website, see the events, and get out and enjoy the Okanagan.
Our next guest is a new employee to the store within the past year. She is behind the scenes and does an amazing job on our website. She's the contact person for anything you purchased or shipped out of the sports store and it's amazing to see their family out on the snow. They dedicate time, every weekend they're out doing something: skiing, snowshoeing, soon maybe snowboarding, but it's fantastic to see. And here's Leighan talking about her skis.
Leighan
I'm Leighan. I work in the web/admin department. I ski the Line Pandora 94s. Hands down my favourite ski I have ever had. For sure — and I get to see the best ski gear Kelowna has to offer. They work well for me this year because I can ski on the magic carpet with my two-year-old son. But I can also rip on them when I can get up by myself with Johnny, my husband or my friends. And they perform really well and these are super stable. Helped me be really confident. They work in any condition. We've already skied every condition possible at Big White so far, as you know we've skied hardpack, slush, chunky, lots of snow. And I haven't had an issue at all once. They've just been really stable and give me the confidence to ski whatever the day brings.
Ryan
Every fall we always joke because we're always getting new ski gear. You know Johnny and I are always like "Oh, my wife's gonna love these skis." You know what? Every time we get it wrong. I got the wrong skis for Amie this year and Johnny's had a couple of mistakes here and there and we've learned! It's taken some time but hey, they know what's best for them. It's great to see you're excited about skiing — downhill or cross country skiing.
Hopefully, we'll see you on the slopes. For me, it seems like it's been a long winter. I've been shovelling my driveway far too long this year and now it's melting. It's so hard to realize that there are still three-and-a-half months of the ski season left. If you have a chance, get out, take the family and enjoy the fresh air.
Head to Fresh Air for one of the best running stores in Kelowna, your destination for all things snowboard, ski and bike shop in Kelowna. Lace-up those runs or strap on your ski boots and let's get started.
Share Post: