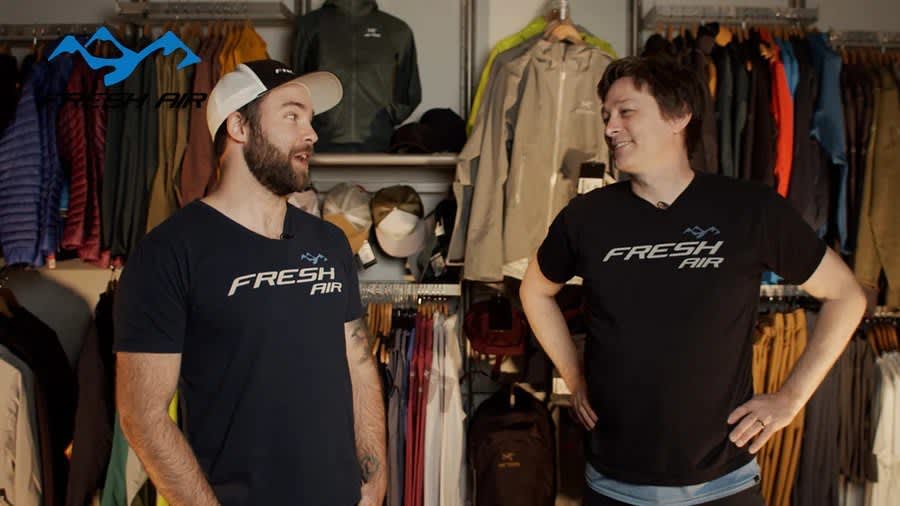 Fresh Air Vlog: Life in a Pandemic, The Original Store Baby, and Trek Gear
Hey guys! Here we go, another vlog. Just trying to figure out how many we did, but I think we're on like maybe number eight now or seven. But anyhow, we are in the middle of a pandemic. We're at our store on Harvey, we've got some guests coming in for the shoot the next couple. It's a nice quiet place; we've got the whole store empty actually it's pretty spooky. We've been here doing some inventory; we've been moving stuff down to our Concept store just bike-wise. So, everything we've done shooting here, we're trying to keep, you know proper social-distancing. We've got hand sanitizer we're reviewing stuff and trying to keep everything well-spread. So, all the talk, all of us having babies at work. Johnny, myself, and Andrew coming up. I thought it'd be kinda cool to bring the original Fresh Air baby on to talk about how life was growing up at Fresh Air.
Jay Bates was probably one of the first people I was introduced to at the shop. Jay definitely made it very easy to transition into Fresh Air and the culture. He's always there just as a helping hand, so it's great to have him here. It'll be fun to hear what he has to say. As I said, Jay is always fun; it's always laughs. But, you know, I have Jack, he's seven now, well, turning seven. So it's always fun to see him interacting with the staff and growing up in the store. He comes in, runs around, tries to help out. But I want to get Jay's perspective. I mean, he started out, and it was basically his parents, and like, a couple of other employees and Jay were here. His parents had to work; he had to be here.
It was great growing up in the store! It was a lot smaller than it is now. I think I've been here through four renovations? They used to hide me under clothing racks. (laughs) Because that was the easiest place to put me when we didn't have a babysitter.
Yeah, it was awesome being able to hang out with a bunch of old, cool people. They would ride bikes, ski, well not a lot of snowboarding at that time, because you know we're talking 30 years ago now so. Snowboarding was taboo. It was a lot of fun, my first job, obviously. Started working at the ripe old age of twelve. Don't know if that's legal. And then a long time of making stupid mistakes in retail and then Ryan came along and ever since, Ryan and I started working together, it was like having a fun older brother. We went on a lot of buying trips together and demo days. There's a lot of good memories that we probably- Almost like Dumb and Dumber -yeah, probably shouldn't talk about on camera. But it was definitely an adventure growing up in a sporting goods store. Especially working in one, you just talk about toys all day. It doesn't really get much better than that.
So kind of going back with what Jay was talking about, sleeping underneath the clothing racks, I had a similar experience with Jack. He was probably like a year or two years old. We'd always switch over inventory, so it used to be me coming in late night after close, pack up Jack, pack up the playpen, come into work unplug all the phones so that he wouldn't wake up. And I'd put Jack to sleep; I'd probably get six hours of work at like 2 or 3 in the morning, pack Jack back in the car, super cold, drive home, get him back to sleep for a few hours and then boom, we're up. To the babysitter, back at work. So it was quite the cycle. And I know recently since the store's been closed, we've brought the whole family here. It's been a learning experience. Baby Luke was sleeping in the change room, Jack and Avery are like ripping around on some bikes and playing, sword fights, helping carry in stuff. But it's always an interesting time juggling work and family life. You know, Jay and I have some pretty good phone conversations now. It's like, "oh man, guess which diaper I had to change!" (laughs)
Well, it's funny you mention the change room story, Jackson locked himself- my little brother locked himself in the change room here once. We didn't get him out for about; I think it was half an hour. Crying, people didn't know what was going on in the store. This was probably about 2 pm in the afternoon. Just this little kid banging on the change room door and wailing. Yeah, a lot of panic ensued that day, but we eventually got him out. I don't know how. But we eventually got him out.
Jack hides in the clothing racks, so when we're ready to go, we're like "Jack we gotta go" and then you gotta search the whole store. Does he do that during the day or when you guys are here at night? Both. Oh yeah, I did that during the day. He's jumped out and scared some customers. You have to! I think it's a rite of passage as a child at Fresh Air.
You meet a lot of people as a child here, that you never remember. And then everyone comes in, "Oh, I remember when you were this big!" and you're like, "Oh, that's cool!". Not just reflecting on our families, being slower, we've had a chance. I've been reaching out to a lot of our partners in the business. I've been talking to Jim Bates, Jason's dad. I've been talking to Owen Taylor, just seeing what to do. Something nobody's ever gone through, their years of history with what's been going on.
One day, I was sitting at home, and I was like, "I gotta get ready for work, I gotta shave," so I went in, showered and I was shaving, and I was like "I'm going to keep a mustache!". Just for fun. And I walked out, Amie's not too impressed, but I was like "Hey, you know this could just be fun!" I'm gonna start growing a mustache, just why not? So, Amie didn't really like it so I'm like "I'm gonna call her sisters' boyfriends and be like, you guys should grow mustaches too!" just me being me, it's like if Amie's not happy, so her sisters aren't going to be happy. (Laughs) Have a little fun thing going on. So we started a little group text between the three of us, and every day it's like "hey check out my growth!" "good morning growth!" so we had it going on, and then it just got to the point that everyone started dropping off. Amie's sisters' boyfriends are like "Oh I can't" "Lisa won't let me do it" blah blah blah, and then I kept getting in trouble from Amie. She was like, "shave the mustache." So anyhow, took a couple of photos just to show the mustache but, had to shave the mustache off.
Johnny the other day had a full beard, and he was trying to trim it up, and then he slipped (laughs) He couldn't save the beard, so he shaved a mustache and showed his wife Leanne and Leanne automatically is like "Johnny, you're sleeping on the couch." so the mustache came off. So, unfortunately, right now nobody has mustaches, except for Owen. But, we got some pictures and a fun story took part for a couple of weeks. A little bit of fun, with everything going on. Awesome, thank you, Jay! Jay was a blast to work with; we got tons of funny stories to talk about. We're super excited for him to have a child. Jim and Karen are super happy to be grandparents. So it's kind of the evolution of Fresh Air, our family, and adding another person into that family. So congratulations, thank you again, Jay. And I'm sure we'll see you around!
And next up we have Mike Cambridge! He's our Trek; he's our Bontrager sales rep. He's a sales rep for all of B.C. When I first moved to Kelowna, Mike was working at a competitor bike shop. And he's moved on since, and he's come back into the fold and moved back to the Okanagan. Especially now with the pandemic going on, Mike and I talk probably solidly three, four times a week just about what's going on, how's your business, how's business in B.C., Canada, the world state? Just to make sure we're always constantly planning.
Hey, I'm Mike from Trek, and I'm here to talk to you a bit about safety. The first thing I want to talk about is Wavecel. Wavecel is our new helmet technology, and it's the safest helmet on the market. This helmet was designed from the ground up. We wanted to make the safest helmet on the market, so we started with an all-new safety protocol that not only tests for straight-on impacts but rotational impact as well. Rotational impact is what causes concussions. So you're 47x less likely to get a concussion with a Wavecel helmet. Wavecel uses a unique honeycomb pattern that works on a three-dimensional plane to protect your head from rotation. It also features Boa dials and magnetic buckles. We have Wavecel helmets for road and mountain!
Next, I want to talk about daytime running lights. Lights are great at night to see, but during the day, they help cars to see you. We have the Ion and the Flare lights; they're good for mountain and road. And they're visible for up to 2 kilometres. I brought a couple of my own bikes as well.
From 2020 I have the new Trek Domane road bike. It's got disc brakes, huge tire clearance for up to 45c tires, it's still super light, and it's got in-tube storage. It also features front and rear IsoSpeed, to make sure you have an ultra-comfortable ride.
My mountain bike's the Slash. This is our enduro-bike. It's 29-inch wheels, 160mm of travel, and a super capable bike. This bike climbs awesome, but it also will ride down anything. I can choose any bike I want; these are my two choices for this season.
Awesome, thank you, Mike! Remember, safety first when riding on the roads! As I said, I see a lot of people driving around, and sometimes drivers don't see you. Make sure, if the sun's in your eyes or the windshield's dirty, texting on their phones, but just make sure- give them the best opportunity they can see you when you're riding. And stay safe out there! Awesome, thank you for watching this vlog!
Hope everybody's enjoying the sunshine, there's beautiful weather out. Get out, enjoy the fresh air.
Share Post: