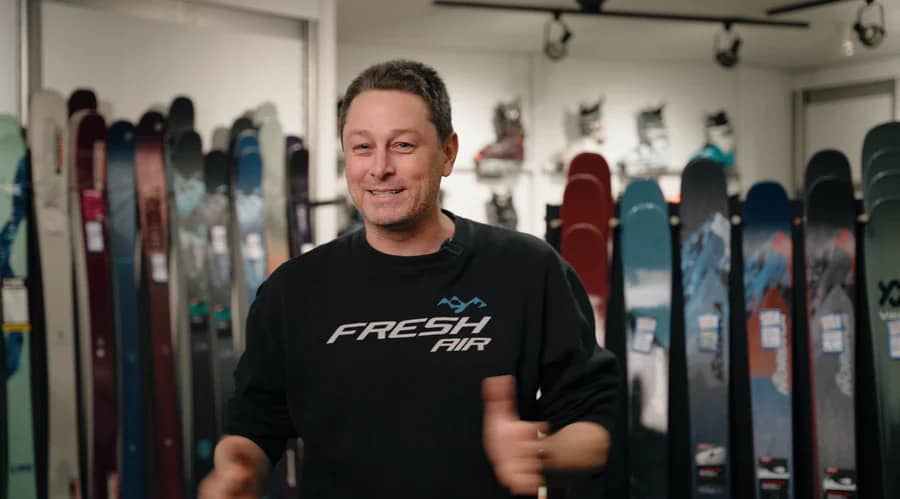 Fresh Air Kelowna Vlog: Welcome to 2022, Kelowna Nordic Stride and Glide, and Liam's Kits
Here we go, everybody, welcome to 2022! What a fun year 2021 was, with a couple of exceptions here and there. I really have two questions for everybody right now: one, how come when it's 30 below on a powder day, it feels so warm, but when it's a hard pack and it's minus three, it's freezing? I don't know. Question two: what happened to the Montreal Canadiens? All I heard last year in the playoffs is like, "Oh, they're gonna win. They're so good…" Doesn't look very promising for them right now. But hey, half the season's left, maybe they can turn it around.
Our first guest today is our favourite cross country skier in the Okanagan. Super passionate. He's now a coach. We have Lyle from Kelowna Nordic in today to talk about how the season's going and what events they have coming on.


Lyle
Hi, there. I'm Lyle Nicholson, I'm with Kelowna Nordic. Just giving you an update on where we are at this year. We are at 1,200 members right now, which is an awesome year for us. We had some great moonlight, snowshoe and cross country skiing, and everybody met by the fire pit with hot chocolate. We're doing more of that this year. Come out anytime you like. We don't have a lighted area. But you can bring your own headlamps and that's what's really cool. About our snowshoe trails — they have just been extended, we have 70 kilometres of snowshoe trails for amazing snowshoeing in Kelowna.
Now, I really want to tell you about Stride and Glide. Last year we raised over $50,000 for the Kelowna General Hospital for Advanced Stroke Care. This year we're doing it for Cardiac Care at the Kelowna General Hospital. This is so that anybody who has a cardiac event can come to Kelowna General Hospital. They don't have to go to Vancouver. They don't have to go to Calgary. This is a wonderful service that Kelowna General Hospital has for us and we want to support it. If you sign up. If you raise only $100 you will be eligible for a whole bunch of prizes.
On February 12 we have a moonlight ski and Ward's cider is bringing down hot apple cider for all of you to do a tasting before you go skiing or snowshoeing.
On the 13, you can come down and do distances of 6, 12 or 30 kilometres. It's not a race. It's just come out and have a nice socially distanced ski and then come back to the cabin for prizes. We have a socially distanced lunch of bratwurst and beer, beers provided by Steam Whistle breweries and bratwurst from Bonanza Meats. Come on, enjoy this, sign up and have a wonderful time. Thank you very much for being members and for coming out and enjoying Kelowna Nordic.
Ryan
We were so very fortunate to partner with Kelowna Nordic last year in their Stride and Glide campaign. This year, again, they're doing it on February 13. All proceeds are going to KGH Cardiac Care. Please get out and support amazing trails, skiing or snowshoeing. Just get out and enjoy the fresh air.
We're very fortunate for the staff we have. We see the passion. Our guest today is Liam. He was actually camping out at Big White in the parking lot just to get first tracks.
Liam
Well hey, Kelowna. My name is Liam. I've been with Fresh Air Kelowna for about a year. Now I just wanted to take a moment here to talk to you about my skis.
So, for my everyday ski, this is the Sir Francis Bacon from Line. I wanted a ski to do it all. So, you know, it's got that 107 underfoot so it's pretty good in the deep. Big ol' shovel up front, so I stay aloft, but pretty impressed with this on piece performance. It's got a radius of 16 metres so I'm really able to lay down some turns. You'll notice, I don't know if you can see in the camera, it's got that convex tip and tail, so it allows for smears and butters. It's a really playful, soft ski.
These are the Duke PT 16 from Marker. Full alpine ski bindings with the 16 din. The perk about this binding is the transforming mode, so you're able to click this binding into a touring system so you can hike up as well as go down. To lose a bit of extra weight as well they've got this removable toe piece, so you can lose about 200 to 300 grams on the toe there.
My second setup here. It's from Atomic, I've got the Bent Chetler 120. So again, 120 underfoot, quite wide, it will be my powder ski, similar to the Bacon. It's got the horizon tech. So essentially the edge stops halfway in the base allows it to kind of lighten up the tip and tail for that swing weight there. I just had to use this puppy at Whistler. Decent conditions out there, a little bit choppy, hoping for some more snow here but definitely put the Bent Chetler to good use when Ryan and Amie took us Cat skiing there. Great time! Stayed aloft and yeah, come in and check them out.


Ryan
It's amazing just flipping through Instagram all the time just to see what the staff are up to you. The clips Liam puts on his Instagram are crazy. I don't know which is crazier — the summer ones or the winter ones no matter what he's always upside down. It's amazing to see the passion and the excitement to get out in the fresh air. Again thank you very much for 2021, we're looking forward to an amazing 2022. Go out and enjoy the fresh air.
Fresh Air is your community destination for all things snowboard, ski and snowshoeing in Kelowna. Or if you're already dreaming of your mountain bike, don't worry — us too. See what's in store!
Share Post: