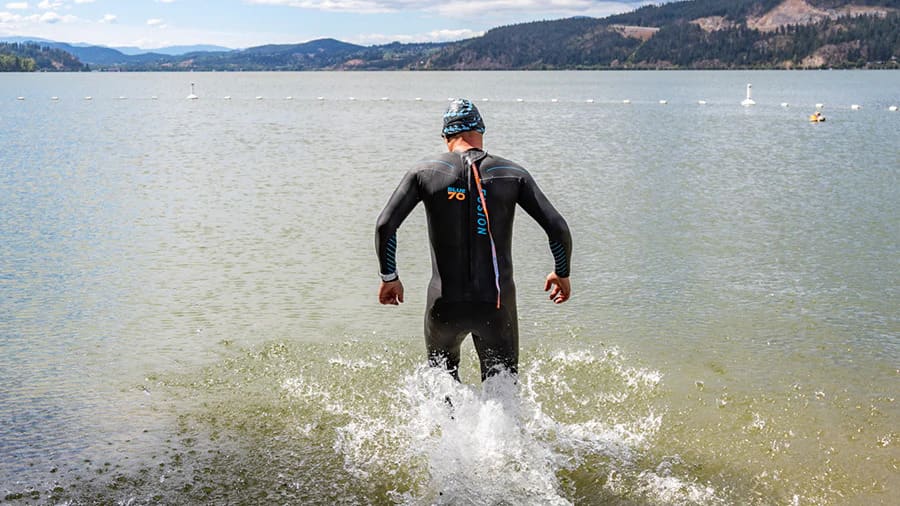 Get Triathlon Ready, Kelowna: Bike, Swim and Run!
You've been training hard. Focused on your goals. Watching the clock and reaching milestones and now — it's time. It's triathlon season! We're sure you found the perfect training plan and don't need our help on that end, but as race day approaches here are our favourite tips and triathlon gear in Kelowna to help you perform your best.
The Open Water Factor
If this is your first triathlon, open-water swimming might be a bit intimidating. The big group start, murky water and cooler temperatures compared to a pool can be enough to throw anyone off their game. That's where your mental game and pacing come in. Start slow and steady so you don't burn out in the first few minutes.
In terms of gear, if you're swimming in colder waters you may need to opt for a wetsuit. If you go for one, be sure to practice with it beforehand.
When it comes to transitions, slow is fast once more. When you've rehearsed transitions with a wetsuit you'll feel so much more confident on race day.
A good pair of goggles, a swim cap and nose pincers are also some triathlon gear you may want to consider for the big day.
Keep Energized
Keeping your stomach fine-tuned on race day is an art mastered over time. You need the energy to keep you moving, but not to be so full that you feel nauseous or weighed down. Test out same-day of meals during training to see what works for you. Some ideas are:
Toast or cereal and a banana
Muesli or granola and fruit
Yogurt and banana
Really important here: don't mix up your routine on race day. Go with what you're used to and avoid surprises.
Not a breakfast person? If you're not used to training fasted but hate choking down a morning meal, Honey Stingers or Clif bars are an easy way to get in some energy.
During the race, you'll want some quick-to-access energy like gels. Some of our favourites are all-natural Hammer Nutrition Hammer Gel or Clif Shot Bloks
Check Your Bike, Check The Terrain
It's easy to overlook a small thing like your road bike gears when you have so many other things to think about for the big day, but a quick understanding of the terrain you're going to ride has the power to change race outcomes completely. Make sure you know the best gear to start out in for the terrain so you don't tucker yourself out right away.
Before race day, a bike check-up is worth it for peace of mind. During training, a proper bike fitting can also save you energy, and from injury, while working towards your goals. Call the bike shop at 778-215-2470 to book a fitting today.
Don't Forget To Have Fun
If you're new to triathlon, this is an important one: have fun! It's easy to get caught up in the pressures of performance but hey, you signed up, you showed up. The only person you're competing against is yourself so smile and do your best — and don't forget to thank the volunteers!
Get ready for the big day with expert tips from our Fresh Air sports stores in Kelowna. We have everything you need to perform your best on race day. See what's in store.
Share Post: