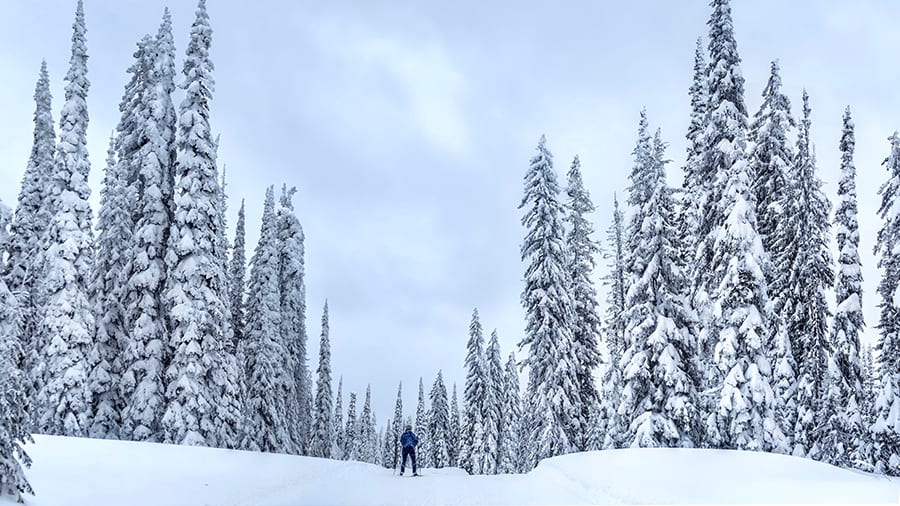 Your Okanagan Holiday Adventure Guide: Skiing, Ice Climbing, and Snowshoeing in Kelowna
The holiday season is here! That means time for family, friends, and loved ones to get out and enjoy the fresh air, together. We love a winter wonderland, and with that in mind, here's a list of family-friendly inspirations to enjoy in the Okanagan for the holidays.
1. SilverStar is More Than Skiing
The skiing, snowboarding, and live events at SilverStar mean there's something for everyone. Beyond the regular riding on the hill, they have a bunch of fun events this December.
12 Days of Giveaways begins on Dec. 21, where the hill's elves will be out and about surprising guests with holiday cheer.
Be sure to also check out the Christmas Craft Night on the hill, where you can relax post-ski and build the gingerbread house of your dreams.
There's definitely too much going on to be able to list here, including live music at the Den, so check out their website for more holiday inspiration.
Looking for the right ski gear in Kelowna to help them make the most of their days at the hill? Shop skis.
2. Big White is Big Fun
You know that Big White has some epic skiing and snowboarding, but did you know you can also take a swing at ice climbing?
The ice climbing tower at Happy Valley Adventure Park at Big White is just one of the family attractions they have going. You can also find tubing and dog sledding!
If you're going to give the ice tower a try, staying warm and dry is a must. Be sure to bring an extra pair of gloves. Breathable layers are a must since your body will heat up while climbing and cool off while resting, and stretchy, water-resistant pants are a versatile choice for lots of winter fun.
We love the Arc'teryx Beta pants for their flexibility, warmth, and waterproofing.
3. Glide with the Telemark Nordic Club
Looking to stay on flatter ground? The Telemark Nordic Club is a cross-country skiing paradise. If someone in the family isn't into the ol' kick and glide, the club has some great snowshoeing in Kelowna. For real cross-country lovers, check out memberships for gift inspiration, and if you're looking to find them a new set of cross-country skis, our experts are here to help.
4. Explore the trails
Take a hike! There are some great trails for winter hiking in the Okanagan. In some cases, you may want to bring a pair of snowshoes and check trail conditions before you go. Looking for trails? Check out:

Myra Canyon

Bear Creek

Knox Mountain
For the person in your life with wanderlust, a pair of good snowshoes ensure they can get to where they want to go.
5. Take in the lights
If you're in the Kamloops area, the Wildlights festival is not to be missed. Take a stroll surrounded by over 1 million beautiful lights from Dec. 9 - Jan. 2 after 5 pm. Anna and Elsa make an appearance on weekends, so fans of Frozen, grab your warm ski jackets, and hot chocolate and keep warm by the fire pits as you take in the show.

Looking for gifting inspiration? Check out our winter staff favorites for advice from the people who know best.
Stay warm and dry while you enjoy the fresh air. Our sports stores in Kelowna have the perfect gift so they can explore in comfort. See what's in store.