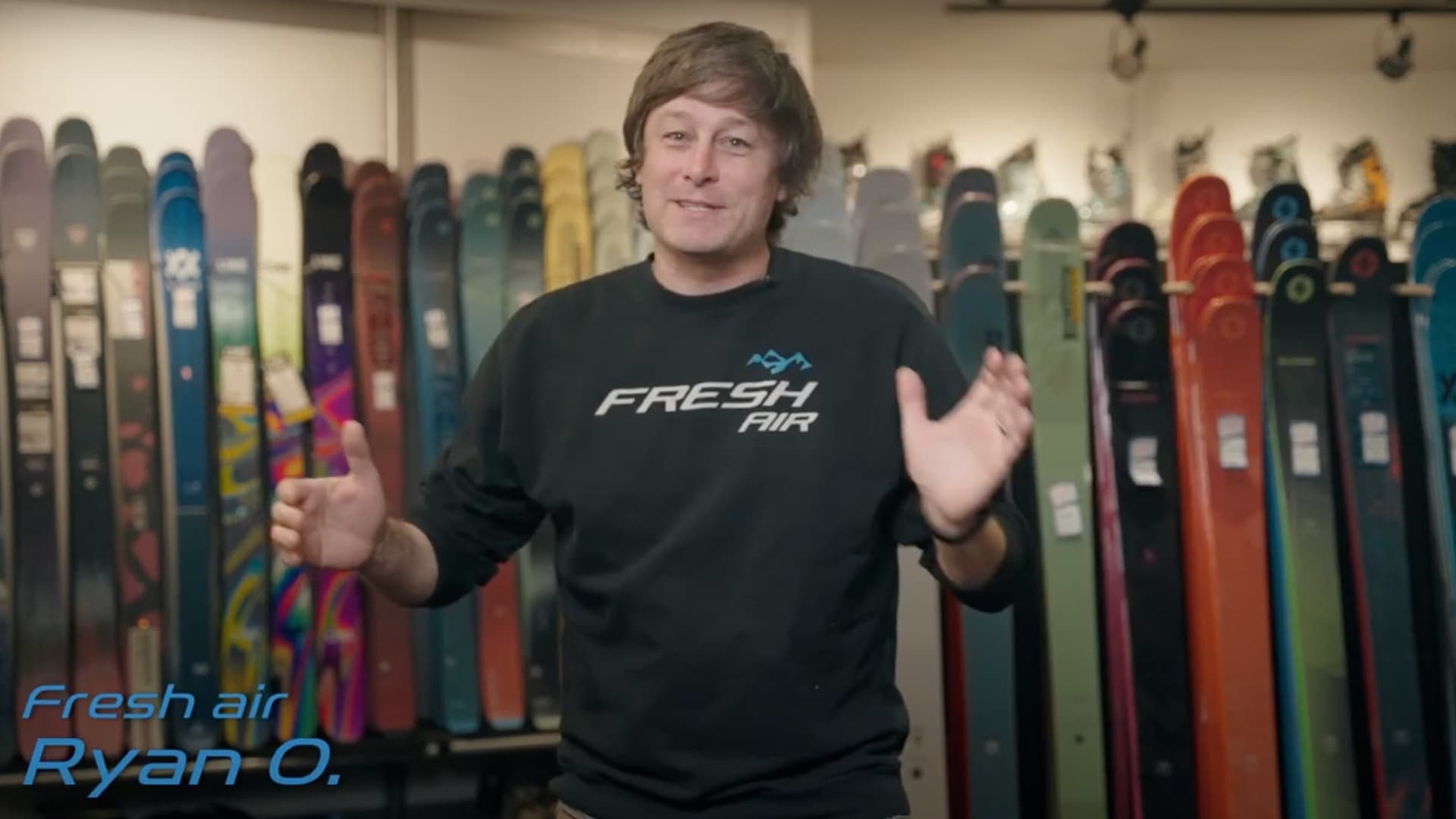 Fresh Air Kelowna Vlog: A Star in the Bike Shop! Mia Talks Pinkbike Academy
Here we go guys, got a new Vlog here in the sports store. It's getting close to Christmas. Winter time here, we go!
So, over the course of the fall I was wondering about what season I really liked: growing up as a kid I hated summers, and I looked forward to winter all the time just to go skiing and get on my snowboard. As life changes so do your priorities and let me tell you, after three days of shovelling my driveway I was pretty much over winter and hoping for summer again.
I don't know what's worse, shovelling driveways or cutting grass. It's kind of a toss up so bring me back to the fall grass isn't growing snow is not falling you can still bike it is the perfect time of the year in my mind.
Anyhow, the snow's here so you gotta get out and play. It's always the conflict: who's the fun parent, who's the strict parent. I've got to say in the month of December, Amie's winning. She took Jack out of school and took him skiing. Took Jack and Avery out of school last week, snuck me out, went skiing, got the family out, and tested all their equipment just before we go away for the Christmas holidays. A little family skiing. It was such a fun day. Clear skies on the mountains. Just a touch windy but it was beautiful. The kids had a blast. It was a great day.
So on top of that, it is well getting close to Christmas. You know we've been working hard on all of our policies and procedures in the store. Our goal this year is that when you want your skis tuned and skis mounted for the holidays, we guarantee a two-day turnaround.
Honestly, all you've got to answer when you come in is when you need the skis. We can get anything turned around right away for you when you need it to get you back on the mountain to enjoy the day. There's no stress of waiting a week or two to get skis mounted or tuned. We're here to help you guys and get you out on the mountain and enjoying family time.
In the ski shop today we have fellow employee Mia. Mia's a very special person, she came to us from Ontario like a few others. She's very passionate about her sports and she takes them all super seriously. When she finds a sport she likes she jumps into it.
She came to us. She was competing in cross country skiing, got into downhill skiing and heavily into mountain biking so much so this year she was on Pinkbike Academy. We got Mia in today to talk about her experience in the Okanagan and on the show.


Mia
My name is Mia, I live in Kelowna, BC. I moved here three years ago, coming from Thunder Bay, Ontario. Since then I've been getting on my downhill mountain bike, downhill skiing, ski touring and all that kind of stuff and seeing where it could go. It's been a lot of fun.
I started mountain biking basically just before I moved out here. I started just for fun, something social, hanging out with my friends and getting me out every day. Started working at Fresh Air in Kelowna, met a bunch of cool people to ride with and progressed really well.
I just recently aired on the Pinkbike Academy and competed in that. The Pinkbike Academy is basically a mountain biking reality TV show where 10 athletes compete for a pro contract.
They put you through a bunch of challenges and people get eliminated, kind of Survivor-style, but all mountain bike, related.
The Academy was one of the craziest experiences I've ever had. Being thrown into this environment with like 10 people I've never met before. They take your phone away. I don't know anyone. There's like a big film crew of like 30-40 people that I also have no idea who they are.
You're just thrown into this environment and put through the wringer—physically and mentally—and just exhausted. But it's also one of the coolest experiences I've ever had, also meeting all these amazing people. I've made some really good friends and just so many connections in the industry and it's just a really cool experience.


Ryan
Honestly, the fun part for me working in the store every day is watching the staff interact with my kids. Everyday I come home right now and it's like: is Mia on YouTube? Is she winning? How's she doing? You've got the whole family watching the episodes of the show. We're down to the final one. She made the final cut so we're hoping for the best for Mia.
By the time this airs it'll be over and we're hoping she won, but if you see her around, congratulate her. It's a big task, you can tell by her face she was super nervous at times. I was texting back, just like, how are you doing? How was that? I can't believe the experience she had. Give her a high five, congratulate her, she did a fantastic job.
Another update: we have our friendly weather guy Brian here who is gonna give us a little forecast as to what the weather's gonna be like in the New Year when the snow is coming. Here's Brian.


Brian
That's me. We're gonna get more snow as we're going forward. Things are going to be holly and jolly over Christmas time. New Year's is coming up. Always a great day to go skiing or get on your board. Everybody's hungover. And as always get outside and enjoy the fresh air.


Ryan
Awesome. Thanks, Brian. Again, follow along as Brian's adventures on our Instagram page. He's always out skiing and working a little bit, but he's having a blast. Follow along and enjoy Brian's winter. Awesome. And that's it for today. Thank you guys very much again. Hope everybody has a very safe and fun holiday and get out and enjoy the fresh air.


Winter is here! Time to get in on the action at our sports stores in Kelowna. We're here for expert advice and boot fittings for your skis or snowboards to get you ready for the hill. See what's in store.
Share Post: