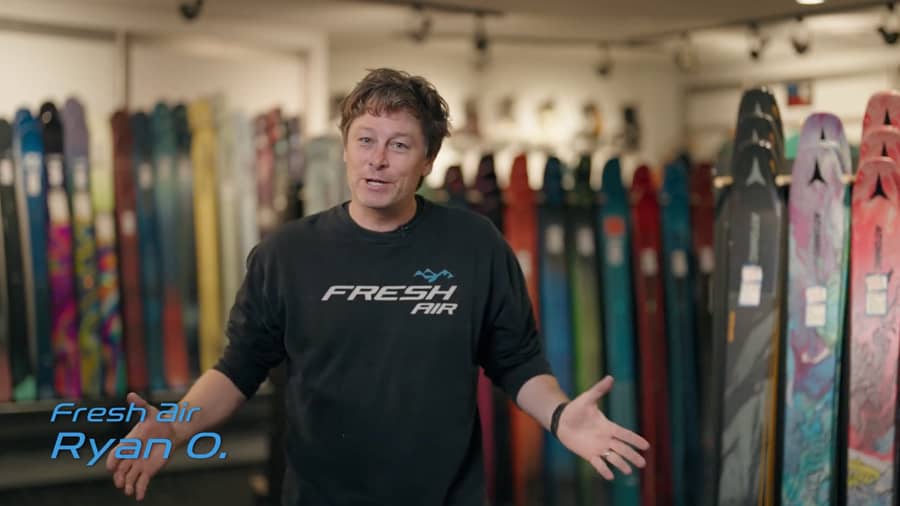 Fresh Air Kelowna Vlog: Cranksgving Funduro, New Fresh Air Website and Back to School
Welcome back, guys. It's been a little while since we've been on here. As you can see, winter's coming which means it's time for ski gear in Kelowna. We started switching over, we've been getting product in for the last month. It's been super busy with skis, bikes, snowboards, and cross-country skis. It's all coming in.
But we've got to rewind a little bit. It was a busy month of August, that's partly why we weren't on here, but there was so much going on in the bike shop and just life in general. I don't know if many people know Marty completed an Ironman. Good job, Marty.
I think it was his third one. It was phenomenal. Amie and I took the kids down to cheer him on, and ironically, it was the ten-year anniversary of our first date. I got a picture of the corner. It's just kind of cool to see. And, of course, it's great to see Marty. I'm just curious as to what he's going to do with his spare time now that he's done training.
We're in the middle of September, so all the bike parts, everything's kind of winding down. We've got some pictures of the staff out and joining the summer, riding bike parks, out golfing, on the lake doing all sorts of fun activities. Plus, a quick little family trip out to Calgary. Calaway Park is always a hit with the kids. The Science Center was super fun.
Now, for the moment Aims and I are always waiting for, we have all three kids in school today. You saw we're having a little fun we took the kids out of everything all summer just so we can hang out and do some stuff. Man was it a lot of work. But hey, now we're back to normal programming. The kids are in school, Luke's in daycare, a little bit of freedom — but it is a lot of fun. We had a great summer.
The first guest I'd like to welcome is David from MTBco. He's here to talk about everything going off the mountain bike club, the remainder of this bike season and they're planning going forward into next year.
David
Hey, David here from the Mountain Bikers of Central Okanagan, MTBco for short. I know it's a mouthful, but that's what it is. So we've done lots of work over the summer, we worked with Ecoscape to do an environmental assessment. We got a lot of that work done behind us. So we've gotten a lot further now to move towards the next stage of getting the climb trail done and making sure we do a job that's going to work really well for generations to come.
Now to the main event: Cranksgiving October 1st and 2nd. This is our largest event of the year and we're super excited about it. Saturday is going to be a Funduro and trails practice kid's day as well. So bring kids out they're going to work on mountain bike skills like teeter totters and skinnies and stuff like that, it should be super fun. There's going to be a barbecue, make sure to come on out, it's going to be great.
Then Sunday we're having the main event which is the Enduro, this is our first-ever timed event, so it's going to be professionally timed, and it's going to be a really fun competition. Looking forward to seeing you all out there.
We're still looking for some volunteers as well, so if you've got some spare time and you want to get involved in the community, we'd love to see you out there. It'd be great to see everyone come out and have a great time.
The last thing I wanted to say is if you haven't gotten your membership yet, please do we're still trying to get to our goal for the year of around 1,800 members. We've got quite a ways to go still, we're doing better than last year, so thanks everyone for getting a membership. If you've enjoyed the trails and haven't gotten a membership, memberships start at like 15 bucks if you're a student and all the way up to $70 for a family. It really helps us every year to get more and more support so we can take care of the Kelowna mountain biking trails going into the future.
Ryan
Awesome. David, thank you very much for coming on today. It's always great to see what's going on with the club and the energy they're providing. Just get out and enjoy the mountain bike trails guys.
And just to top it off, Al, this is for you. Amie and I have decided to do a little home renovation. Not quite bunk beds this time, but we started working on a bathroom we've got some snaps to this too. It's not quite done, we're still waiting on a couple of fixtures to come in, but here's a little sneak peek of what we're up to.
And for everybody checking out our website, I know we don't have all these cool, new products on there yet. I'm sorry, we're actually making a new website and it's going to launch towards the end of September. You know last year we came out with a new website and we maxed it out in a year, so we've got a new one coming on. It's a little more user-friendly for customers to help decipher which store everything's at.
On top of all that we've been making tons of content for ourselves. We've been biking, running, everything just to get pictures of us on our website. Like I said, we've been busy for the month of August.
As it is September our seasonal rentals are firing. If you want to get something, come in and grab them now. We've got more products coming in for season rentals. As always, you can go online and book an appointment, we'll have somebody here at the ski shop to help you at your time. If not just pop in. We're ready to go. Everybody, get out and enjoy the fresh air.
Fall is in the air and so is the action at our sports stores Kelowna. We're here for expert advice and fittings on your skis or snowboards and the seasonal rentals are in full swing. See what's in store.