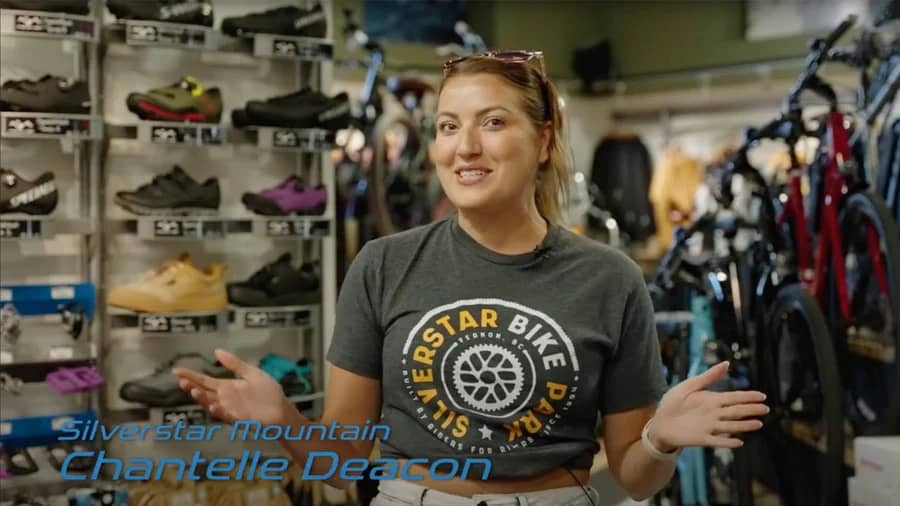 Fresh Air Kelowna Vlog: Summer at SilverStar, New Trails in the Works and SPY in the Bike Shop
All right, here we go guys, we've got a new vlog. We're into the first of July. School's out, daddy daycare. We've got everybody at work in the Fresh Air shop. Need a bike repair, Kelowna? We've got some people for you to help you out.
What can I say, it's starting to be summer. School's out, kids are having fun, long weekend. We closed down for a few days, letting the staff out in their element. Enjoy the Okanagan. Check out some of the pictures, everybody's biking at SilverStar camping, paddling, Bri Bri was skiing, not giving up hope. I think he's up to like fifty-some months of skiing once a month all year long.
We were very fortunate last week to get out before the long weekend. SilverStar opened their bike park, and the trails are amazing. A little wet. Still lots of snow. It's gonna be an amazing summer. We have Chantelle in here from SilverStar today just to talk about what's coming up and what's going on at SilverStar over the summer.
Chantelle
Hey everyone, I'm SilverStar's Chantelle Deacon. I'm the Communications Manager for the resort. We're so excited, we are now open for the summer season. We opened right on time, the trails are looking great.
The rain has actually been a good thing. The trails are really tacky, really grippy, so much fun going around the berms right now. Now we're going into the weekend and it's looking like we're gonna get some sun. We have the Canada Cup this weekend. It's very, very busy up there. It is so much fun. It's a great time to come up and visit SilverStar.
Not only do we have an awesome downhill mountain bike park, as you all are very aware of, but we also have a gondola, hiking trails and so much more. It's fun for the whole family up at the mountain.
As you know, probably we also are hosting Crankworks at the end of July. It's going to be so much fun. So if you want to come up and be in the village, scope out some of those super professional athletes that we have at the resort. Come at the end of July. It's going to be so much fun.
We can't wait to see you at SilverStar this summer. See on the trail.


Ryan
Awesome, Chantelle, thank you very much. I know a few of us are still praying for snow but the dirt's amazing get out and enjoy SilverStar.
We have Bruce in today from MTBco to give us an update on what's going on with the club. The trail working, group rides, and social drinking. Here's Bruce talking about what's going on at the club.
Bruce
Thanks, Ryan. Hi everyone. Hope you're all out there enjoying the fantastic trail conditions we're having this year. I haven't seen a June and July this wet or green in a very long time, so trails are great.
We've been talking for a while about the need for a mountain bike climb trail like Gillard. In 2018 Rec Sites and Trails BC sanctioned the Gillard trail network and it was needed and everybody understands that. In 2019 MTBco partnered with Rec Sites and Trails to become the management and maintenance partner for the trail network. In 2020, the club determined that a climb trail was required for the area. In 2021, we designed a climbing trail in partnership with Rec Sites and Trails as well as Westbank First Nation.
So in late 2021 and early 2022, the planning was completed and we've engaged a professional environmental assessment company. They are currently conducting the study and we hope by late summer that study will be completed.
Once the study is completed. We will then submit it to WFN and the Okanagan Nation Alliance for their review and feedback. If they approve it, we will start building on the trail as soon as possible.
The second thing I wanted to touch on today is our events. Things are going very well. Really nice to have the community back out, riding together, being able to take part in social events. In early October, on the first day it'll be the Funduro, on the second day it'll be an enduro race, and it's going to be a timed event with a limited number of riders eligible to participate. So keep an eye on our social channels and your email newsletters and make sure you sign up early if it's something you'd like to do.
Between now and the Cranksgiving Funduro, keep an eye out for us at the trailhead. We're going to be doing membership drives again, we've got some new swag, some new socks, and some new hats we're looking to giveaway. Thanks for all your support and see you on the trails.
Ryan
Awesome. Thank you, Bruce. As you can see, it takes a lot of volunteers to get the club going. The trail work has been amazing. The trails are running fantastic. Maybe a little less moisture, some water running down. But hey, the dirt's been amazing. Get out, and support your club. I know they're still reaching for the goal of 1,800 members. We're inching up close to it. Get out and enjoy the Kelowna mountain biking trails. We have Mike in here. Troy Lee. He's now our SPY Sunglass rep, which is new to the store. We've got Mike in the bike shop talking about what's new.
Mike
Hey guys, my name is Mike. I'm from SPY Optic. Today we're going to talk about a new brand to the store with SPY sunglasses and coming this winter, snow goggles.
We're going to talk about SPY's patented happy lens technology. This is the only therapeutic lens on the market. Lots of other brands offer lenses that will provide enhanced colour and contrast, whereas SPY's patented happy lens technology will actually boost your mood and alertness.
The way that we do that is there are two types of blue light that come from the sun's light. There's shortwave blue light which actually causes eye strain and fatigue, or the long wave blue light that is scientifically proven to enhance your mood and alertness.
The way it does this is that it actually promotes the release of serotonin within your body. With a patented happy lens technology along with colour contrast enhancing lenses, we provide a visual experience that you can see and feel.
Ryan
Awesome, thanks, Mike. It's great to add a new brand to the store. What's wrong with happy lenses? Everybody wants to be happy. Come in and check out what's going on. All right, that's a wrap, everybody get out. Enjoy the sun. Enjoy the summer. Enjoy the Okanagan. Get out and enjoy the fresh air.
Summer's in full swing and so is the action at our Kelowna bike shop. We're here for expert advice and fittings on your bike, paddle board or running shoes in Kelowna. See what's in store.